Enjoy spectacular views of Mirror Lake and the Adirondack High Peaks at The Haus, unique Adirondack lodging in the heart of Lake Placid. Offering 10 unique suites with loads of amenities you can't get anywhere else, plus lakefront views and shopping!
The Haus on Mirror Lake offers guests incredible modern Adirondack design, the first and ONLY in Lake Placid NY! Enjoy a comfortable and affordable stay on MIrror Lake while enjoying luxurious lakefront Adirondack accommodations unlike any other. Each suite is different - check out the photo gallery on the right to get an idea of what each suite has to offer (visit OUR site for more photos, rates & availability).
Enjoy a glass of wine on your balcony and watch the dog sleds go by. Walk to dinner and a movie before soaking in your large Jacuzzi tub or reading by the fire. Stay in and cook a gourmet meal in your full size modern kitchen. You can do this all at The Haus!
Great for couples and families alike!
Below are some of the amazing amenities at The Haus:
Full Stainless Steel Kitchens
Jacuzzi Tubs
Fantastic Views of the High Peaks
Grand, Lakefront Balconies
Convenient Location on Main Street in Lake Placid! ~ Walk to the best shops and restaurants in town
Large & Very Large Flat Screen Televisions
Waterfront suites
Fireplace (suite 7 & 10)
Luxury Linens
Aveda Products
Eco-Responsible
Great Off-Season Rates
Ski Packages
Learn More About Each Suite:
1: King Loft - Sleeps 2, Modern European Furnishings, Whirlpool Tub with Shower, AC, Stainless Steel California Kitchen, Birch Tree Room Divider
2: Queen 1 Bedroom - Deluxe 1 Bedroom apartment (1 Queen Bedroom, 1 Queen Sleeper Sofa). Sleeps 4, Large Bathroom, Jet Tub & Shower, Stainless Steel California Kitchen
4: King Waterfront - Sleeps 2, Loft Ceilings, California Kitchen, Sectional Sofa, 42" Flatscreen TV, Stunning Views of the High Peaks from Private Balcony, Jet Tub, Dining Area
5: Queen 2 Bedroom - Sleeps 4, Full Stainless Steel Kitchen, Dining Area, Living Room with 37" Flat Screen TV, AC, 2 Queen BRs, Whirlpool Bath, Village View
6: Queen 2 Bedroom - Sleeps 4, Living Room, Dining Area, 37" Flat Screen TV, 2 Queen BRs, Whirlpool Tub & Shower, AC, Full Stainless Steel Kitchen, Views of Mirror Lake, High Peaks & Village of Lake Placid
7: King Waterfront - Sleeps 2, 1 BR King with 21" Flatscreen TV, Fireplace, Whirlpool Jet Tub, Perfect for Couples! Lakefront with stunning views of the High Peaks, Large Balcony, Living Room & Dining Area, Stainless Steel California Kitchen, AC, 38" Flatscreen TV
8: Queen Waterfront - Sleeps 4, Bright suite with one of the best views of Lake Placid. Lakefront, 1 Queen BR, 1 Queen Sleeper Sofa, Living Room & Dining Area, Large Balcony overlooking Mirror Lake, Stainless Steel California Kitchen, AC, 38" & 21" Flatscreen TVs, Ensuite Bathroom with Whirlpool Tub & Shower
9: Queen Lake Level - Sleep 4, Direct Access to Band Shell Park, Large Granite Wet Bar, Huge Living Room, Dining Area, AC, Queen Bedroom Alcove, Bathroom with Shower, Stall, Partial View of Lake
10: Ultimate Shoreline - Waterfront Suite directly on Mirror Lake with Private Shoreline; 2 BRs, 2 Bathrooms, 2 Person Jacuzzi, Dining Room, Den, Split Level Deck, Gourmet Kitchen, Fireplace, 50" & 32" Flatscreen TVs, Washer/Dryer!
The Haus is not to be missed! Luxury Adirondack accommodations with unparalleled views, gracious amenities PLUS Location, Location, Location - all at an affordable rate!
Call 518-523-3005 to book your reservation NOW!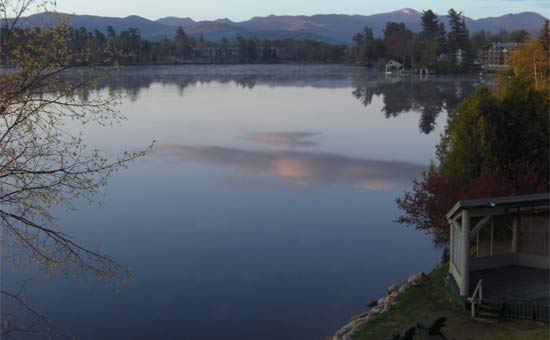 Click on the thumbnail images to see the larger version











Always get confirmation of the business location.





RTL
from Tarrytown, NY wrote on

Thursday, July 15, 2010 at 11:45 AM
The Haus has a remarkable combination of being right in the center of town while still feeling like it's miles away from everything. We stayed in suite 8, which is on the top floor on the lake side (mirror lake - the village of Lake Placid is located on Mirror Lake, not Lake Placid, which is surrounded mostly by private homes), and it was perfect. The architecture is beautiful, the entire suite was bright and clean and furnished in a tastefully modern style. The bedroom was large with a nicely sized en suite bathroom, and the bed was very comfortable (a big plus, since we were there for the Lake Placid Marathon). The kitchen is fantastic, with a full sized refrigerator, oven/stove, coffee maker, dishes, silverware, pots, pans, and other kitchen tools. There is a nice bar in the kitchen that looks into the living room. The living room is a very comfortable place to relax, and has a door that leads to the large deck, which has a spectacular view of Mirror Lake. It was great sitting out there in the morning and night to take in the beautiful scenery. We met Anthony, the owner, when we checked in. He helped us with our (very heavy) suitcase, and was very friendly and gracious.
We've been to Lake Placid a number of times and have never been disappointed with our accommodations, but this is probably our favorite place. The combination of a beautiful suite, convenient location in town, and lovely location on the lake is unbeatable (not to mention the very reasonable rate!). We will definitely be staying at The Haus the next time we're in town.
No events listed for this business.
Is this your business? If so, login to add your events!