GO TO: Winter Guide :: Cross-Country Skiing :: Snowmobiling :: Ice Skating :: More Winter Fun
Alpine Skiing & Downhill Ski Resorts In The Adirondacks, New York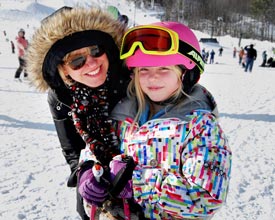 Grab your skis, climb into your snowpants, and head out for some alpine skiing in the Adirondacks! With so many downhill skiing opportunities at different area ski resorts, it's no wonder the Adirondack Mountains are the slopes of choice for skiers across New York State!
The Adirondack Mountains of Upstate New York offer the perfect combination of breathtaking scenery and world-class facilities.
Whether you are looking for a family resort that has terrain for every skill level, or advanced trails fit for an Olympian, skiing in the Adirondacks offers some of the best conditions, trails and ski resorts in the state!
New York Ski Resorts in the Adirondacks
Gore Mountain
North Creek, NY
With a 2,100 foot vertical drop and 93% snowmaking, this resort offers Alpine, back country and nordic skiing trails. Looking for somewhere to bring the kids? Gore provides child care and kid-ski programs, making this a popular resort for families to go skiing in New York. Lessons and equipment rentals are available.
Other activities at Gore Mountain: snowboarding, snow tubing, cross country skiing, snowshoeing, mountain biking trails, scenic gondola rides, Adirondack hiking
Whiteface Mountain
Wilmington, NY
Site of the 1980 Winter Olympic Games and 2000 Winter Goodwill Games, this is one of the best places to go downhill skiing in New York State! Whiteface Mountain is located just 8 miles from Lake Placid New York and consistently ranks as one of the best ski resorts in the United States, offering a variety in terrain from beginners trails to challenging runs.
Other activities at Whiteface Mountain: cross-country skiing, snowboarding, gondola rides, hiking on Veteran's Memorial Highway (goes to the summit of Whiteface), mountain biking, nature treks
West Mountain
Glens Falls, NY
West Mountain has 21 downhill skiing trails of white pine forest and hardwoods with views of the Hudson River Valley, Lake George and surrounding Adirondack Mountains. This ski center is a great place to ski in the Adirondacks with the entire family, offering a little something for everyone. Ski and snowboard rentals are available, and the mountain is lighted for night skiing and tubing.
Other activities at West Mountain: ski and snowboard training classes, snow tubing, mountain biking and hiking.
Oak Mountain Ski Center
Speculator, NY
This affordable, family-oriented ski area offers plenty of fun for all ages and ski levels.Oak Mountain has14 trails, a quad chair, 2 T-bars as well as a night skiing and tubing area. They also offer rentals and lessons. All trails end at the base level to prevent getting lost.
Other activities at Oak Mountain: ski lessons, snowboarding, snow tubing, chairlift rides
Titus Mountain
Malone, NY
This northern New York ski resort offers 27 trails for every skill level, including a vertical drop of 1,200 feet. Titus Mountain is located in the foothills of the Adirondacks - about one hour commute north from Lake Placid and one hour south from Cornwall, Ontario. The resort has 8 chair lifts, night skiing, snow making, two lodges and ski / snowboard and blade rentals.
Other activities at Titus Mountain: snowboarding, snow tubing
Snow Ridge Ski Area
Turin, NY
With 130 acres of skiable terrain, Snow Ridge Ski Area is perfect for those who love to hit the snowy slopes. 50% of the trails are advanced, making this an ideal ski area for accelerated and expert skiers. Lake effect snow has given Snow Ridge its nickname of "The East's Heaviest Snowfall". Ski lessons and season passes are available.
Other activities at Snow Ridge: ski lessons, snowboarding, cross country skiing, ski shop, restaurant, bar
McCauley Mountain
Old Forge, NY
Nestled in the foothills of the Adirondacks, McCauley Mountain offers everything from advanced to beginner trails. This ski resort is on the smaller side, but it continually works to improve terrain and facilities. A ski shop, school and lodge are also available at McCauley Mountain.
Other activities at McCauley Mountain: groomed cross country trails, ski shop, chairlift rides
Lesser-Known Ski Areas Of The Adirondacks
Mount Pisgah Ski
Saranac Lake, NY
With 80% snowmaking and five different trails, this family-oriented ski resort is great for downhill skiing in the daytime and at night!
Other activities at Mount Pisgah: snow tubing
Indian Lake Ski Hill
Indian Lake, NY
This small ski area in the Adirondacks offers a beginner's slope and an expert-level trail for downhill skiing. Skiing at the Indian Lake Ski Hill is free with an ice-skating rink nearby, which is also free.
Other activities at Indian Lake Ski Hill: ice skating
Dynamite Hill Recreation Center
Chestertown, NY
Learning to ski? Looking to practice your skills on the slopes? Dynamite Hill is the perfect place to take young children or those who are trying out the sport of skiing for the first time. Glide down their single trail with a tow rope - great for beginner and novice skiers.
Other activities at Dynamite Hill: sledding, ice skating, warming hut, marked nature trail