Welcome to Carl Heilman's Guide To Leaf Peeping In The Adirondacks!
The Adirondack parks are a top destination during the fall. The foliage makes the Adirondacks a prime destination for visitors and locals alike with beautiful, irreplaceable views from the area's mountains and lakes.
In this guide you will not only see Carl Heilman's beautiful photographs, but he will share with you where the photo was taken, giving you different destinations to get the best views.
Carl gives his tips on when the best time is to discover fall foliage, and where around the Adirondack Park:
"Fall colors are pretty much an elevation thing. Highest go first followed by the valleys and foothills. Typically colors start in the central High Peaks (Adk Loj area - 2000 to 3000 feet) around the last week of Sept. and work out from there with nice overlap in a good season. Colors in Lake Placid / Keene Valley and other areas ( 1500 - 2000 feet) will generally be around first week of October. Lower elevations toward the next week with latest being in the Champlain Valley / Lake George area near the third week of Oct. or later - (100 to 1000 feet)"
See also: Adirondack fall foliage map
VIEW #1: Fall colors and reflections on Church Pond near Paul Smiths in the Adirondack Park (Franklin County)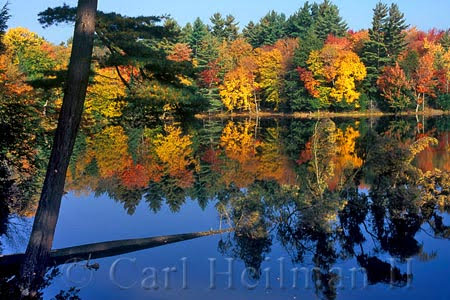 VIEW #2: Ausable Marsh Wildlife Management Area - photo taken from Ausable Point Campground where the Little Ausable River empties into Lake Champlain (Clinton County) More on the Ausable Valley Region >>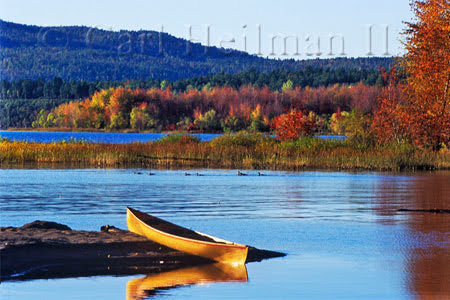 VIEW #3: Photo taken from Arab Mountain fire tower, view is southeast toward Tupper Lake (St. Lawrence County)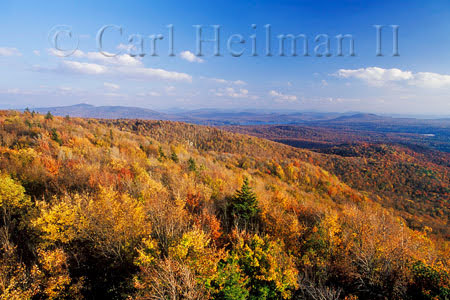 VIEW #4: View of Algonquin and Heart Lake. Photo taken from Mt. Jo (Essex County)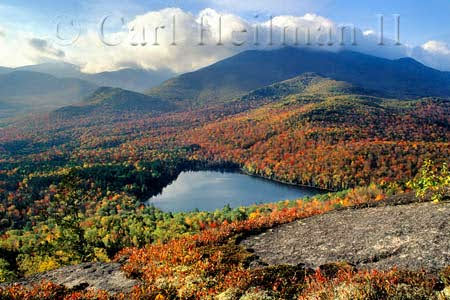 VIEW #5: View of Pharaoh Lake (Pharaoh Lake Wilderness) from Treadway Mountain (Essex County)
VIEW #6: Photo taken from Hadley Mountain summit looking north (Saratoga County)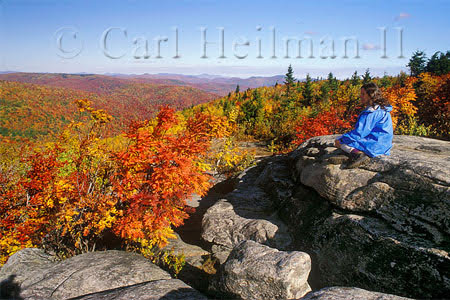 VIEW #7: Looking north and west over Elk Lake in the Elk Lake Preserve (Essex County)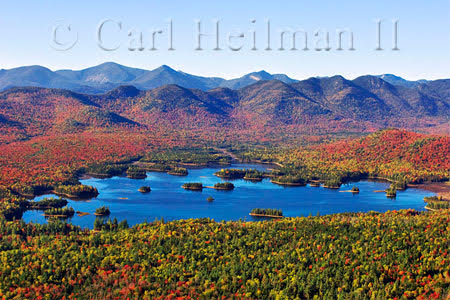 VIEW #8: Roaring Brook Falls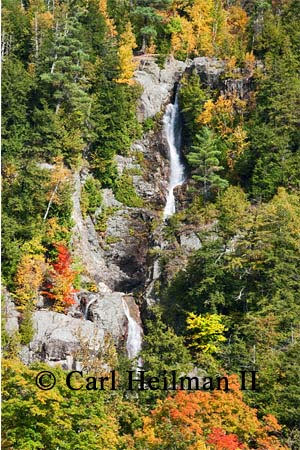 VIEW #9: Moose River, just west of Old Forge (Herkimer County)
See our Adirondack Fall Foliage Report >>
Visit the Guide to Lakes & Ponds In The Adirondacks >>
<< Back to the Adirondack Fall Guide