Indian Lake, NY
In the Adirondacks' Gore Mountain Region lies Indian Lake, a small community with big time activities. Due to its perfect location between forests, mountains, and lakes, whitewater rafting, downhill skiing, and hiking are just a few of the items you can put on your agenda.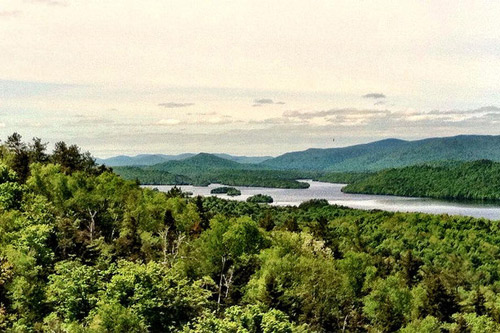 If you are up for a more leisurely stay in Indian Lake, you are in luck as well. The Adirondack Museum and plenty of other regional landmarks are all quick trips from town.
Animal lovers are usually treated to a nice surprise when they visit Indian Lake. Moose are often seen walking along roads and near water in the area.
Photo: Elaine Supp
The Cabins at Chimney Mountain
Indian Lake, NY
The Cabins at Chimney Mountain provide the perfect escape from everyday life in all that is rejuvenating about nature. Smell the fresh air, see the wildlife, and hear the sound of trees rustling in the breeze.
Twin Coves on Indian Lake
Indian Lake, NY
On the shores of lovely Indian Lake in the heart of the Adirondack Mountains. Beautiful sand beach, safe for children. Most cottages at water's edge. All have spectacular views of the lake and surrounding mountains.