Valentine's Day Guide > Winter Romance
Adirondack Gift Ideas For Valentine's Day
By: Destiny Malone & Maura Titterington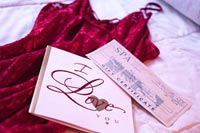 Give your sweetheart the gift of the Adirondacks! With a little help from our fans on Facebook, we have come up with some great ideas for a memorable Adirondack Valentine's Day.

Find the perfect gift idea! We've taken many traditional ideas and made them unique to the Adirondacks. So whether you spend the day romancing outdoors or snuggling by the fire with hot cocoa, these gifts will be a wonderful complement to your special day.



For Her
Flowers
Beautiful blooms are a timeless Valentine's Day gift and a sure-fire way to set the mood for romance. Hide the flowers in the woods along your XC ski route, or put a single rose on her snowmobile before you set out riding. It's a great way to make an old idea new again.
Jewelry
Watch her jaw drop when she opens a breathtaking necklace. A locket with a picture of the two of you in the Adirondacks is a gift she is sure to treasure.
Spa
It's just what the doctor ordered in the midst of a cold, stressful winter season. Head south to Saratoga for great spa options, and spoil your sweetheart by visiting a luxury day spa.
Candy
Give your sweetie some sweets. You can't go wrong with chocolate for that special someone, and chocolate doesn't get any better than at Adirondack's own Barkeater Chocolates.
A Custom Adirondack Gift
Get a peronalized wooden gift as a keepsake of the Adiorondacks. Get Adiondack pens, candle holders and more from Creations by DM.
Skiing
The Adirondacks have some of the best terrain around for skiing! Hit the slopes and go downhill skiing at Whiteface in Lake Placid, NY or wax your skis for XC skiing at Lapland Lake Nordic Center in Northville, NY.
For Him
Chocolate
They say the way to a man's heart is through his stomach, and who doesn't love great chocolate? Indulge your valentine with delicious handmade truffles from Barkeater Chocolates.
An Adirondack Chair
Take a seat in an Adirondak Chair! An Adirondack Chair is a must have for any backyard setting if you want an Adirondack feel.
Jewelry
Buy a new watch for him, and have it engraved with a special message. (Suggestions: "For all the hikes." "I'd climb the 46 peaks for you." "ADK spells love." "I ADK You.")
Dinner
Make him a candle-lit dinner, or plan a romantic evening to wine and dine at an Adirondack restaurant.
Tickets
Get your sweetie tickets to an upcoming show or sporting event they won't want to miss. There's always something going on in the Adirondacks, not to mention further south in Albany and Saratoga. Check the calendar for events.
Weekend Away
Valentine's Day is the perfect opportunity to plan a romantic weekend getaway in the Adirondacks. View lodging specials »

Celebrate this Valentine's Day with gifts reminiscent of the Adirondacks! Do you have an idea for a romantic Adirondack gift that should be added to this list? Contact us!