While leaves have fallen through much of the Adirondack region, trees are still turning around the lowest elevations of the park. Lake George, at about 300 feet above sea level, and Lake Champlain at only 95 feet above sea level should have some really prime colors this coming weekend - Oct. 22, 23. While the mountain tops have lost many of their leaves, the shoreline areas are just turning, offering some great photo opps! It's also the first weekend of big game season, so be sure to wear bright colors in the woods, and keep a conversation going with your friends. Hunters tend to shy away from areas that are frequented by a lot of hikers, so most popular hiking destinations would have few, if any hunters.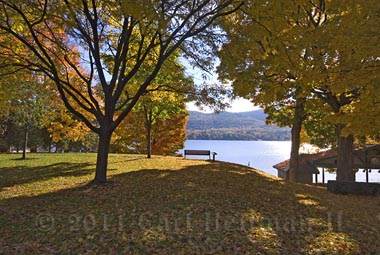 There are a number of public accesses to the lake around Lake George Village - Million Dollar Beach, Shepard Park, Lake George Battlefield Park, and Usher Park. There's also Rogers Memorial Park in Bolton, plus the overlook on 9 at Sabbath Day Point, and the great views of the lake from Hague, Ticonderoga, and Hullets Landing. There are parks in each of these towns as well. While Rogers Rock and Hearthstone State Campgrounds are closed, I believe there may be limited access to the shorelines.
A wonderful way to see the lake is from one of the boat cruises which are still operating through this coming weekend. There are also kayak rentals and tours based in Bolton Landing. Weather is looking good, so have a last fling before the leaves drop and winter starts to set in!!