I thought I'd share a few photos from two of my recent workshops that I led recently at the Adirondack Folk School in Lake Luzerne. The first was my 1 day comprehensive 'Perfect Pictures Every Time' workshop on Saturday, followed by the 'It's How You See It' workshop on composition and more advanced shooting techniques on Sunday. There is a really nice diversity of shooting within a short distance of the Folk School - from the cascades just upstream of the school on Mill Creek, to Adirondack chairs along the Hudson at the neighboring Chamber of Commerce, and Rockwell Falls on the Hudson within a short walking distance.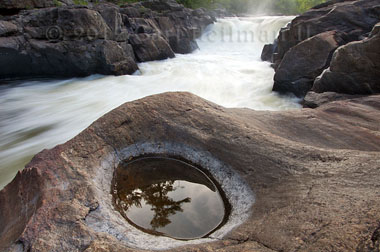 On Sunday we took a short ride to the historic Bow Bridge and railroad trestle over the Sacandaga River in Hadley. With the water release over the weekend for those tubing or kayaking the river, there was plenty of water flowing under the bridges when the train went over - on time - just after 5 PM, heading south. While I compose mostly to create a dynamic balance between contrasts of light and dark areas, and color within an image, the railroad / bridges photo also exhibits a good balance of 'thirds'. The rule (guideline) of thirds suggests placing horizon or detail lines at approximate 'thirds' in an image, and placing main subjects at intersecting lines of thirds. The main 'energy' of the train engine on the bridge is at an intersection of 'thirds', the Bow Bridge near the bottom third. The edge of the trees on the left and bridge abuttment on the right are almost a 'third' in from either side.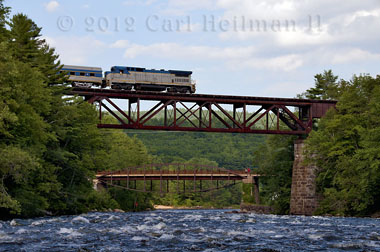 If looking at the composition by 'contrast evaluation', the train engine has a lot of energy and attracts the eye. The amount of lighter sky balances out the heavier energy of the darker trees. The lines of the bridges catch your eye and lead you from side to side, and there is enough energy in the water and lines there to pull your eye down - plus having the lighter color and detail contrast in the stone bridge abuttment. This creates a pleasing dyanamic balance between all the lighter and darker areas and lines that lead your eye throughout the image. My books, 'Contemporary Landscape Photography', and 'The Landscape Photography Field Guide' both discuss composition in greater length and with much more detail. I'll be doing a 2 day workshop at the Folk School later this month (Aug. 2012), as well as workshops at View in Old Forge.