Wow – what a trip! My girlfriend Liz, my friend Mike, and I took to the woods with a nice backpacking trip through parts of the Eastern High Peaks Wilderness area earlier this week. Before I get into the report, I would like to thank all that contributed to the blog with advice and/or recommendations while we were in the planning stage, you helped quite a bit!
Adirondak Loj
We arrived at the Adirondack Loj at Heart Lake around 10:00am and went inside to check the place out. Built in 1927, the current Adirondak Loj has room for 40 guests, offers home-cooked meals, and has some great stone fireplaces to warm you up during the colder months.
We just poked our heads in, took a look around, and were on our way to the trail head. In the parking lot, a ranger was happy to see that we had a bear canister with us (required for overnight camping in this area) and told us that the black bears had been quite active lately. This was a little unnerving, but we shrugged it off and headed up the trail.
In My Pack
We carried all of our gear for most of this hike, which turned out to be pretty long and hard with full packs (as David S. warned in his comment). In my new pack were the following items:
Big Agnes 15 degree, Down Sleeping Bag
Thermarest Sleeping Pad
MSR PocketRocket and Fuel Canister
Cookset (One Pot, One Lid, One insulated mug)
One Spoon
Clothing – One Hoodie (will replace with Fleece next trip) One Sweatpants, One Pair Dry Socks, One Pair Clean Undies, One Long-Sleeve T-shirt, Rain Jacket
Small Beach Towel
Map & Compass
Swiss Army Knife
Flashlight
Glow Stick
1L Water Bottle
Spinning Rod (caught nothing and snagged it on more than enough trees – will not bring next trip)
Food – Sandwich for Day 1 Lunch, Dry soup mix, Clif Bars, Trail Mix, Dry Fruit
You may be thinking that I have left some things out. Liz and Mike had full packs as well, and were carrying the rest. A few items that they were carrying: Bear Canister, 50-60 feet of Rope, First-Aid kit, MSR Water Filtration Pump, Sunscreen, Bug spray, Oatmeal for Breakfast, each had a 1L Water Bottle and Mike had a backup bladder in his pack to be used if we ran out and were nowhere near a fresh water source.
Wright, Algonquin & Iroquois Peaks
We started heading up the Algonquin Trail at about 10:15am, and since we planned on hiking all three mountains across this ridge, we took them in order. First was Wright, not a bad hike as it was still early in the day and we were excited to get in the woods. We reached the summit at 12:25pm, just in time for lunch. At the top, we spoke with a Summit Steward who was very nice and urged us to go check out the remains of a plane crash from the 60s! The Summit Stewards do a great job of educating hikers and preserving the fragile ecosystems found in the alpine plant zone on top of most of the high peaks. We rested at the top for about 30 minutes, ate lunch, and headed back down the same trail to pick up the Algonquin route.
We reached the summit of Algonquin at about 2:45pm, and were greeted by another Summit Steward sitting at the top. She told us that she had counted over 200 people at the summit of Algonquin the day before (Saturday)! I guess it gets pretty busy up there on some of those high peaks in the summer. From the top of Algonquin, Iroquois seemed to only be about 1/2 mile away and we had a nice view of the lake we were going to be making our descent to.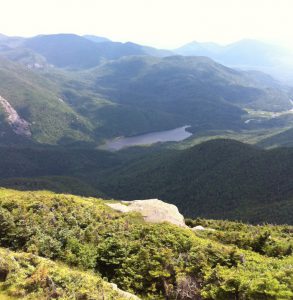 We left the summit of Algonquin at about 3:20pm and headed for Iroquois. At the fork for the trail down to Lake Colden, we dropped our packs and continued to Iroquois' Peak with only water and cameras in hand. We reached the summit at 4:05pm, but we didn't spend as much time as I would have liked out on Iroquois, the more remote mountain out of the three that we hiked our first day. The view off of the back side was just unbelievable: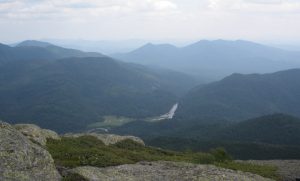 We got back to our packs at the fork in the trail and started our descent at about 4:40pm. The trail down the back side of Algonquin to Lake Colden is a tough one. This time of year it almost entirely consists of a dry creek bed that you have to take your time with and watch every step. After two hours we were finally walking on flat land looking for a place to make camp for the night.
It was a little later than we had expected to be reaching the primitive campsites at Lake Colden, but we were there. There are a couple lean-tos back there, as well as a NYSDEC Interior Outpost at the north end of the lake. The lean-tos were occupied, so we walked down to the bridge at the end of the lake, crossed to the Mt. Colden side of the lake and made camp at the nearest site. Boy did it feel good to jump in the lake and cool off after we had dropped our gear off at the campsite!
Bear Canisters – A Must!
After we set up camp and cooled off and whatnot, we sat down for dinner. We had brought some dry soup mix to eat which is a just add boiling water thing. The stove worked great, was very stable and boiled a full pot of water in about five minutes. We ate the soup (vegetable beef), which was delicious after a long day of hiking. After dinner we cleaned up and went back to the lake. Liz brought the fishing rod back to the bridge where I was headed to pump water. She was going to try to catch a brookie, maybe for breakfast?
After 3 or 4 minutes of pumping I heard Liz quietly calling my name, trying to get my attention. I just thought she had a fish on the line, so I didn't turn around quite as quickly as I should have.. and when I did turn around, no more than 30 feet away, was a good-sized Black Bear, staring right at her. This is the first time she had ever seen a wild bear, and certainly the first time I had ever seen one at such a short distance. What a thrill! After what seemed like 10 minutes (probably only 15 seconds in reality) the bear turned and moseyed off down the trail.
We immediately called it a day as far as the fishing was going, and headed back to the campsite to let Mike know what we had seen. He was a little jealous that he didn't get to take a look, but she came back. At about 8:30pm we were sitting around the campsite and we heard some people on the next site over talking about a bear crossing the stream that ran adjacent to the campground. We waited a little while and sure enough, the bear came strolling right up the trail to take a look at our campsite, probably hoping that some food would be left out. At this point it was getting dark, so we took the advice that we had been given and started making lots of noise in an attempt to scare her off. We yelled at her and told her to leave us alone, which she did for the most part. I felt bad yelling at her, as these woods belong to her more than any of us. At that same time though, I was rather relieved that she scampered off in the opposite direction when we asked her to.
She came back at about 10:00pm, and we asked her to leave again. At this point though it was time for bed. We had all of our food loaded in the bear canister and moved it about 150 feet away from our campsite, on the lake side (we didn't want to lure her towards another campsite). We could hear our new friend walking around all night, breaking sticks and branches, obviously searching for any morsel of food that may have been left out. What a night! There are no campfires permitted in this part of the Wilderness Area (probably because it is so remote) but we had quite a bit of entertainment! My only regret as far as the whole run-in with the bear went, is that I didn't get a photo of her. Let me tell you, that was the farthest thing from my mind when I saw her staring at us from about 30 feet away.
Mt. Colden
We woke up the next morning at about 8:30am, I know, I know.. we slept in a little. We made coffee and oatmeal and sat around the campsite discussing our plan for the day. We decided to leave our campsite as it was and hike Colden carrying only one pack (water, snacks, first-aid). We pumped our bottles full of water and set out down the trail at about 10:30am.
This is a rather short trail to the summit, 2 miles from our campsite. Which really means only one thing, it's also a rather steep trail. A good portion of this trail has been worn down to bare rock, and there are several tricky sections that take some extra time and attention to traverse. We reached the summit at 12:15pm, and visited with another Summit Steward, who was on a photography mission for the day. She told us that the bear we saw, Yellow Yellow, is one of the smartest bears in the region, and has figured out how to get into 3 of the 5 approved bear canisters! She got the nickname Yellow Yellow because of the color of the tags in her ears.
While atop Mt. Colden, I took this photo of the section of MacIntyre Range that we hiked the day before: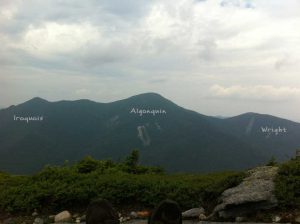 We started our descent at about 12:30pm. We spent barely any time at the top of Colden, as we were unsure of how long the trail through Avalanche Pass was going to take us. The descent of Colden was slightly quicker than the ascent, but not much, as we really had to watch our step on the way down the damp, slippery rocks.
We arrived back at the campsite at about 1:45pm. We ate some snacks, packed our things up and headed over to the creek to pump some more water. After a quick check to make sure we didn't leave anything behind, we set out towards the Loj at about 3:00pm.
Avalanche Pass
The hike through Avalanche Pass followed one of the most beautiful trails I have come across thus far in my Adirondack travels. Avalanche Lake is about one mile long, and sits at the bottom of Avalanche Pass, between the MacIntyre Range and Mt. Colden. The trail follows the west edge of Avalanche Lake, and gets pretty tricky in spots. We had to climb over boulders and hike across several catwalks that were bolted into the rock face of Avalanche Mountain. I took photos from both ends of the Pass, but they do no justice to the beauty of this place. You have to see this with your own eyes to understand.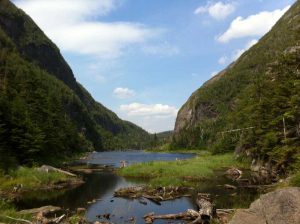 This photo was taken from the south end of Avalanche Lake looking into the Pass.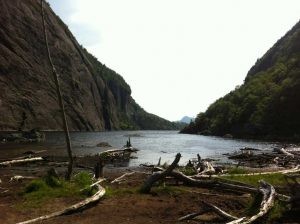 This photo was taken from the north end of Avalanche Lake looking into the Pass.
We took our time hiking through this beauty of a trail, and also stopped at a creek to pump more water and have a snack on the way out somewhere near Marcy Dam. We reached the parking lot of the Adirondak Loj at about 6:15pm to find it closed for the night.
What a trip! The weather couldn't have been any better for us, low 80s and sunny almost the entire time. My gear performed well, and I am very pleased with all of my new things (reviews on those coming soon).
Have you ever hiked these high peaks along this route, or parts of it? If there is anything you would have done differently, please let us know so that future readers will have all necessary information when heading into the woods.
The best tip I can offer is to bring a bear canister, or you'll be hungry in the morning!