Trout season kicked off last Sunday, and boy was it good to be out in the water! I didn't catch anything, didn't even get a bite.. yet I still had a good time fishing.
My new waders work great (so far)! What a difference it makes to be able to walk right out in the middle of a river without the fear of getting soaked. Especially this time of year!
I ran into a little issue the other day while I was fishing that I thought I would share with you..
I tried fishing with nymphs and small streamers the other day, I'm still getting the hang of it and learning where to cast to get a drag-less drift. I think the main problem with my fishing trip the other day was the crowd.
I went fishing at a popular spot with too many people. It was opening day, and it was somewhat ceremonious to get together with friends and all go fishing in the early morning on April 1st, but I didn't have high hopes.
I went and visited a small stream near my house after work the other day to work on my casting and take my chances with the two remaining hours of daylight. After walking down stream, fishing for an hour and a half, I headed out. When I got to my car I realized that I had lost my sunglasses somewhere (again) and backtracked up the side of the stream looking for them.
I found the glasses and headed home. On the way home I was a little surprised to see a deer tick crawling up the back of my hand. The tick appeared to be in the nymph or early adult stage of life, quite small with red markings on the back.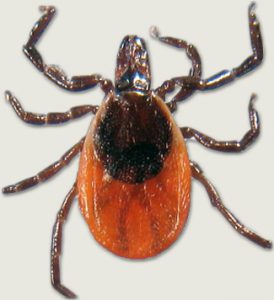 I shook this one off out the window and proceeded home. While I was driving I noticed another one, then another! By the time I had gotten home (20 minute drive) I had thrown at least 10 ticks out the window! When I got home I immediately stripped down and checked every square inch of my body for more of them, hoping that I wouldn't find one attached to me already. I didn't. I took a shower and put all of my clothes in the wash.
Now, I was always under the impression that ticks were most active in the summer, June and July in the Adirondacks. It looks like the relatively warm winter and spring this year has encouraged these insects to go out looking for food already! If you're headed into the woods, keep an eye out for ticks, and check your entire body when you get home!
I was wearing long johns under my waders, and was covered up relatively well. This of course won't be the case in July, so I'll have to be extra mindful about checking my body for ticks this summer.
Deer Ticks can carry Lyme disease, a dangerous infection if not treated immediately. Early stages of Lyme disease can bring flu-like symptoms (stiff neck, chills, fever, swollen lymph nodes, headaches, fatigue). If left untreated, you can expect a rash to show in the area of the bite, arthritis like symptoms, and the possibility of neurological damage.
Lyme disease can be treated with antibiotics, and most people make full recoveries. If left untreated, Lyme disease can cause permanent damage to the heart, nervous system, and joints.
Be careful out there! Remember to check yourselves and others for ticks when coming in from the outdoors! If you've been bitten by a tick, be careful when removing the bug, you don't want to leave any portion of the tick in your skin. If a rash appears, go see a doctor!