Lake Placid Hotels, Lodging and More!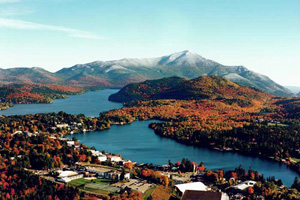 When visiting the Lake Placid, NY area no matter what kind of accommodation you are looking for, you will find something to suit your needs!
Lake Placid is a resort town with a small town feel and plenty of hotel and loading options! You can spend your nights at a cozy Lake Placid inn, a unique hotel with Adirondack finishes or maybe a Bed and Breakfast that feels like home. No matter what the occasion, you will be spending your time in one of the most beautiful areas in the Adirondacks!
While staying in the Lake Placid area you should take advantage of everything it has to offer! You could take a walk around the picturesque village of Lake Placid, enjoy some thrilling outdoor activities, take a stroll through the Olympic Center Museum or even just relax at one of the many spas in the area.
When staying in Lake Placid, don't forget to visit Saranac Lake and Wilmington where the two time host of the Winter Oympic Games, Whiteface Mountain is! They are only just a short drive away and can add that once in a lifetime experience to your trip!
Want more info on the Village of Lake Placid? View Lake Placid Quick Facts »
Looking for Lake Placid hotels? Find hotels in Lake Placid and other popular Adirondack destinations in our Adirondack Lodging Guide!