Argyle NY
Learn more about the quaint and rural community of Argyle NY.
The Argyle Patent was granted in 1764, and the history of the town -named for Argyllshire, Scotland where many original descendants came from - has been told countless times since.
The area that is now Argyle at the time of the town's formation was in Albany County; later, with some boundary changes, we were in Charlotte County. In 1784, Charlotte County became known as Washington County. During the past 200 years there have been many changes in all aspects of our lives -social, industrial, agricultural, transportation, communications, etc. Despite all of these changes, however, Argyle remains essentially a rural community. In fact, many descendants of the town's original settlers are still living in Argyle in some of the grand old homes that grace the area.
The roads have been modernized to accommodate heavy traffic, of course, but there are still no public transportation facilities nor traffic lights. Many of the local residents travel daily to their places of employment in other communities, and less than one hour will take Argyle residents to innumerable sites for shopping and recreation.
Argyle is fortunate enough to have local employment opportunities, however. The National Catheter Corp., Sherwood Medical Industries and Sheridan Catheter Corp. all manufacture catheters and other medical supplies in Argyle. These companies employ hundreds and are a key to Argyle's economic base. Small businesses that serve the community in various ways are plentiful, also. Browsing through the local phone directory shows over 30 listings for businesses or professions practiced within the town limits.
Argyle NY also has its own school, the Argyle Central School. Argyle's 16 district schools were centralized in 1938, and with the opening of the new addition in 1975, Argyle Central School now has an enrollment of over 900 students.
The community is well served by volunteers that work for the J.A. Bar Hose Co. and the Argyle Emergency Squad. Argyle is also the home of Pleasant Valley Infirmary. The Infirmary, established in 1827 as the County House, is still providing quality health care to the entire county.
Another long-standing community landmark is the Argyle Free Library. The library, a member of the Southern Adirondack Library System, has been housed in one of the oldest buildings in Argyle since 1927. The Library had a circulation of over 14,000 items last year.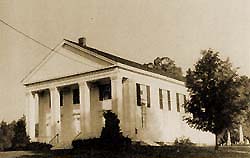 Argyle also houses five churches that serve the religious needs of the community's residents. The United Presbyterian Church, United Methodist Church, South Argyle United Presbyterian Church, North Argyle Community Church and North Argyle United Presbyterian Church have strong congregations in Argyle, some of which were organized during the town's infant years and have fascinating histories of their own.
Active public service groups in Argyle include American Legion Argyle Post 1518, Argyle Grange, Argyle Lodge #567 Free and Accepted Masons and the Argyle Historical Society.
Recent years have brought an upswing in Argyle's population as many people have found this peaceful, rural community that is still close to employment and commercial centers quite an attractive place to live. An almost unique feature of Argyle is that it remains "dry." The issue of liquor sales has been brought to vote many times but has always been defeated.
The community's residents seem to like things just the way they are in Argyle. They have discovered that Argyle is quite simply a nice place to live!
Find additional information about Washington County