Enjoy Maple Sugaring in the Adirondacks With Sugar House Tours, Maple Syrup Tastings, & More
Did you know? New York State is the second largest producer of maple syrup in the United States after Vermont, and the Sugar Maple is the state tree of New York. The Adirondacks with its rich forests and long history of agriculture is brimming with maple sugar houses and farms.
Late winter into early spring is the ideal time to check out maple events happening throughout the Adirondacks, where you can learn all about the fascinating history of this industry, and sample delicious maple treats.
Jump To: Maple Events This Season | Maple History | Maple Sugaring Process
Photo credit: Alan Nudi
Adirondack Maple Events This Sugaring Season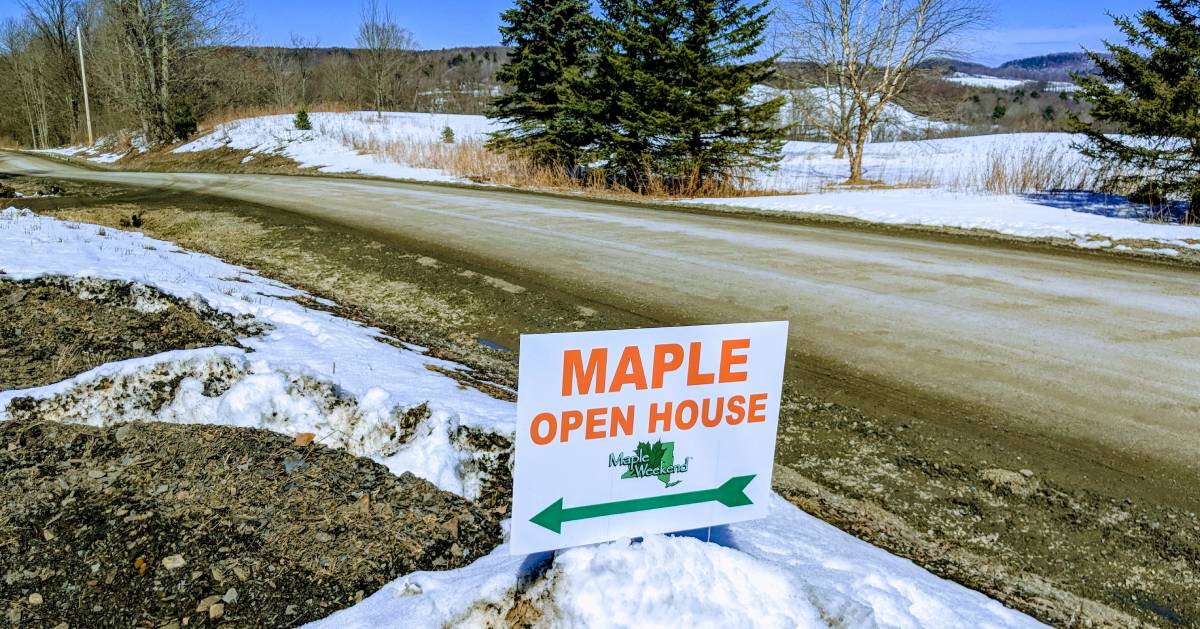 While you can purchase New York maple products all year round, March and early April offer a remarkable amount of events that allow you to tour maple sugar shacks and try sugaring first-hand.
During Maple Weekends, which happen over two consecutive weekends in March, maple producers welcome visitors and families to see how their products are made; you can also check out the Thurman Maple Days over three weekends.
The 2023 Maple Weekends are scheduled for: March 18 & 19 and March 25 & 26, 10am to 4pm each day, although hours may vary with specific participants.
2023 Adirondack & Lake George Region Weekend Participants
Battlehill Maple: 459 Route 16, Fort Ann, NY 12827
Bechard's Sugar House: 61 Sanger Lane, West Chazy, NY 12992
Brandy Brook Maple Farm: 439 Brandy Brook Road, Ellenburg Center, NY 12934
Cannon's Maple Ridge: 437 Cannon Corners Road, Mooers Forks, NY 12959
Cedar Brook Farm Maple Confections: Malone, NY 12953
Chazy Lake Maple: 394 Wilfred King Road, Ellenburg Depot, NY 12935
Grottoli's Maple: 91 Ritchie Road, Middle Granville, NY 12849
Heaven Hill Farm: Adirondack Park Road, Lake Placid, NY 12946
Hidden Hollow Maple Farm: 312 Dippikill Road, Warrensburg, NY 12885
Maple Valley Farm: 84 Harris Road, Corinth, NY 12822
Mark Twain Maple Works: 624 Lake Street, Saranac Lake, NY 12983
McComb's Oak Hill Farm: 227 Elm Lake Road, Speculator, NY 12164
Moon Valley Maple: 215 Johnson Road, Malone, NY 12953
Paul Smith's College VIC: 8023 Route 30, Paul Smiths, NY 12970
Parker Family Maple Farm: 1043 Slosson Road, West Chazy, NY 12992
Parker's Real Maple: 4448 Route 374, Merrill, NY 12955
Rathbun's Maple Sugarhouse & Restaurant: 1208 Hatch Hill Road, Whitehall, NY 12887
Shamrock Maple Products: 907 Lake Ozonia Road, St. Regis Falls, NY 12980
Toad Hill Maple Farm: 137 Charles Olds Road, Athol, NY 12810
Trombley's Sugarhouse: Star Road, Ellenberg Center, NY 12934
Valley Road Maple Farm: 190 Valley Road, Warrensburg, NY 12885
See all Adirondack maple events »
View a map of all NYS participants: https://mapleweekend.nysmaple.com/
History of Maple Sugaring in the Adirondacks
In the northern United States, the Native Americans were the first to harvest the maple sap for nutritional use. Before the arrival of European settlers in the 1600's, many tribes had a long tradition of producing maple sugar. The Algonquins used stone tools to tap maple trees and harvest the energy-giving sugar from the tree. They would cook the maple sap by placing hot stones directly into collecting buckets.
The Algonquins would leave the buckets out at night and remove the frozen layer of ice that would form on top of the sap, a process similar to evaporating the excess liquid. The Iroquois also boiled maple sap from trees to convert it into maple syrup.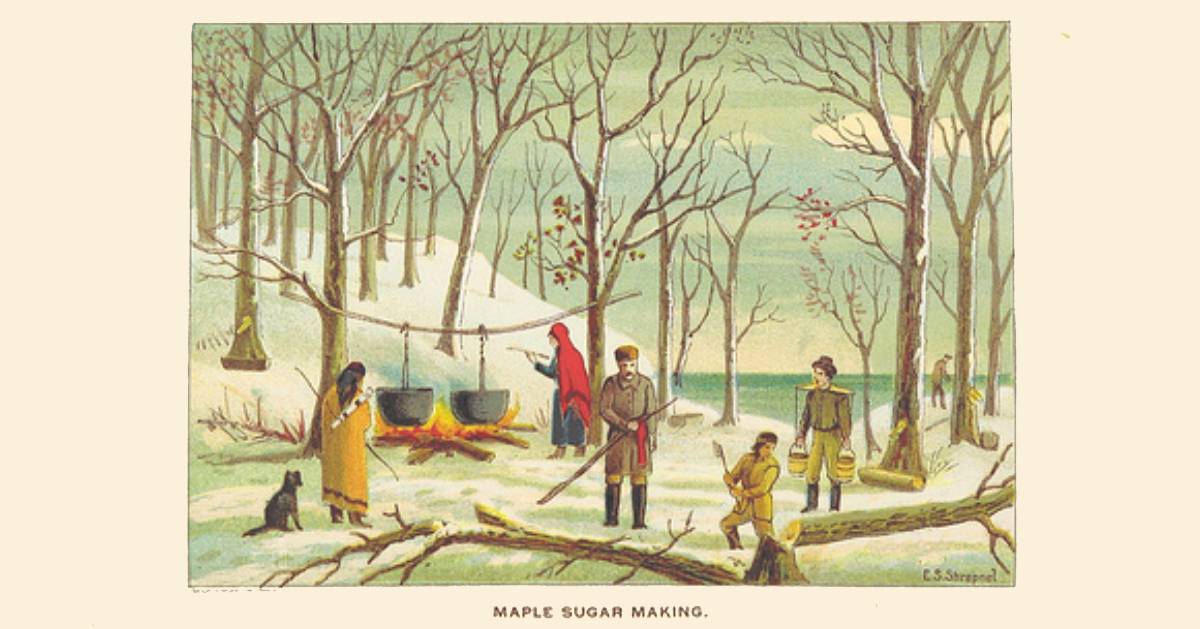 In the 17th century, European colonists took advantage of the maple sap. At the time, the boiling process was time-consuming as the sap had to be transported by horses and oxen to a single location. Once it arrived there, the sugar was boiled and then processed over a fire built in the sugar shack.
During the Civil War, advances in food storage, like the tin can, made it possible to sell and distribute maple syrup on a larger scale. Dairy farmers made maple syrup to supplement their income through the spring. Maple syrup was also promoted as an alternative to slave-produced cane sugar among abolitionists and northern advocates.
The maple syrup production process went fairly unchanged until the energy crisis of the 1970's. Since then, the tapping and boiling processes have advanced, allowing for both more efficient and safer syrup production. With the use of modern filtration, vacuum pumps, reverse-osmosis techniques, and fast heating capabilities, the maple syrup-making process has never been more efficient.
The Maple Sugaring Process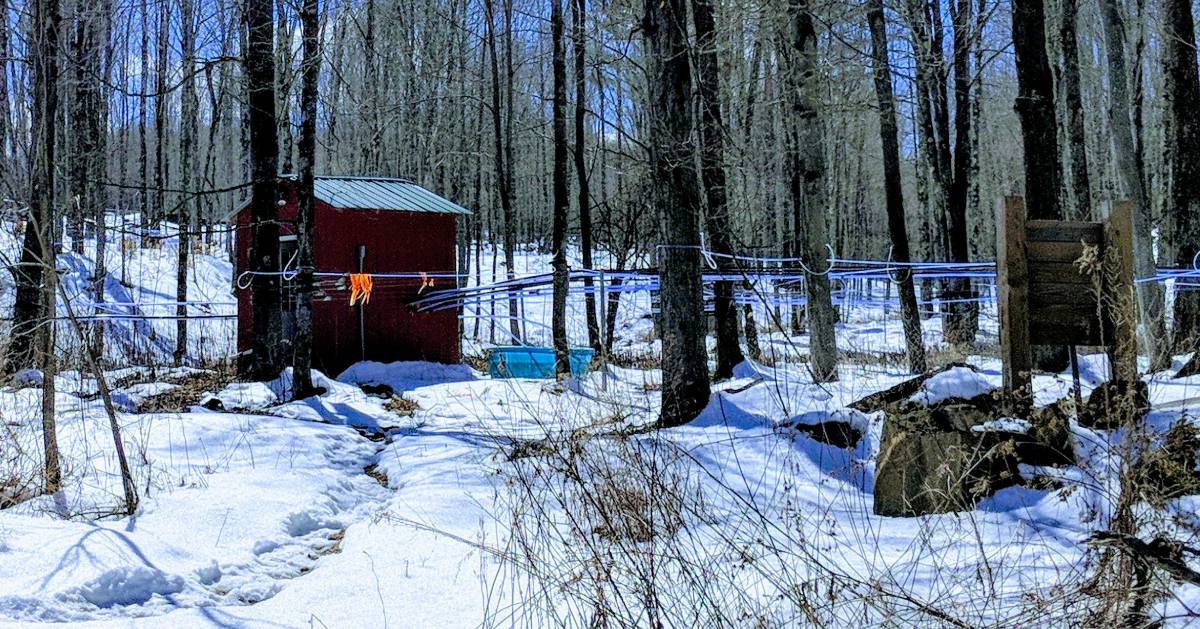 The process of maple sugaring usually begins in the Adirondacks in March before the Spring Equinox as the snow and ice begin to thaw. The Sugar Maple tree, or sugar bush, produces a sap that begins to flow depending on the temperature fluctuations between night and day.
Maple sap has a high sugar content during the winter because cold periods below 25° F result in the conversion of starch to sucrose (aka sugar) which is required for leaf expansion. March is sugaring season because the warm daytime temperatures and freezing nights generate sap flow. The highest quality sap flows at the beginning of the season and has the highest sugar content.
The process of collecting maple sap in the United States has advanced since the Colonial Era through the use of vacuum pumps and tubing. A maple tree is tapped when it is at least 30 years old and can support up to 3 taps. The tap allows the sap to flow into a collection area, either through plastic tubing that leads directly to the evaporator house, or into traditional buckets.
Maple sap is nearly 98% water. This means that although a maple tree can produce more than 3 gallons of sap per day, it takes over 40 gallons of sap to produce just 1 gallon of pure maple syrup. Once enough sap has been collected, it is transferred to an evaporator in a sugar shack.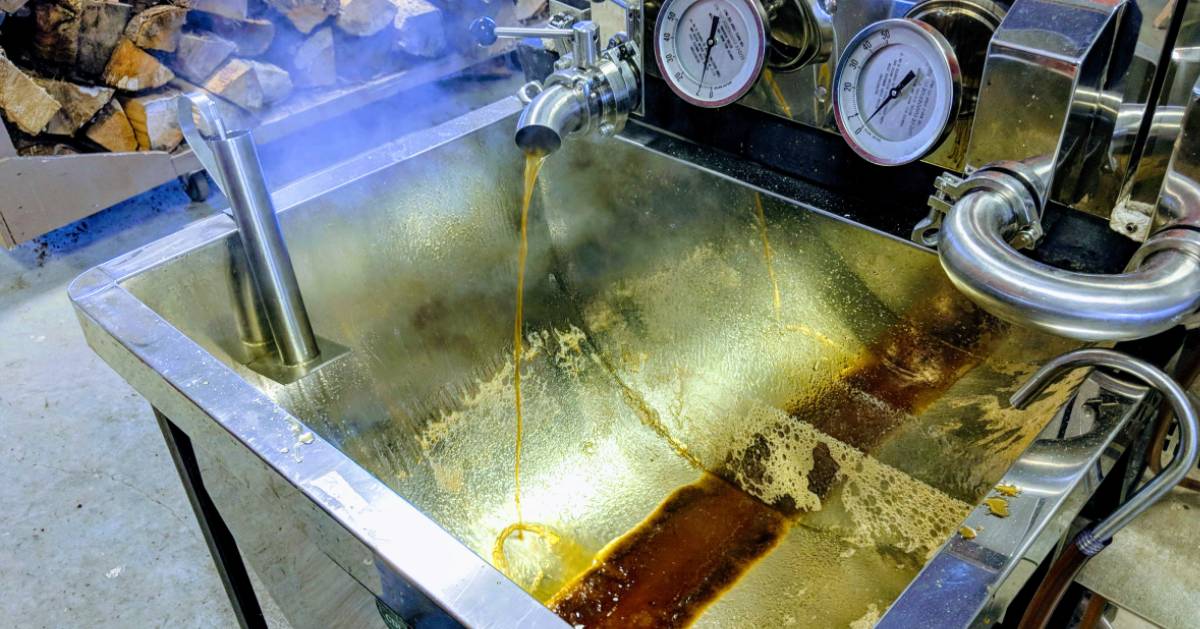 Photo credit: Alan Nudi
A sugar shack or sugar house is a cabin-like structure that is louvered, meaning it has horizontal slats angled to let out the steam from the sap evaporation. The sap is heated and the excess moisture evaporates, concentrating the sugar in the sap.
Boiling maple sugar is a highly controlled process to ensure that there is an appropriate amount of sugar in the product. Around 66-67% sugar content is ideal for high quality syrups. After boiling, the syrup is filtered, assigned a grade, and packaged. To create maple candies or taffies, the syrup is heated longer and combined with other ingredients.