The Lodge on Echo Lake - Exclusive Interview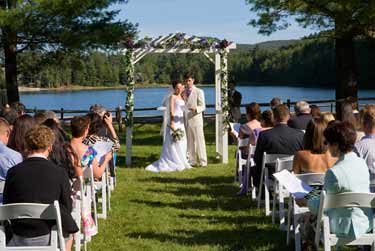 The Lodge on Echo Lake is a spectacular venue for weddings, rehearsal dinners and corporate retreats - Adirondack style. I sat down with the nice folks that run The Lodge and asked them what to expect on the shores of the sparkling Echo Lake.
1. The Lodge at Echo Lake specializes in Weddings, Banquets and Corporate Retreats. Are you open for dining when you don't have a party booked? How many guests can you accomodate?
We are only open for weddings, private events, and corporate retreats, etc. - while The Lodge used to be open as a restaurant about 8 years ago and was open as a restaurant on non-event days, we are currently not open outside of our private event business. The Lodge on Echo Lake can accommodate weddings of up to 200 people. Minimum party is 40 guests.
2. What if it rains? Can the ceremony/banquet easily be moved indoors?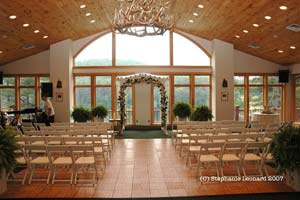 The Lodge on Echo Lake has multiple ceremony locations -- five outdoor locations and one indoor location. The decision to move indoors due to inclement weather can be made the day of the wedding if necessary. The Lodge has one indoor reception space and another "open sides" but covered pavilion space for less formal weddings (BBQ wedding receptions and/or BBQ rehearsal dinners).
3. What time of year makes for the best scenery and photographs?
The Fall (September/October) is the best time for scenery and photographs as The Lodge is set against a background of trees and the colors are spectacular! For those looking for a unique setting during the winter - The Lodge is also beautiful with the frozen lake and snow in the background making for a pleasant, winter wonderland.
4. What are a few of the signature dishes on the menu?
Signature hors d'oeuvres include: mini crab cakes, tomato basil bruschetta, Swedish meatballs and the Shrimp Cocktail Fountain. Signature Entrees include: Chicken Milanese, The Lodge Chicken (a breaded Chicken breast stuffed with ham, cream cheese, onions and peppers), Roast Prime Rib of Beef Au Jus and for Vegetarians - Eggplant Napoleon.
5. Is there on-site lodging for guests?
Yes, we have 12 private Adirondack cabins that include queen or double beds, a small kitchen and bathroom with shower for rent by the night or the weekend. We also have available for rent a 3br/2bath house - all accommodations are subject to availability and are only available to booked parties (we hold the cabins for our private events only, and you must be the host or a guest to make a reservation). We also have "open cabins" which typically sleep 12-16 people via bunk beds - these have bathrooms but no showers -and are often rented when a bride/groom has a weekend wedding and needs extra lodging. These open cabins are also utilized for corporate retreats and group parties.
6. Is there any way to get to and from Lake George Village, without having to drive?
Yes, the night of the wedding we offer complimentary shuttle services to and from a select number of hotels for the wedding guests.
7. Corporate Retreats - how far in advance does a weekend have to be booked?
Weddings are typically booked a year in advance. Corporate Retreats are booked 6 months in advance, depending on the time of year.
8. What is there to do at Echo Lake? Do you have boats/canoes?
There's lots to do at Echo Lake - especially if a wedding couple decides to book a weekend wedding - in addition to hosting a Rehearsal BBQ dinner the night before their wedding and/or a "good-bye breakfast" the morning after their wedding, they have the opportunity to participate in a variety of sports and activities such as:
16 Hard-top tennis courts
Swimming & Boating on our 35 acre spring-fed lake (kayaks, canoes, row boats)
Indoor/Outdoor Basketball
Baseball/Softball
Soccer
Sand Volleyball
Roller Hockey Arena
Mountain Biking Trails
Additionally, the wedding couple can host a "midnight" bonfire for their guests after their wedding reception as well as decide to offer a fireworks display for their guests.
Note: additional fees apply for the bonfire and fireworks display as well as some of the above activities.
9. Can parties be booked year round? What is there to do in the winter?
The only time The Lodge does not host parties is during our summer camp season from June 17th to August 18th. In the winter, we can host an indoor wedding, with limited lodging available. There are a number of activities to do in the area such as skiing, snowmobiling, sledding, etc. but The Lodge does not offer any activities during the winter
10. What is best thing about The Lodge on Echo Lake?
There are a number of things, but to name a few:
The seclusion and serenity of The Lodge due to its very private location
The uniqueness of The Lodge itself, with floor to ceiling windows which overlook the deck and the lake
The ability to utilize the whole campus for a weekend wedding if so desired
Lastly, the customization of your own wedding packages, we won't force fit a package - Kathy, our wedding coordinator works with the bride and groom to create a menu that fits both the couples budget and their taste and interests.