Explore Cycling Trails & Biking Hotspots Outside the Adirondack Park
Just south of the Adirondacks you'll find a variety of on- and off-road biking trails that will reward you with their scenic views. Whether you love the leveled ride of a designated biking trail or you prefer the peaks and valleys of a stimulating ride in the woods, there are some biking gems you might not know about close to the Adirondack Park.
Below we've highlighted cycling trails, state forests that allow mountain biking, and some worthwhile places to stop along your journey.
Discover Excellent Cycling Trails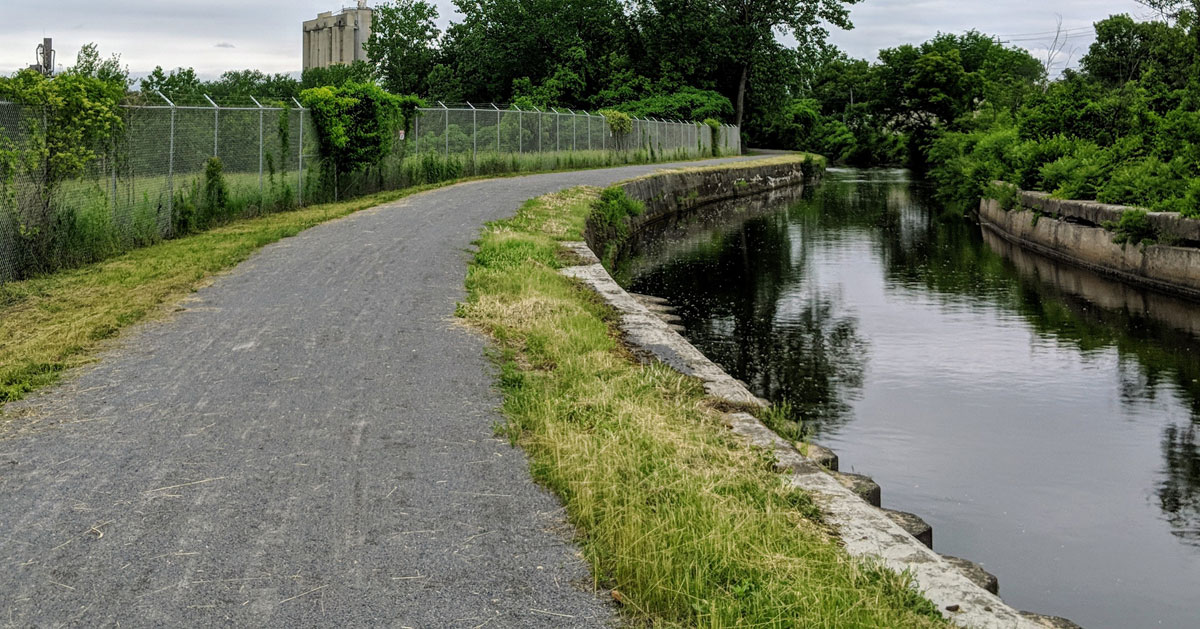 Riding on paved trails compared to wooded, mountain trails has its distinct advantages. You have a clean, smooth ride ahead of you, you can go further faster with less energy, and you can use a lighter bike, which will help you get up to speed faster.
If paved trail biking or road biking is your jam, you should check out the following trails:
Glens Falls Feeder Canal Trail
The Glens Falls Feeder Canal Trail starts in South Glens Falls and makes its way through Hudson Falls and Fort Edward. It follows along the Glens Falls Feeder Canal which adds a little something special to the scenic views along your ride. From Overlook Park in South Glens Falls to Fort Edward the entire trail is nine miles long.
The canal is the last remaining original canal in New York State, and you can find signage along the way that provides a glimpse into the past of this region.
This trail connects to the Warren County Bike Trail that ends at the Village of Lake George. It's also connected with Empire State Trail and Champlain Canal Trail, which is in development going north, but connects to the Hudson Crossing Park and beyond.
Check out a map of the Glens Falls Feeder Canal Trail »
Slate Valley Rail Trail
The Slate Valley Rail Trail is a full loop that goes from around Slateville up through Granville, and to Poultney, Vermont, and then back south again through Vermont.
The Slate Valley Rail Trail is 100% offroad from the south end of the D&H Trail in West Rupert to the Village of Granville. While the northern end of the Slate Valley Rail Trail is currently under development from Depot Road north, on-road biking will link you to the northern link of the D&H Rail Trail in Poultney.
See a map of the Slate Valley Rail Trail »
Head Into the Woods for Off Road Mountain Biking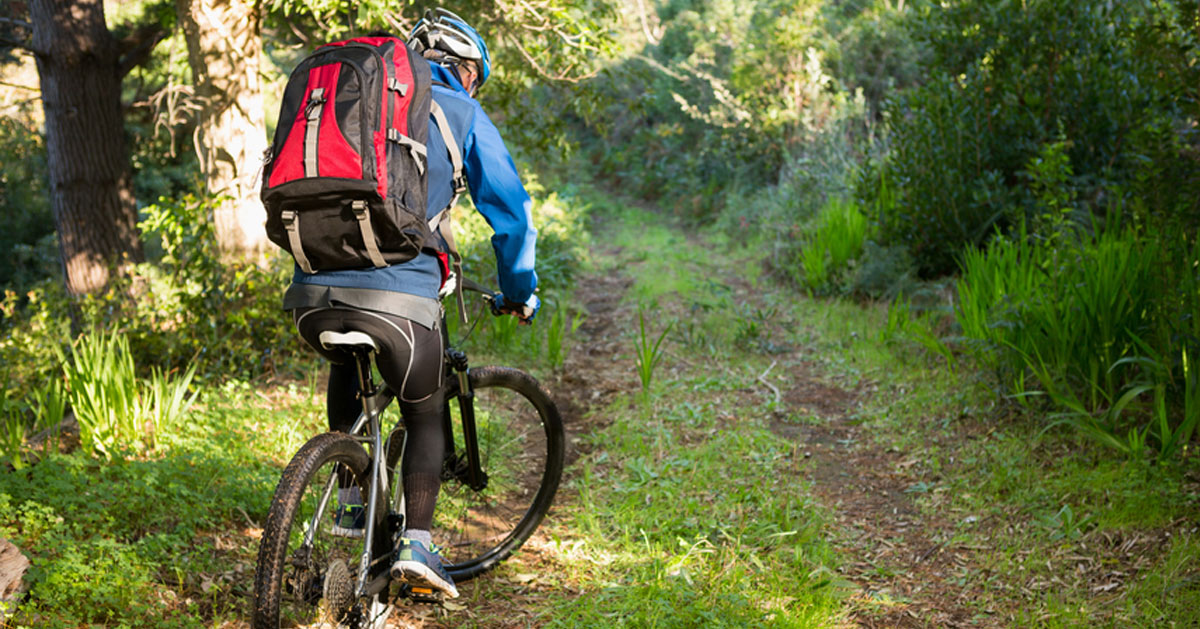 Love the thrill of biking on off-road trails and through forests? There are some great forests to bike through just south of the Adirondack Park that you will definitely want to check out.
Please keep in mind trail etiquette when biking on hiking trails. Bikers are generally expected to yield to hikers on the trail - hikers may move aside for you, but allow them to make that call. Be sure to make your presence known if you're coming up behind people hiking.
If you encounter other bikers, those going uphill get the right of way. And, if you see horseback riders on your travels they get priority over both bikers and hikers.
Also, remember that muddy trails are vulnerable to damage. Wait until after the spring mud season to bike on off road trails.
The following state forests all allow mountain biking and are about 15 minutes east of Cambridge, NY as you head towards the Vermont border:
Goose Egg State Forest & Batten Kill State Forest
The 436-acre Goose Egg State Forest and 535-acre Batten Kill State Forest are adjacent to each other in the towns of Jackson and White Creek. You can find parking in the Batten Kill State Forest parking lot, which provides access to the Folded Rock Trail, or in the Goose Egg State Forest parking lot or Eagleville Road Parking Lot.
The Folded Rock Trail is a five-mile roundtrip trail open to hiking and other recreation. Although just five miles, it offers a good workout, and includes a push up a 1,000 foot elevation over about half a mile. At the top, you see stunning views of the Battenkill Valley and Eldridge Swamp.
See map of trail and parking areas »
Mount Tom State Forest
Mount Tom State Forest in White Creek is the largest state forest in Washington County at over 1,700 acres. There are several parking lots and pull off areas around the forest, and inside you'll find multiple use trails.
Find a map of trails and parking areas »
Eldridge Swamp State Forest
Eldridge Swamp State Forest in Jackson is known for its abundant wildlife and hunting opportunities. There are grassy areas and wetlands within the forest, and farm landscapes bordering the area. While there aren't official, marked trails within the forest property there is a network of old farm paths and logging trails that are open to hiking and non-motorized recreation.
View map of forest and parking areas »
Chestnut Woods State Forest
Chestnut Woods State Forest in White Creek lies right along the Vermont border and is a little over 800 acres. Like the Eldridge Swamp State Forest, this area is also brimming with wildlife and has no official trails. But, there is an extensive network of former logging roads open for biking, hiking, horseback riding, and skiing.
Check out the map with parking areas »
Have You Tried This Famous Cycling Tour?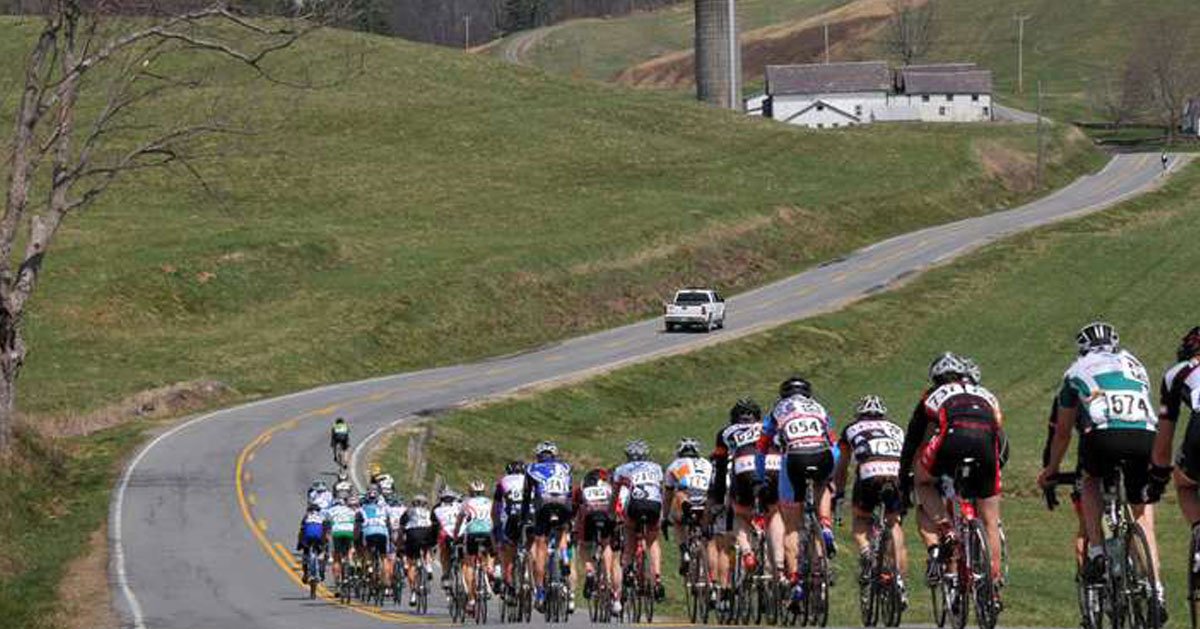 Tour of the Battenkill
The Tour of the Battenkill, happening for the 15th year on September 12th in 2020, is the biggest biking event in the area. Approximately 3,000 experienced and amateur cyclists compete in this race going over dirt roads, under a covered bridge, and up hills through Washington County.
The event comprises three rides: 75-mile Gran Fondo, 42-mile Medio Fondo, and 26-mile Piccolo Fondo. Riders pick their distance, reserve their spot, and then look forward to being a part of this momentous event.
Get Bike Rentals & Gear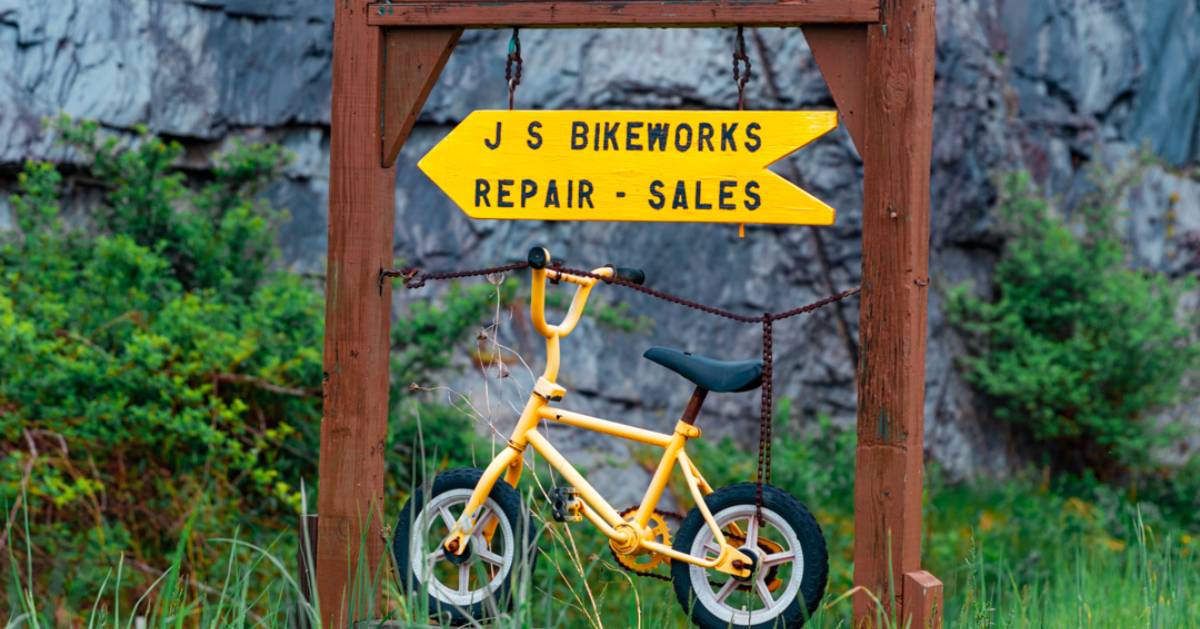 Looking to pick up or rent bike gear, or upgrade your own before you hit the trails? Check out the below options:
Johnson and Son Bikeworks
Johnson and Son Bikeworks in Hampton sells new and used bikes, and also offers bike rentals. This shop has grown from a bicycle rescue hobby to a complete store over the past year, and they play a significant role in the local community.
Johnson and Son Bikeworks offers programs like Ride to School and Ride to Work, where students and bike commuters can take advantage of discounts and benefits at their store, so you know you're supporting a great business when you shop here.
They stock mountain bikes, hybrid bikes (work well on paved roads, dirt roads, etc.), adventure bikes, dual sport bikes, and anything else you can think of for your biking needs.
Battenkill Valley Outdoors
Looking to rent a bike for your adventure? Battenkill Valley Outdoors in Cambridge offers bike rentals. Choose from a solo bike, a tandem bike, or a "rental bike child trailer," which is a covered pull-behind trailer- they make it easy for biking to be a family activity.
Places to Eat & Things to See Along the Way
You've got to grab some grub while you're out on your biking trip! Below we've rounded up some places to get food, cool sights to see, and even a unique overnight accommodation option that are close to the aforementioned trails and forests.
Along the Glens Falls Feeder Canal Trail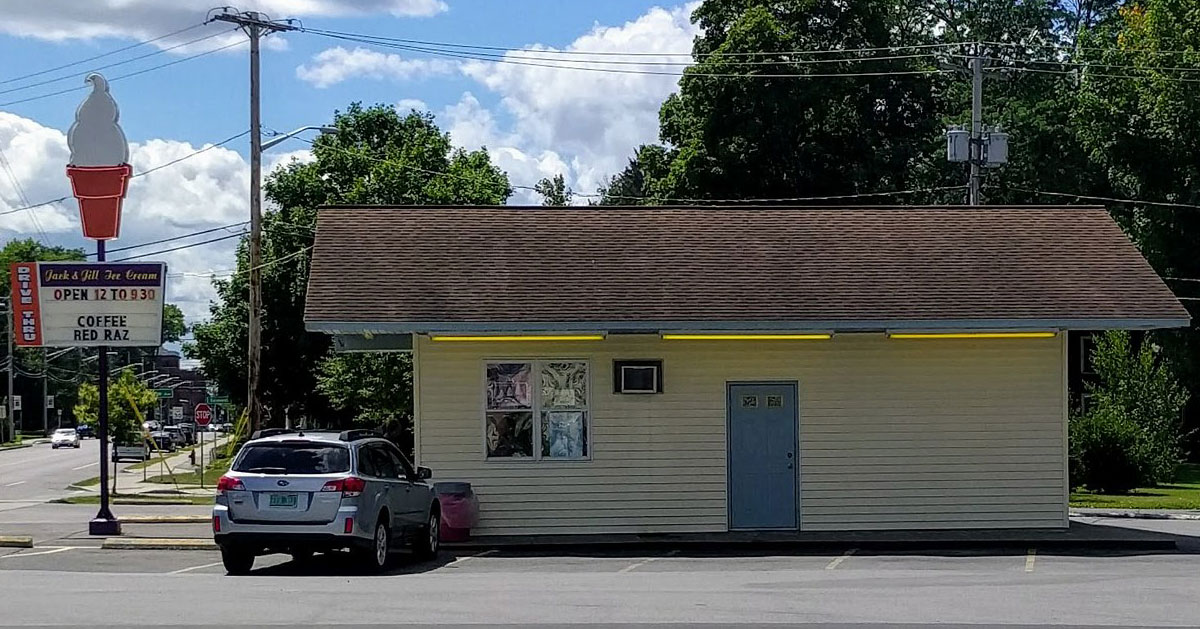 Jack & Jill Ice Cream
If you're craving an ice cream cone after a long day of riding Jack & Jill Ice Cream in Hudson Falls is where you'll want to stop. Check out their glowing Facebook reviews for an idea of what to expect from their large servings and friendly staff. The Glens Falls Feeder Canal Trail brings you right to their shop!
Zack's Drive-In
Need some food with sustenance? Zack's Drive In is just a few minutes away from Jack & Jill Ice Cream and serves up delicious eats. Known throughout the area for their hot dogs covered in a flavorful meat sauce, this seasonal restaurant offers traditional quick foods, such as juicy hamburgers, crispy onion rings, and chicken fingers. And, if you plan this so it's after your bike trip and you're in the car ready to head home, they actually bring the food right to your vehicle.
Note: Zack's Drive-In opens at 4pm.
Country Corner Cafe
Craving some breakfast fare before you hit the trails? Time your bike trip so that you visit Country Corner Cafe on Main Street in Hudson Falls. They're open 6am to 2pm each day with traditional homestyle cooking: eggs, omelettes, breakfast sandwiches, pancakes, and more - they even have country fried dough.
Five Combines
While traveling along the Glens Falls Feeder Canal Trail you can stop to admire the Five Combines, locks in Hudson Falls near Burgoyne Avenue.
Hudson River Brewhouse
The Glens Falls Feeder Canal Trail rail has a close proximity to Hudson Falls with its independent restaurants and stores, including the Hudson River Brewhouse. This brewhouse just opened in 2019 but has quickly become a favorite Village hangout to socialize over coffee and craft brews.
Haviland Cove Park
The trail runs right by Haviland Cove Park in Glens Falls which has a swimming area in addition to restrooms and showers.
Note: Hudson Falls as a village is brimming with culture and worthwhile stores to visit, many of which are centrally located around Juckett Park. See what you can find as you drive down Main Street/Route 4.
Near the Slate Valley Rail Trail
Edwards Market
Edwards Market right on Main Street in Granville sells fresh meats, local produce, and a range of specialty food items like honey, artisan cheeses, breads, sandwiches, and more. They also have a restaurant within the market, the West Main Grille, which would be an excellent place to stop for dinner; they're also open for brunch on Sundays.
Jen's Pit Stop
Jen's Pit Stop in Granville is another great place to grab a bite to eat while you're out on your adventures. They offer burgers and traditional fast food for lunch and dinner, and they also offer take out, so if you're in a hurry to get back on the trail you can grab your food to go.
Chapman's General Store
Grab subs, coffee, or delicious soft serve ice cream at Chapman's General Store in Middle Granville. They offer various dinner specials throughout the week as well.
Slate Valley Museum
Slate Valley Museum in Granville showcases the area's strong roots in the slate industry, which got its start in the 1800s after slate deposits were discovered in the area running along the New York/Vermont border. Museum admission is just $5 for adults and they're open year-round Tuesday through Friday, 1pm to 5pm and Saturday 10am to 4pm.
Slate Town Brewing Company
If you're embarking on your biking trip on a Saturday or Sunday you should make a plan to visit the Slate Town Brewing Company (they open starting at 5pm Wednesday through Friday; 1pm to 10pm on Saturday and 1pm to 7pm on Sunday). This is a farm brewery and taproom that specializes in small batch, handcrafted brews.
Close to the State Forests
The first hotspot below is located just outside of Batten Kill State Forest, and the next two are just outside of Chestnut Woods State Forest. The next six listed are in Cambridge or close to Cambridge, which is a six-minute drive (or 16-minute bike ride) from Eldridge Swamp State Forest and an 18-minute drive from Mount Tom State Forest.
Make sure to check the following out on a map beforehand and plan your trip accordingly!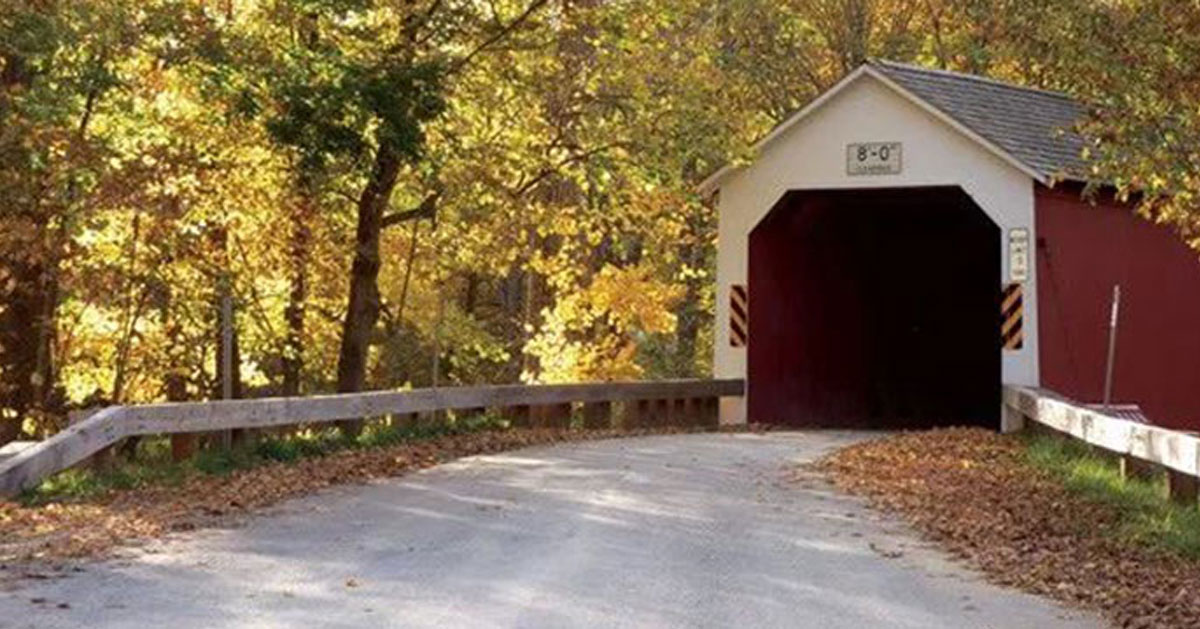 Eagleville Covered Bridge
Who doesn't love a picturesque covered bridge? Eagleville Covered Bridge is on Eagleville Road off of Route 313 which goes right by Batten Kill State Forest.
This bridge was built in 1858 and revamped in 2007, and it's listed on the National Register of Historic Places. It's one of just four covered bridges still standing in Washington County.
New Skete Monastery & Hiking Trail
The New Skete Monstery, known for their amazing cheesecakes, is just outside of Chesnut Woods State Forest, although be aware there isn't a direct route to them; you need to take Chestnut Hill Road to New Skete Road. This is a six-minute car ride or 27-minute bike ride that will be worth the effort.
The churches, gardens, bell tower, and hiking trail are open for self-guided tours Tuesday through Sunday, and you can find downloadable brochures and a hiking trail map on their website. The gift shop, which is where you'll want to stop to pick up the mouthwatering cheesecake, is open Tuesday through Saturday, 12:30pm to 4pm.
Clark's Pizzeria
Make the short trip to Cambridge from one of the state forests and fuel up on delicious pizza or a sub with quality Boars Head meat at Clark's Pizzeria on West Main Street. Or, if you're looking for a bit more of a fine dining experience after a day of biking, Silvano's Italian Restaurant is just across the street.
Silvano's Italian Restaurant
Silvano's Italian Restaurant is exactly what you'd expect from a renowned Italian eatery, with several chicken dishes like chicken parmigiana and chicken marsala, multiple seafood dishes, sirloin steak, and vegetarian options. This could be a satisfying end to a long day recreating in the woods!
Iggy's Wicked Good Eats
Craving a burger after some serious bike riding? Stop by Iggy's Wicked Good Eats for this classic comfort food, located in Cambridge. They also serve up Philly cheesesteaks, chicken gyros, and other high quality pub fare like beer battered pickles.
Cambridge Food Co-Op
While in Cambridge, stop by the Cambridge Food Co-op where you'll find local, natural, and organic produce and products to pick up for your trip home.
Benson's Dairy Bar
Get breakfast, lunch, dinner, or ice cream at Benson's Dairy Bar in Eagle Bridge, which is a 10-minute drive south of Cambridge, or a 23-minute bike ride from Mount Tom State Forest.
Eagle Bridge Antique Center
Also located south of Cambridge is the Eagle Bridge Antique Center in Hoosick Falls, just east of Eagle Bridge. This is a 23-minute bike ride from Mount Tom State Forest. Browse collectibles and high quality antiques from lamps to mugs to paintings.
Need Overnight Accommodations?
Log Village & Grist Mill Campground
Have you ever tried glamping - otherwise known as luxury camping? Biking and camping go hand in hand! Check out Log Village and Grist Mill Campground in Granville, near the Slate Valley Rail Trail. Sleep in an actual bed, make use of conveniences like a refrigerator and a TV - all in a tent.
Battenkill Valley Outdoors, mentioned above in the Rentals & Gear section, also offers lodging on their spacious grounds.