The First Hotel Champlain at Bluff Point
Erected: 1888-90
Architect: George E. Harney
Hotel Champlain took more than a year and a half to complete, and was erected in the Queen Anne and Colonial Revival style. Its initial capacity was a whopping 400, and it was widely regarded as the most luxurious and distinguished resort of its time.
Some of the amenities Hotel Champlain boasted included a large barroom, a children's playroom, servants' quarters, three elevators, a billiard hall, a cafe, a spacious ballroom, wine rooms, and sixteen-foot ceilings on the first floor. There were also seven cottages on the grounds, which housed additional guests.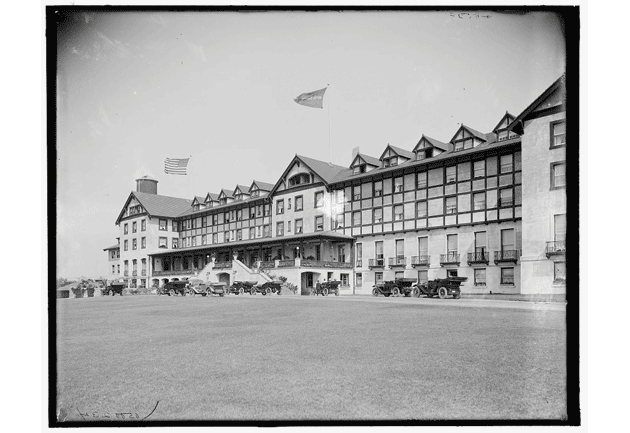 The 400-acre property and its shoreline offered an endless array of activities on land and water. The most popular activity at Hotel Champlain was golf, and it is believed that the golf course on the property was the third-oldest in America.
Hotel Champlain was easily accessed by railroad, which helped it achieve rapid success. Like other resort hotels, this success led to multiple expansions, which attracted distinguished guests, like President William McKinley.
A fire put a quick end to the hotel's prominence in 1910, and although it was rebuilt, the quality was not up to the standard set by the first structure.
Learn about other Adirondack resort hotels »
Photo:
Hotel Champlain, front facade, Bluff Point, N.Y.
Credit - Detroit Publishing Co. via Library of Congress
Source:
Tolles, Jr., Bryant F. "Resort Hotels of the Adirondacks: The Architecture of a Summer Paradise, 1850-1950"