Adirondack History Guide
Beyond the breathtaking vistas and exhilarating mountain air, the Adirondacks hold the key to a world of historical wonder. Around each corner visitors can discover hallowed battle grounds that witnessed fearless acts of heroism, explore museums that belie their rustic surroundings with impressive displays of Adirondack architecture, medicine and industry, escape to historic mansions and indulge in the comforts of elegant Victorian living.
The Adirondacks were originally claimed by two Indian nations, the Iroquois and the Algonquins. Neither group ever settled in the region, but the two nations fought over the Lake George - Lake Champlain water route through the Adirondacks. This route was the easiest one through the Adirondacks and was therefore a valuable resource.
Dating back to the 1700's the Adirondacks were a popular destination, with Lake George and Lake Champlain providing ideal conditions for settlements, and later for military posts. Opportunities abound to see examples of the evolution of Adirondack architecture, of both the real McCoy and reproduction varieties.
The last 250 years in the Adirondacks have produced a bounty of historic intrigue. Like the infinite hikes within the Park, the history here is accessible - walk the trails, ride the trains, and visit the places written about in textbooks and novels alike.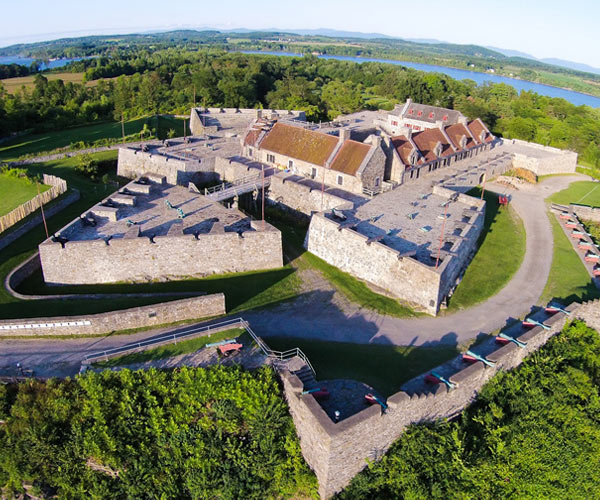 Read an overview of the
Victorian Era
in the Adirondacks, which featured the development of Great Camps and Resort Hotels.
The Front Line in the Blue Line
The French and Indian War, also called the Seven Years' War, raged from the late 1750's into the early 1760's. This war was the single largest pre-Civil War land battle in American history. Fort Carillon, later called Fort Ticonderoga, the setting of this legendary battle, offers historical reenactments depicting with expert accuracy every detail of the battle, from uniforms and weapons to staging and military strategy.
In addition to Fort Ticonderoga, the Lake George Battlefield Park and Fort George State Park are great places for a walk, as these legendary locations have interpretive signage chronicling events like bloody battles and the race to cure smallpox that transpired on these grounds.
In September of 2005, Lake George commemorated the 250th anniversary of the Battle of Lake George in 1765, an inconclusive battle that inspired early versions of the song "Yankee Doodle."
2007 celebrated the 250th anniversary of the 1767 surrender of Fort William Henry in Lake George and the resulting massacre that occurred when the British surrendered, but were attacked further by French and Indian forces.
February of 2013 marked the 250th anniversary of the signing of the Treaty of Paris in 1763, which effectively ended the Seven Years' War, but forever changed the economic, political, and governmental relationships between America and the three European powers colonizing the newly discovered territory.
Fire Towers Photo Credit: Fire Tower Secured By Guidewires via photopin (license)
Tahawus Photo Credit: Another Collapsing Adirondac Village Building via photopin (license)