New York Post Writer Goes Ice Fishing In The ADKs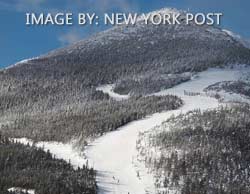 The New York Post recently featured an article about ice fishing in the Adirondacks where New York Post writer Jennifer Ceaser lets us in on her thoughts about her (first-time) experience ice fishing on Connery Pond, near Lake Placid, NY. The article is full of some pretty funny narratives (see below) and is a great read.
Luckily, Ceaser was accompanied by an experienced ice fishing guide, Sonny from the Adirondack Foothills Guide Service, who knew the ins and outs of ice fishing on Connery Pond. A guided ice fishing trip is a good idea for a first timer, and Sonny knew exactly what to bring. Ceaser starts her article off with a checklist of all the equipment you need on an ice fishing trip to the Adirondacks:
WATERPROOF boots? Check. Thermal fleeces layered under a down coat? Check. Insulated gloves and seven-hour hand warmers? Check, check. Ten-pound, hand-operated auger to drill through a foot of ice? Uh, check?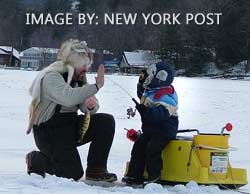 Hand warmers were a great idea (and so was Sonny's hot chocolate as Ceaser points out) because it was a "frigid (eight degree!) January morning" on the day they set out ice fishing. Despite the cold, the beauty of the Adirondack winter was enough to stop this New York Post writer in her tracks:
Emerging from the shelter of the woods, we stood admiring the frozen tundra that was the pond, and the snowy peak of Whiteface Mountain in the distance. A glacial wind whipped up layers of powdery snow, forming little tornadoes of white along the pond's surface.
Ceaser snapped a few photos from her trip showcasing the beauty of winter in the Adirondacks. And those who have been fortunate enough to visit the Adirondacks in winter know exactly the feeling she had gazing out at the landscape -- awe.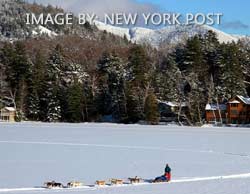 Well, it's one thing to be awed by the beauty of the frozen Connery Pond surrounded by picturesque evergreens and snow-capped mountains... but it's another thing to take the first step onto the ice, and Ceaser was a bit nervous about stepping onto the ice until she knew it was completely frozen:
"How do you know it's frozen enough? How can you be sure we won't fall through the ice?" I asked Sonny, imagining all sorts of dramatic drowning scenarios and wishing I hadn't put on that extra five pounds over the holidays.

"Because I checked it yesterday," he assured me. "It's at least 12 inches thick, maybe more in some places."

"But what should I do if I do fall in?" I insisted, inching slowly out onto the surface.

"You make like a spread eagle," he answered, stretching out his arms and legs. "That way you'll float. Then you can grab the edge of the ice and haul yourself out."

I nodded, though I barely had the strength to pull myself out of the heated pool at the Mirror Lake Inn that morning, much less out of near-freezing water in single-digit weather.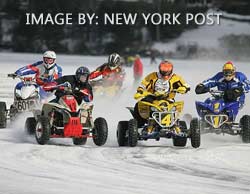 Ceaser mentions her stay at the Mirror Lake Inn & Spa in Lake Placid a few times throughout the article, and it seems she probably enjoyed her stay at the inn more than her ice fishing trip out in the cold, but it's hard NOT to enjoy being pampered and relaxing in the "toasty air at the hotel sauna" after a long day out in the cold. Even so, the ice fishing trip may have been cold, but it was certainly exciting for Ceaser:
Though it was exhausting work - it took around 25 full turns of the auger to carve a hole - when the ice broke and big "whoosh" of water spurted out, I felt excited. Stuff was happening!

...

Not two minutes later, as Sonny was about to drill another hole, the orange flag shot into the air. "Sonny," I hollered. "It's a fish!" It was a fairly big one, too - a brown trout, about 13 inches long.
After the early catch, Ceaser and her ice fishing guide Sonny sat on the frozen Connery Pond near Lake Placid for another couple of hours meeting new friends, sipping bourbon and not catching any other fish. She retired back to the Mirror Lake Inn sauna to "sit and dream of all the fish that got away."
Maybe if she had more time, Ceaser could have enjoyed some of the other great winter activities in the Adironacks, like skiing, horseback riding, ice climbing or dog sledding.
Well, there's always next time!
Learn more about ice fishing in the Adirondacks »