Ready To Go Whitewater Rafting? Here's What Every First-Timer Should Know
The rushing rivers of the Adirondack Park are some of the most impressive sights in the Northeast, and the best way to experience them firsthand is on a whitewater rafting trip. To ride the rapids of the mighty Hudson, the Sacandaga, or even the Moose River is an adventure you won't soon forget.
But is whitewater rafting for you? While all those photos of crashing waves and bouncing rafts may seem a little intimidating at first, this is one activity both families and adrenaline junkies can enjoy. To help you understand what it's all about, we've broken down what every first-timer should know about whitewater rafting.
When To Go Whitewater Rafting
You may think whitewater rafting is just a summer activity, but it's actually offered from mid-spring through mid-fall in the Adirondacks.
For thrill seekers, spring leading into summer is the ideal time to go because the runoff from recent snowmelt swells up rivers and creates wild rapids. Then, from summer through fall, you can look forward to gentler rapids, particularly in September and October.
Depending on who is in your group, you may want to start off with one of the more family-friendly trips. Rather than tackle the raging Moose River in spring, you can join a rafting trip on the Sacandaga River in summer. Trips range from an hour long to 4+ hours, so make sure you know what you're signing up for.
There are a variety of options to choose from, and it's recommended to contact the rafting company you're interested in and check the current status of the rapids.
Learn About The Rapids Rating Scale
While researching the guided whitewater rafting trips in the region, you'll likely see phrases like Class I Rapids or Class IV Rapids. These ratings describe the rapids' difficulty level on a section of river. Here are the six classes:
Class I Rapids - Class I Rapids are the easiest and present few challenges for beginners.
Class II Rapids - You'll find slightly stronger rapids than Class I, and some maneuvering around small objects may be required.
Class III Rapids - These rapids are best described as medium, so they're not too strong or weak. If you're a beginner, these rapids may be the strongest you'd want to start with.
Class IV Rapids - The current is fast on Class IV Rapids, and you'll likely encounter objects and challenges on the way. Listen to your guide, and prepare for strong rapids.
Class V Rapids - Before you attempt Class V Rapids, make sure you're experienced, prepared, and know the river. These rapids are long, hard to navigate, and feature big waves.
Class VI Rapids - Unless you are experienced and understand the risks, you shouldn't go rafting on Class VI Rapids. These are the most extreme.
The Rivers Of The Adirondacks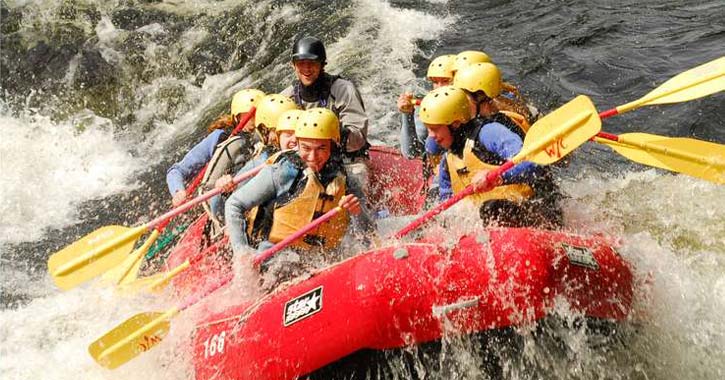 The three main rivers for whitewater rafting in the Adirondacks are the Hudson, Sacandaga, and Moose Rivers. Each whitewater rafting company in the region offers trips on certain sections of these rivers based on where their rafting base is located.
If you're rafting for the first time, the Sacandaga River may be the one for you. This river mostly sees Class II & III Rapids, which are perfect for families looking for a fun adventure.
The Hudson River/Hudson River Gorge tends to be stronger with Class III & IV Rapids, so you'll likely encounter more waves and obstacles along the way than on the Sacandaga.
Trips on the Moose River are offered by ARO Adventures only in spring. Expect raging rapids that will challenge even the most experienced whitewater rafters.
Frequently Asked Questions (FAQS)
How old do you have to be to go whitewater rafting?
Each whitewater rafting company has minimum age requirements based on the location and time of year. Some places allow kids as young as 7 on trips from Memorial Day through fall.
Do you need any experience on the water?
No, for most easy and medium-level rapids, experience (paddling, rafting, or swimming) is not required. Your NYS-certified guide will describe the river, provide safety tips beforehand, and direct you during the trip. However, since rafting is a team effort, you will be asked to help paddle and navigate the raft down the river.
What do I need to bring or wear?
Each rafter will be given a personal flotation device, a helmet, a paddle, and safety advice.
Since the water and temperature are colder in spring and fall, you'll want to wear a wetsuit and wool, fleece, and polypropylene clothing. Cotton clothing is not recommended. During the warmer months, a lightweight shirt and shorts with a bathing suit underneath is suggested. Shoes (old sneakers/water shoes/sandals) are required, and loose fitting sandals or flip-flops won't be allowed. Wear sunscreen, and don't take valuables with you.
How many people can fit in the raft?
An average raft may fit 6-10 people plus a licensed guide. There are larger rafts with a greater capacity though.
How do we get back to the rafting center?
Your rafting trip will either end at the rafting center, or a shuttle will transport you back.
Do I need to make a reservation?
While walk-ins are usually accepted, it's best to make a reservation so you have time to prepare.
Eager to get on the water for your first whitewater rafting trip? Check out these local whitewater rafting companies and see what types of trips they offer »
See a photo gallery of past Adirondack whitewater rafting trips »
Source:
https://www.whitewaterrafting.com/rafting-info/rapid-classes