Adirondack Whitewater Rafting: Getting Started
Ready to have a rip-roaring time on the river? Plan a whitewater rafting trip in the Adirondacks! From spring through fall, whitewater rafting is one of the most thrilling outdoor activities in the region. However, before you go, make sure you're prepared ahead of time and know what to expect out on the water.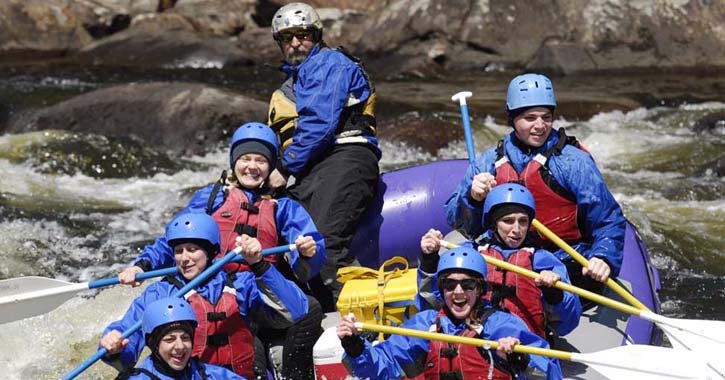 Whitewater Tips To Know Before You Go
Spring is the best time for thrill seekers looking for WILD rapids! The snow melt-off creates ideal fast-moving waters for weeks during the spring.
The Adirondack whitewater rafting season typically runs April through mid-October.
The Hudson River rapids have Class III, IV, and V ratings.
Day whitewater rafting trips almost always include all your gear, life vest, and a snack.
Be in good shape. You don't need to be super fit, but being in good health is always an important part of an outdoor adventure.
Much of the ride will not be whitewater. You'll have stretches of calm waters that lead up to the fast and exciting rapids.
Summer and fall are beautiful but a calmer ride than spring.
In the spring - dress WARM - all polypropylene, fleece, and wool. Wear two pairs of wool socks - no cotton.
Do not drink lots of coffee before a ride - there are usually no bathrooms.
Average cost is usually between $50-$100 for whitewater rafting, but varies based on age, length of trip, and season.
Protect your skin from excess exposure to the sun. Put on your sunscreen!
If getting it wet or losing it in a river would be distressing, don't bring it. This goes for expensive cameras, jewelry, and unnecessary gear.
Many companies can recommend nearby lodging and camping packages for out-of-town visitors. View our lodging specials!
See Adirondack whitewater rafting companies »