Potsdam, NY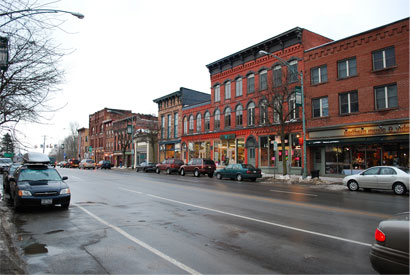 Flickr Photo by Runjmrun
Just past the outskirts of the northern Adirondacks in the St. Lawrence Valley lies Potsdam, NY. More populous and built-up than many other towns and villages in and around the Adirondacks, Potsdam still has plenty of old time charm and culture to enhance any relaxing vacation.
With the Raquette River flowing through town, and not too far from the St. Lawrence River, fishing and kayaking are favorites for locals and guests alike. Many of the farms in the area offer tours to educate visitors on the rich agricultural history of the region. A tip to those venturing to Potsdam – don't leave without trying the maple syrup. This local product is freshest in Spring, but is delicious year-round.
To make the most of a trip to Potsdam, and to take in as much of the great region as possible, plan on visiting during its annual summer festival. This tradition brings together the food, culture, arts, and more from around the region.
| | |
| --- | --- |
| | Come to the Potsdam Farmers' Market for all your fresh produce! From May until November, Saturdays from 9:00 a.m. until 2:00 p.m. |
| | |
| --- | --- |
| | Wear on Earth is your one stop shop for gear, apparel & outdoor needs. We're in more ways than one "outdoor fanatics". That means, what you see here is what we love & dedicate tons of time & energy into making sure it's the best of what's out there. |