Adirondack Biking Safety
Heading out on a bike for your next Adirondack adventure? Find out the best ways to ensure a safe and fun trip along the region's roads and trails.
General Guidelines
These rules and tips apply whether you're cycling through picturesque Adirondack towns or mountain biking in the heart of the Park.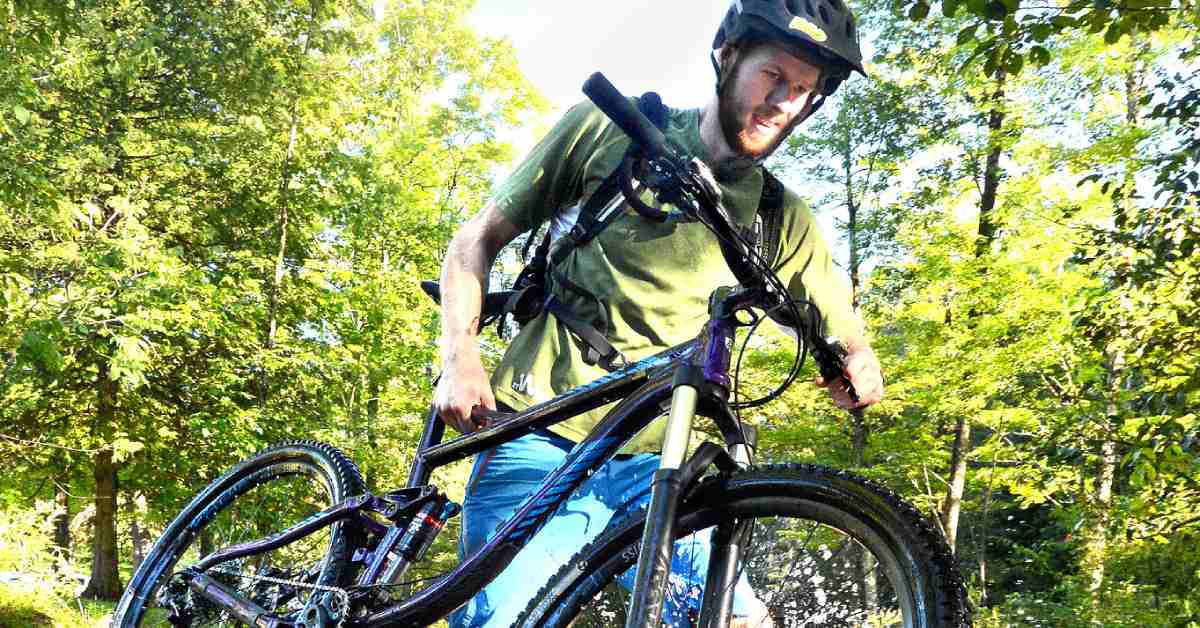 Photo by saratogaphotographer.com
Wear a Helmet
All bicyclists in New York State under the age of 14 are required to wear a safety-approved bicycle helmet. No matter what your age, whether you are riding on a public roadway or a mountain bike trail, it's always a good idea!
Bring the Necessary Equipment
Check the forecast to see what the weather will be like and dress accordingly. Comfort and function are two key elements to think about when choosing your clothing. Make sure your pants don't hang too loosely as they can get caught up in your bike pedals. Also, layer your clothing and leave the cotton behind. Cotton doesn't wick away moisture as well as some other fabrics, such as Gore-Tex. Other good things to bring along with you are:
First-Aid Kit
Pump and Patch Kit
Map (as internet service can be spotty, it's wise to pack a physical map)
Compass
Water
Bicycle Touring
Taking a spin along a scenic byway or riding through towns? You'll want to be aware of the laws and general safety measures before you head out on the road.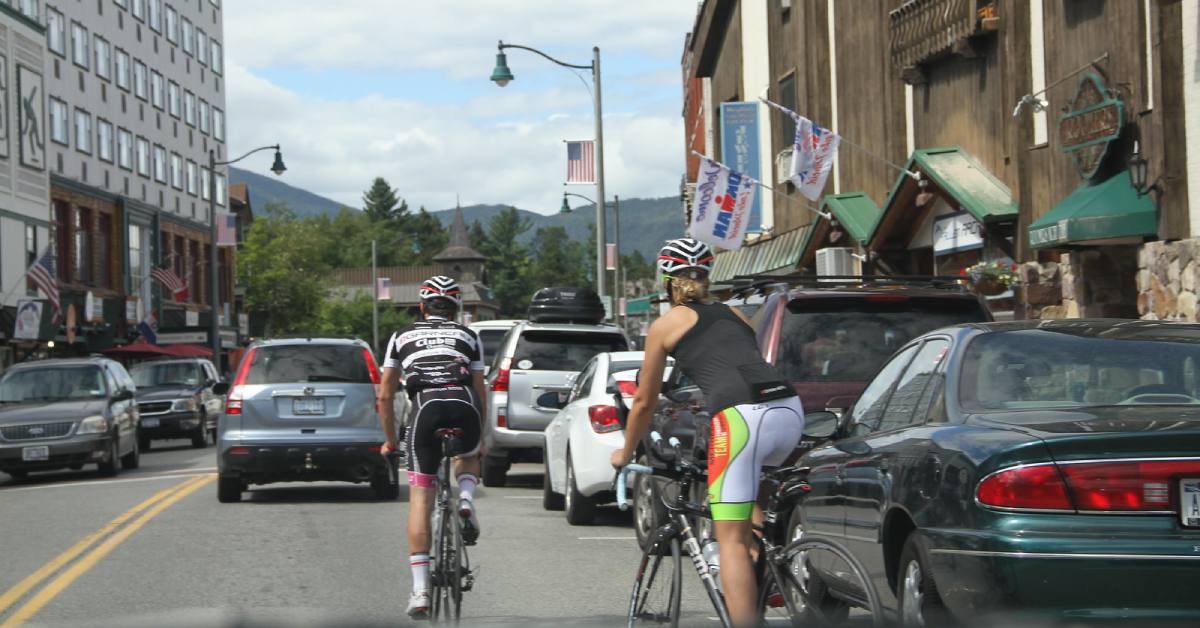 Obey Traffic Laws
To remain safe during your trip (and avoid getting a ticket), follow New York State's general rules of the road, which apply to both motor vehicles and bicycles. This includes obeying traffic lights and signs, signaling when turning, and riding in the same direction as traffic.
Also, if you're planning on listening to music, don't wear more than one earphone while cycling -- it's against the law and you'll be less likely to hear other travelers approaching.
Share the Road Responsibly
Roads and scenic byways in the Adirondacks can be winding, so make sure you remain aware of your surroundings. New York law states that cyclists must avoid interfering with other traffic, either by riding in a bike lane when one is provided, or by remaining as far to the right of the road as is safe.
If the lane is 10 feet wide or narrower, you are allowed to ride in the center of the lane to ensure that other travelers on the road are aware of your presence, but you'll want to be sure that you and your bike are easily spotted by approaching vehicles, and to let them safely pass.
It's also wise to note that pedestrians have the right of way. Although cycling on sidewalks isn't against state law, it can be unsafe and many communities have prohibited it.
Bike Safely as a Group
Planning on touring the Adirondack Park with your friends? Be sure to never ride more than two side-by-side, regardless of the size of the bike lane or path, and to return to single file whenever passing or being passed. It's not only a state law, but also a smart way to make sure everyone in and outside of your group can safely share the road without impeding other traffic and creating a hazard.
Mountain Biking
Ready to head out on the trails and explore the Adirondack Park? Follow these tips to make sure you have an enjoyable and safe adventure.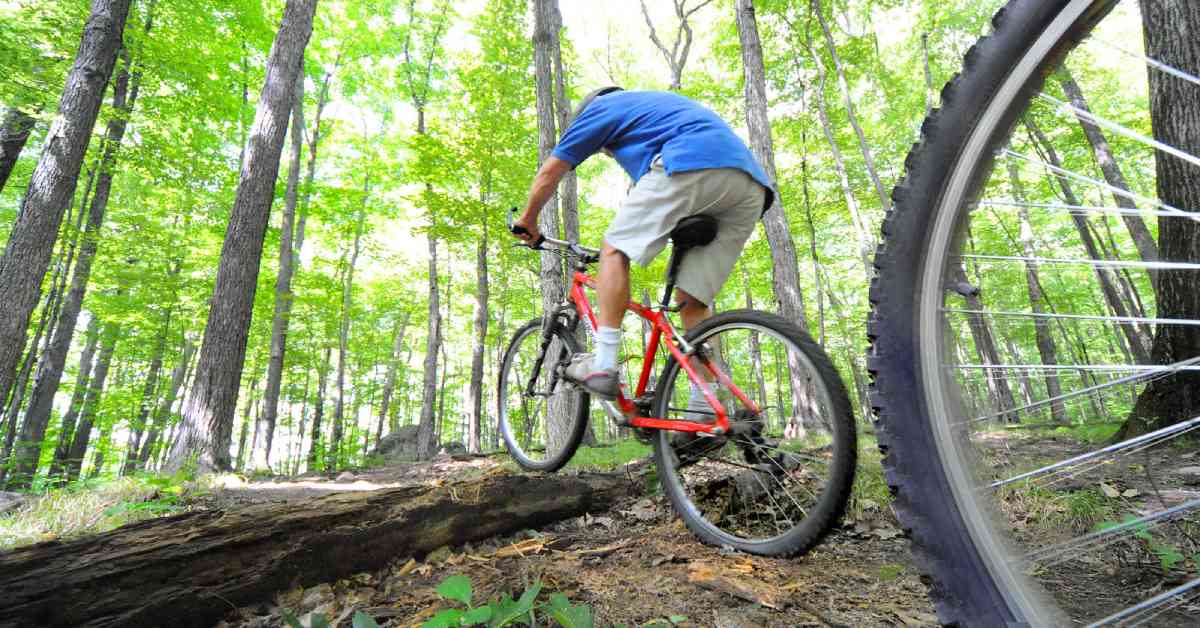 Photo by saratogaphotographer.com
Know Where You Are in the Adirondacks
Keep a trail map and compass on hand so you know where you are in the Adirondack Mountains, especially if you are traveling off-trail. The Park is very extensive, with areas of remote and uninhabited wild forest. Whether you are a new-comer or a seasoned professional, it wouldn't be hard to get lost in these surroundings.
Bike in a Group
This is the safest way to ensure you don't get lost and it can also be more fun! Make sure you know where you are going and have good group organization. If you do plan on going by yourself, make sure to tell someone where in the Adirondacks you plan on going and when you plan on returning.
Stay Healthy and Hydrated
Nothing is worse than being hungry and thirsty when you are in the middle of the woods! Bring a backpack with plenty of food and water. This will help keep you warm (or cool) and allow the body to properly maintain itself. If you plan on drinking water from one of the waterways along the bike trail, make sure to purify the water first!
Be Courteous to Hikers
Most of the mountain biking trails in the Adirondacks are also used by both hikers and equestrain riders. Make sure to be aware of your surroundings and slow down your speed if you come across a hiker. It is also courteous to let a pedestrian know you are coming from behind so they too are aware of your prescence. If you approach horses from the front, it is always wise to let them pass. If you are approahing them from behind, it might be best to pull off your bike and walk around.
TIP: Local bike shops and sporting goods stores are a great place to get trail maps and information on the best Adirondack Mountain trails, routes and conditions for your needs. They also have knowledge on upcoming rides, tours, races, and clinics.
Reference: https://www.dot.ny.gov/display/programs/bicycle/faq