Where to Hike For Beautiful Fall Foliage in the Adirondacks
One of the best aspects of the Adirondacks is the absolutely amazing fall foliage. So why not combine a leaf peeping exploration with a spectacular hike? See our picks for the best fall foliage hikes in the Adirondacks, for all skill levels!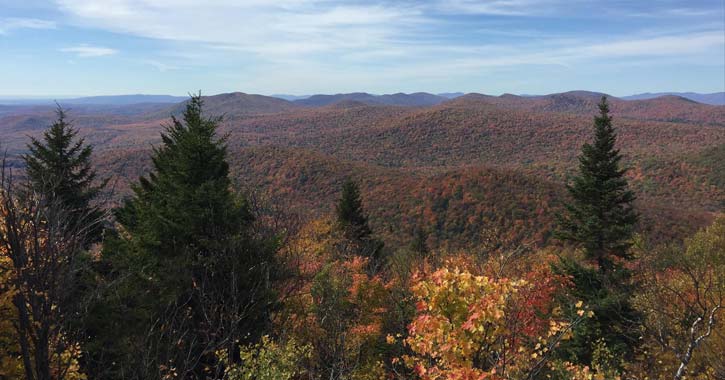 Easy Hikes:
Roaring Brook Falls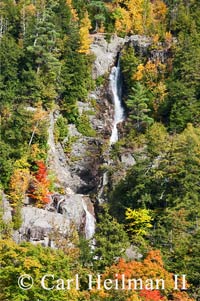 Location: Keene Valley
Miles: .3
The hike: The trail is a wide, flat path that is a perfect short walk in the woods for young kids. The falls come down from Giant Mountain, where you can often see rock climbers. From the trailhead, keep the river to your right and you'll arrive at the base of Roaring Brook Falls. Not only will you see beautiful fall foliage, but also stunning waterfalls.
Directions to the trailhead: Heading north on I-87, take exit 30. Turn left on Route 9 and follow to an intersection where you'll continue onto Route 73. You'll be able to see Giant Mountain to your right. The parking area and trailhead will be on the right, 5.2 miles after getting on Route 73.
Crane Mountain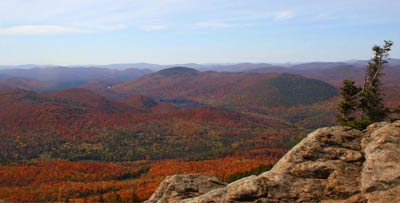 Location: Near Johnsburg
Miles: 1.4 directly to summit, or 2.7 past a pond
The hike: There are two trails to the summit of Crane Mountain that offer a beautiful view at the top. The easier route is 1.4 miles and has a ladder near the summit which allows you to avoid climbing up a rocky path. Because of the ladder, this may not be an ideal hike for dogs or very small children. The less direct trail to the summit is 2.7 miles, is more rocky and steep, and goes by a pond.
Directions: Going north on I-87, take exit 23 at Warrensburg/Diamond Point. Turn east, then right onto Route 9. Drive 0.8 mile and turn left on Richards Avenue. Cross the river and turn right onto NY 418/River Street and continue across the river. Turn left to continue on 418. Turn right onto Athol Road and continue for 1.7 miles. Continue on High Street for 1.6 miles. Turn right onto Mountain Road and continue 3.3 miles. Continue onto Valley Road for 0.8 mile. Turn left onto Garnet Lake Road S (CO 72). Drive 1.2 miles and turn right onto Ski Hi Road. Continue about 2 miles to the trailhead and parking.
Baker Mountain
Location: Near Saranac Lake
Miles: 1.8
The hike: Also called Mount Baker, Baker Mountain is a popular hike for families. The summit offers views of the Village of Saranac Lake, the McKenzie Mountain Wilderness Area, and the High Peaks.
Starting at the north end of Moody Pond, you'll start climbing almost right away. The trail is a little bit steep, but still doable for children. At .6 miles from the trailhead, there will be an intersection. If you go left you'll have an easy climb; if you go right, you'll come across some steep ledges along the way. Both trails finish at the summit of Baker Mountain.
Directions: Take I-87N to exit 30 for Route 9 toward NY-73/Keene Valley/Keene. Turn left onto Route 9N. Continue for 2.2 miles, then take a slight left onto NY-73W. Continue on for 13.3 miles, take a slight left to stay on NY-73W, and continue on for another 12.6 miles. Continue straight onto Old Military Road for 3.6 miles. Turn left onto NY-86W. Continue on for 3.2 miles, then take a slight right onto McKenzie Pond Road. Continue on for 2.3 miles to Pine Street. After .8 miles, take a right onto Forest Hill Avenue. The trailhead will be on the left.
Moderate Hikes:
Hadley Mountain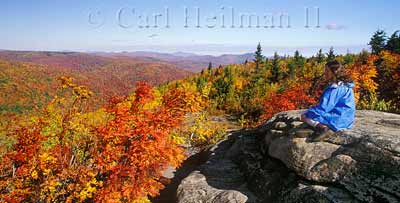 Location: Near Hadley
Miles: 2.6
The hike: Hadley Mountain is perhaps best known for its fire tower, but you can also see great views hiking the mountain without even scaling the tower. Follow the red trail markers. The hike starts out fairly easy and gets steeper as you go along.
Directions: From Saratoga, take Route 9N going north. Turn left onto Route 9N/Main Street when in Corinth. Follow for 3.9 miles, then take a slight left onto Old Corinth Road, continuing on Old Corinth Road until it turns into Stony Creek Road. Turn left onto Hadley Hill Road and continue on for 2.7 miles. Turn right onto Eddy Road. After .8 miles, turn left onto Tower Road, which is a gravel road, and the parking area is on the left after 1.5 miles.
Castle Rock
Location: Blue Mountain Lake
Miles: 3
The hike: This hike starts out easy and has a steeper, rockier climb toward the top. Near the summit are large boulders that lead to caves. At the top you'll be able to see not only spectacular fall foliage, but you'll have a perfect view of the lake and its islands as well. Although rated as moderate, this is also a great family hike. Dogs are okay on a leash.
Directions: In the town of Long Lake, follow Route 30/28N towards Blue Mountain Lake. Continue into Blue Mountain Lake. Shortly after you pass the museum you'll see Maple Lodge Road - follow this road to the parking area and trail register.
Sleeping Beauty Mountain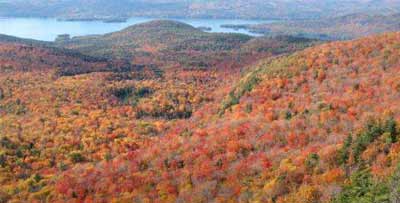 Location: Near Lake George
Miles: 3.4 to 7
The hike: Sleeping Beauty Mountain offers great views of Lake George and the southeastern Adirondacks from the summit. The length of this hike depends on if you drive the woods road from the Hogtown trailhead parking lot to Dacy Clearing - sometimes this road is closed. Even if it's not, this access road is considered to be a 4WD road that should only be driven by a vehicle with good ground clearance. If you walk this road, it's only 1.5 miles. You can also extend the hike a bit by going onto Bumps Pond, and from there go back to the trail turn-off and Dacy Clearing.
From Dacy Clearing you'll follow the yellow trail markers to the intersection of Fishbrook Pond and Sleeping Beauty. At 2.2 miles from the Hogtown trailhead the trail splits. You can go left to Fishbrook Pond via Bumps Pond following the red trail markers. Or, you can go right to the Sleeping Beauty summit by following the blue trail markers.
Directions: Take Route 149 East towards Fort Ann. After the intersection of Route 149 and Route 9L continue onto Route 149 for 1.6 miles and take a left onto Buttermilk Falls Road. At around 3 miles Buttermilk Falls becomes Sly Pond Road, which will be unpaved. At 5.7 miles the road becomes Shelving Rock Road at the intersection of Hogtown Road. Continue straight. A short distance ahead will be parking for the Hogtown Trailhead. Here is where you can either drive an additional 1.5 miles to Dacy Clearing, or you can park in this parking lot and hike that distance.
Challenging Hikes:
Pharaoh Mountain
Location: Near Schroon Lake
Miles: 8 to 10
The hike: The trail is fairly moderate for much of the hike but gets very steep toward the summit. At the top, you'll be able to see over the vast Pharaoh Lake Wilderness Area.
Directions: Take I-87 to exit 28, then continue south on Route 9 to Alder Meadow Road. Turn onto Alder Meadow Road and continue straight for about 6.5 miles. Park in the parking lot. You'll need to hike a 2-mile road to Crane Pond; this road is closed to vehicles. At the parking lot at Crane Pond you'll see a sign that marks the 3-mile route to Pharaoh Mountain.
McKenzie Mountain
Location: Near Saranac Lake
Miles: 10.5
The hike: This hike involves steep, eroded, and often wet trails that can make for slippery footing. It's expected to take an experienced hiker about six hours. There are two approaches to the summit, both are challenging; there used to be a third route but that is now closed to the public. The first trail is from Route 86 in Ray Brook, and the other is from Whiteface Inn Road in Lake Placid which goes the path of the Jack Rabbit Ski Trail.
Directions: There is a 5.3-mile trail beginning from Route 86 in Ray Brook, where hikers can reach both McKenzie Mountain and Haystack Mountain; this is 1.6 miles east of the DEC headquarters between Saranac Lake and Lake Placid. The other trail is from Whiteface Inn Lake in Lake Placid. Again, hikers taking this route take the Jack Rabbit Ski Trail, which will intersect with the first trail.
Whiteface Mountain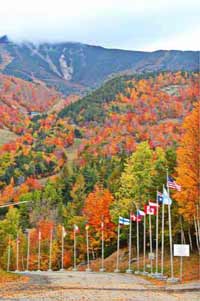 Location: 13 miles from Lake Placid
Miles: 7.8 to 12
The hike: Whiteface Mountain is the fifth highest peak out of the 46 High Peaks! Although the mountain is known for skiing - and having the greatest vertical drop in the eastern U.S. - it's also excellent for fall foliage hiking and amazing views of the other high peaks. There are three trailheads to get to the summit: the first is 7.8 miles, the second is 11.4 miles, and the third is 12 miles.
Directions: To the primary trailhead, take Route 86 through Lake Placid toward Wilmington. Take a left onto Route 431 (Whiteface Mountain Road). Take a left onto Marble Mountain Road. Follow this road until you see the trail on the right.
To the secondary trailhead, also follow Route 86 toward Wilmington, taking a left onto Route 431. Continue on for .6 miles to Reservoir Road on the left and drive to the end and park.
To the third trailhead, again follow Route 86 toward Wilmington. Continue for 3 miles until you reach the Whiteface trailhead on the left.