Adirondack Hiking Map & Compass Guide
Ready to explore the Adirondacks, with only a map and compass?
Let us help you out!
Editor's Note: Please follow the DEC and CDC guidelines to adhere to social distancing while hiking and recreating outdoors during this public health crisis. Hikers are asked to stick to trails close to home and only hike with immediate household family members. Read more from the DEC »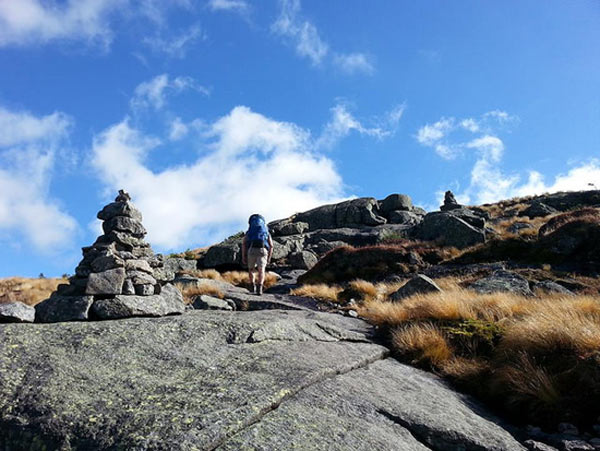 Photo Credit: Edith St-Laurent
Relying on your phone or GPS device to navigate is often very useful - but you never know what could happen! If your gear shatters or becomes water damaged, you'll need other resources to help guide you. This is why it is extremely beneficial to have a general idea of how to utilize a map and compass. Learning how to use these basics could save your life! Check out these map and compass basics along with resources to useful maps of the Adirondacks.
Map And Compass Basics:
The compass needle ALWAYS points north.
Rotate your compass until the needle points to the 0-360/N point.
Place the compass on the ground, keeping the needle in that direction.
Place your map next to it.
Rotate the map until its north side (or the "north" arrow) also faces north. (On most maps, the top faces north.)
When you determine the appropriate direction by using the map, take note of the bearing (degree-number on the compass), and walk to the farthest-away landmark (tree, rock, etc.) in that direction.
Repeat steps 2 and 6 until you reach your destination.
Need some helpful area maps? Check out the resources listed below.
Where To Find Adirondack Hiking Maps
"The Forest Preserve Series" - (Adirondack Mountain Club Headquarters)

The Adirondack Mountain Club publishes a complete set of guidebooks and topographic trail maps, known as the Forest Preserve Series. The series features the following areas: High Peaks Trails, Central Trails, Western Trails, Eastern Trails, Northville-Placid Trails, and Catskill Trails. Call 518-668-4447 or visit them at 810 Goggins Road, Lake George, NY 12845 for more information.
Stores throughout the Adirondack Park carrying Adirondack hiking guidebooks and maps include:

Bookstore Plus – 2491 Main Street, Lake Placid
The Mountaineer – 1866 NYS Route 73, Keene Valley
Eastern Mountain Sports – 2453 Main Street, Lake Placid
Adirondack Mountain Club (ADK) – 814 Goggins Road, Lake George
Crossroads Outdoors – 40 Dixon Road, Chestertown
Hoss's Country Corner – 1142 Main Street, Long Lake
Hudson River Trading Company – 292 Main Street, North Creek
Blue Line Sports LLC – 81 Main Street, Saranac Lake
Adirondack Lakes & Trails Outfitters – 541 Lake Flower Avenue, Saranac Lake
St. Regis Canoe Outfitters – 73 Dorsey Street, Saranac Lake

New York State Department of Environmental Conservation

Check out the DEC's website for great information, from maps of the area to useful tips. Their site includes trail notices, great hiking tips and maps of local regions. Check out their website here >>