Friends of Camp Little Notch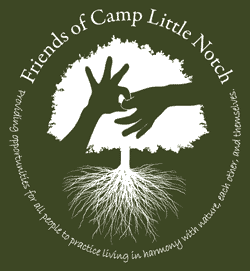 For seven decades, the Girl Scouts of America owned a parcel of land at the base of the Adirondacks. Known as Camp Little Notch, it was 2,800 acres of thick woods, and clear mountain streams feeding into the quietly picturesque lake. Scores of people would travel to the camp every year to learn, to explore, and to find a safe haven from the bustle of every day life.
In 2009 however, word came that Camp Little Notch was going to be sold. Some people were concerned about the consequences the imminent sale would have for the camp and combined resources to form the Friends of Camp Little Notch. Today they are working with the Open Space Institute in order to conserve the beautiful tract of land.
Through their partnership with the OSI, the Friends are buying a portion of the camp's original parcel of land. In the summer of 2012, the Friends plan to reopen Camp Little Notch. The Girl Scout mission is to build courage, confidence and character, but the new Little Notch goes beyond the three "C"s. The Friends want to turn the space into a "national outdoor education, recreation and retreat center."
The Friends of Camp Little Notch want to see the camp become the ultimate outdoor retreat. It will be a place where one can be in harmony with themselves, with others, and of course the stunning panorama of nature around them. Little Notch will be available year-round for retreats and programs suitable for any group that desires a location where they can find renewed inspiration.
The re-imagined Little Notch will deviate from customary programs because it will not strictly regiment and organize the people who attend. Rather, people will have a chance to develop their own program to suit their own needs. The Friends see this as an excellent opportunity for everyone to take accountability for their own development. Of course, the Friends want to draw strength from the history and tradition of past success at Camp Little Notch. The new camp recognizes that outdoor spaces and programs tailored specifically to females are very important. The Friends of Camp Little Notch are determined to make sure women and girls have a special place at the new camp.
These are the ambitions of the Friends of Camp Little Notch. The organization has set these glowing goals for the future but they need your help to fully realize them. The Friends are a dynamic membership oriented group, with over 300 members all who are deeply interested in the Future of Camp Little Notch. With fundraising efforts under way, the Friends hope to raise $2.25 million, with $1.09 million being used to purchase the land. Your donation could be the difference that is needed to make this retreat destination a reality. Call executive director Ellen Tuzzolo at (504) 319-1272, email her at , or visit friendsofcln.org for more information.