Moose River Plains Extended Comment Period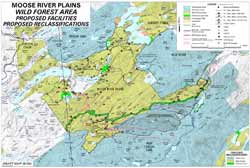 The New York State Adirondack Park Agency (APA) and the Department of Environmental Conservation (DEC) have extended the public comment period for the management actions proposed for the Moose River Plains Wild Forest. The public will now have untilSeptember 17, 2010 to voice their opinion.
Moose River Plains is located in the central and southwestern portion of Adirondack Park. The area offers many recreational activities throughout the entire year including hiking, fishing, canoeing, skiing, mountain biking, snowmobiling, horseback riding, hunting and camping.
The year round recreational use may have been the reason for the extension of time. The APA and DEC have already held two public hearings, but based on the amount of public opinion on the subject they have deemed it necessary to extend the period for comment.
The proposed plan for Moose River Plains will include creating an intensive use camping area, expanding the west Canada lake wilderness, creating and connecting snowmobile paths throughout area, and creating a historic camp special management area.
Comments may be written or emailed and must be submitted by September 17, 2010.
For more information or to submit a comment please email the office.