Queensbury Office For Roohan Realty North Officially Opens on Quaker Road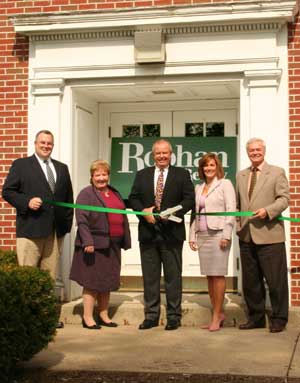 Queensbury NY -- September 26, 2008; Roohan Realty officially opened their new office, Roohan Realty North, at 123 Quaker Rd in Queensbury. The expansion into this area at this location will primarily serve the Glens Falls/ Queensbury region, including Northern Saratoga, Warren and Washington Counties. The ribbon-cutting ceremony was attended by; Tom Roohan, President, and his wife Kristie; Stephen Towne, COO; Pam Armstrong, Licensed Associate Broker; and Dan Stec, Queensbury Town Supervisor.
Pam Armstrong, licensed associate broker, will be anchoring the growth and development in this market. Pam brings 6 successful years of experience with Coldwell Banker Prime Properties, Inc. of Queensbury, to the Roohan Realty team. Pam is also an elected board member serving on the Warren County Board of Realtors and will become President-Elect in 2009.
Roohan Realty, celebrating its 40-YEAR Anniversary, has been serving the community's residential and commercial property needs since 1969. Conveniently located at 519 Broadway in Saratoga Springs and 123 Quaker Rd in Queensbury, Roohan Realty is the largest locally based and family-owned real estate company in the area with over 50 professionally licensed agents. For further information, please call the Saratoga office at 518.587.4500, Queensbury office at 518.945.4500, or visit their website at www.roohanrealty.com.