Autumn in the Adirondacks .. ah there is nothing quite like it! For those of you reading this that have never been to the Adirondacks or haven't been to the area in a while, NOW is the time to visit.
NBC News Travel has listed the Adirondacks on the list of 'Where To See The Best Fall Foliage' for 2012.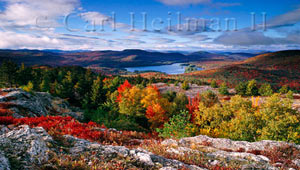 The article lists the top ten regions across the country that offer the most stunning fall foliage with 'bright colors and beautiful views.'
Marek D. Rzonca, of Foliage Network,says that the Adirondacks are filled with sugar maple trees, which 'are the most attractive in the fall.'
Rzonca goes on to say 'Other popular species include birch, aspen, oak and silver maple, all of which turn yellow' and are 'then complemented with the brilliant crimson of the red maple.'
'When you put all these trees together, it provides a fantastic contrast and variety of color.'
The article goes on to list John Boyd Thacher State Park, in Voorheesville as where to get the best views offering 'great fall foliage' and 'amazing views of the Hudson-Mohawk lowlands, including the City of Albany, and the southern Adirondacks.'
NBC also adds that the best time to visit the Adirondacks is late September to mid-October, which means the next two weeks will be your LAST chance at peak fall foliage viewing.
So what are you waiting for? Make plans to visit the Adirondacks where unparalleled, natural beauty abounds. There are SO many great hotels and inns in the Adirondacks, many of which are offering seasonal specials and coupons.
For more information on foliage, see our Guide To Leaf Peeping with stunning photos OR check out our Fall Foliage Report for 2012 and see which areas offer the best views and when.
What is your favorite place in the Adirondacks to see the fall foliage? Comment below and let us know where and why!