Birding in the Adirondacks
Between boreal birds, birds of prey, perching birds, and waterfowl, there are more than 100 species of birds in the Adirondacks!
The Adirondack Park is home to a number of Important Bird Areas (IBAs), as designated by Audubon New York. They include: The Lake Champlain Birding Trail, the St. Lawrence River Plan, the Central Adirondacks, Moose River Plains, The William C. Whitney Wilderness, Adirondack High Peaks, and the Adirondack Loon Complex.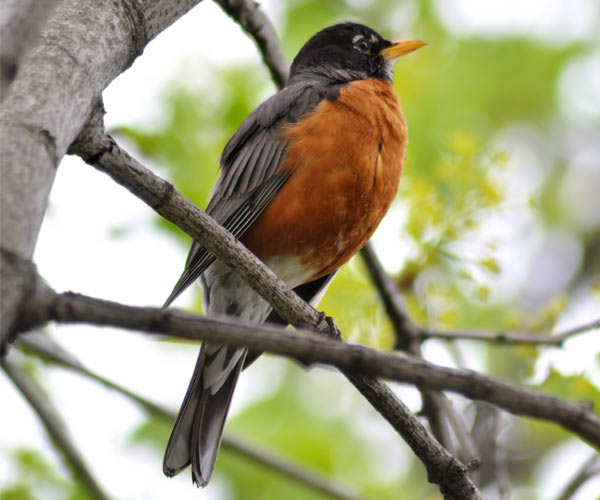 When To Bird-Watch
The best time of year to spot birds in the Adirondacks is during the spring when many species migrate back to the region. Nesting season typically happens in June, and birds are known for quieting down as summer draws to a close.
In the fall, many species begin re-locating to warmer climates, but there are a number of varieties that are visible in the Adirondacks year-round.
The Adirondack Ecological Center has put together a useful list of Adirondack bird species and when they are present in the region. You can view the directory here »
Where To Bird-Watch
Franklin County is home to grasslands, wooded swamps, and boreal forests that attract a diverse array of species, including Eastern Meadowlarks, Northern Harrier, Tree Swallows, Red Tailed Hawks, Gray Jays, Boreal Chickadees, Spruce Grouse, and Three-Toed Woodpeckers, to name a few.
Hamilton County is located in the center of the "boreal" zone, and contains the bogs, marshes, swamps, rivers, and forests that boreal birds prefer. Bicknell's Thrush, a sought-after species, breeds in high elevation areas within the county, such as Snowy, Pillsbury, Blue, and Wakely Mountains.
If you are looking for a particular species, it is recommended that you find an Adirondack guide book that can help point you in the right direction.
Bird Watching Events
Since it is home to such an impressive array of species, it makes sense that the Adirondacks would also host two amazing birding events.
The annual Adirondack Birding Festival is a three-day event in Hamilton County that normally happens the second weekend in June. Attendees will enjoy birding hikes, walks, safaris, outings, and seminars, all of which are free.
The Great Adirondack Birding Celebration also happens in early June at the Paul Smith's College Visitor Interpretive Center (VIC). The activities at this three-day event include field trips to birding hot spots, informative lectures and workshops, and social hours.
Want more wildlife? Check out our Beavers Guide »
Learn precautions and tips for bird watching in winter »
Sources of Information:
http://visitadirondacks.com/recreation/birding
http://www.esf.edu/aec/adks/birds.htm
http://www.adirondackexperience.com/recreation/birding
http://www.lakeplacid.com/do/outdoors/summerfall/birding
http://www.adirondackexperience.com/events/adirondack-birding-festival
http://www.adirondacklakes.com/recreation/birding/great-adirondack-birding-celebration.html