About Hebron NY
The town of Hebron has changed little over the past 100 years, adding to its rural charm and simple lifestyle that is so attractive to many people. Its picturesque, mostly heavily wooded terrain draws many people who want to live in the area despite limited local work opportunities. In fact, approximately one-third of the property parcels in town presently are owned by people who do not live in the town or only use their property as a second, seasonal home.
There is much to like in Hebron today. Many of the town's grand old homes still are occupied by the same families that lived in them generations ago, giving Hebron the type of friendliness and stability that is so hard to find in today's urban-oriented, transient lifestyle. The citizens of Hebron are involved in their community and have made strides to preserve their heritage while moving ahead to the future.
Hebron NY has three active churches
, two United Presbyterian and one Methodist and one inactive Baptist Church which holds one service annually. Many social organizations in the town are church related. Hebron is proud of the Hebron Fire Company, one station is located in West Hebron and the newest one at Tiplady's.
Several literary organizations have existed in the town for many years. 4-H clubs provide the children with an opportunity to learn and assume responsibility.
The Hebron Preservation Society is an active, non-profit organization that was formed in 1974 to gather and disseminate historical information on the town. Their interest is also in maintaining the rural character of Hebron, and appreciating and protecting its magnificent environment. They are involved in projects such as recording, repairing and cleaning some of the town's 34 lovely old cemeteries where many native war veterans from all of the nation's wars including the American Revolution are buried.
Hebron NY, which borders Vermont on the east, has always been an area where farming was the principal pursuit. In the town's early days, the hamlets of Hebron, Chamberlin Mills, West Hebron, Tiplady's Corner, Porter, Belcher, North Hebron and Slateville were thriving centers of activity that served the needs of the local people. By 1864, Hebron was the leading potato producer in Washington County as the area's gently rolling valleys were filled with farmland much as they are today. Today, however, dairy farming has taken over as the most important local business. Also, the number of farms and the number of people engaging in farming has decreased substantially. Many small farms have been consolidated into larger operations that make more efficient use of modern machinery and techniques for agriculture. (Besides milk, apples and maple syrup are produced here.)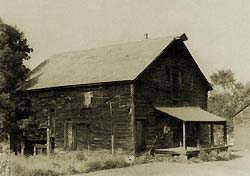 Small grocery stores in West Hebron, Belcher and Tiplady still operate to serve immediate local wants, but most residents do their shopping in other villages and cities. Similarly, most local citizens work outside Hebron, and the town's children attend schools in neighboring communities.
This is exactly how Hebron's citizens want their community to exist, however. Their community pride is as strong as any area's, and their quality of life is better than most.