Biking In The Adirondacks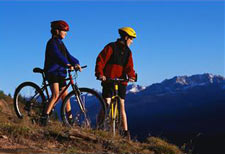 The Adirondack Mountain Park is brimming with opportunities to get outdoors and go biking! Whether you own a state-of-the-art 20-speed titanium frame mountain bike or still prefer the old-fashioned single speed with back-pedal brakes, the experience can't be beat!
Embark on a casual pedal along a scenic back road, or go on a rigorous mountainside downhill trek on. No matter what kind of ride you are looking for, there is a wealth of trails, spectacular vistas, untouched wilderness, and colorful scenery that make the Adirondacks a perfect place to go bike riding!
Adirondack Mountain Terrain
The Adirondack Park is a six-million acre expansion of land in Upstate New York that encapsulates the Adirondack Mountains, including the High Peaks, the Hudson River and the western shore of Lake Champlain. Its natural habitat, lush forest land, rugged landscape and many waterways make the Adirondack Park an outdoor enthusiasts dream! It is interspersed with paths, wooded trails and byways that are perfect for biking; you will find everything from steep mountain trails dotted with rocks and roots to flat, level trails and winding dirt roads. Remember to plan ahead to ensure a safe and enjoyable ride.
Wear a Helmet. All bicyclists in New York State under the age of 14 are required to wear a safety-approved bicycle helmet. No matter what your age, whether you are riding on a public roadway or a mountain bike trail, it's always a good idea!
Know Where You Are in the Adirondacks! Keep a trail map and compass on hand so you know where you are in the Adirondack Mountains, especially if you are traveling off-trail. Whether you are a new-comer or a seasoned professional, the Park is very extensive with hundreds of thousands of uninhabited Wild Forest that is very remote. In these surroundings, it wouldn't be hard to get lost!
Bike in a Group. This is the safest way to ensure you don't get lost and it can also be more fun! Make sure you know where you are going and have good group organization. If you do plan on going by yourself, make sure to tell someone where in the Adirondacks you plan on going and when you plan on returning.
Stay Healthy and Hydrated! Nothing is worse than being hungry and thirsty when you are in the middle of the woods! Bring a backpack with plenty of food and water. This will help keep you warm (or cool) and allow the body to properly maintain itself. If you plan on drinking water from one of the waterways along the bike trail, make sure to boil the water first!
Bring the Necessary Equipment. Check the forecast to see what the weather will be like and dress accordingly. Comfort and function are two key elements to think about when choosing your clothing. Make sure your pants don't hang too loosely as they can get caught up in your bike pedals. Also, layer your clothing and leave the cotton behind. Cotton doesn't wick away moisture as well as some other fabrics, such as Gore-Tex. Other good things to bring along with you are:
First-Aid kit
Pump and patch kit
Map
Compass
Water
Be Courteous to Hikers. Most of the mountain biking trails in the Adirondacks are also used by both hikers and equestrain riders. Make sure to be aware of your surroundings and slow down your speed if you come across a hiker. It is also courteous to let a pedestrian know you are coming from behind so they too are aware of your prescence. If you approach horses from the front, it is always wise to let them pass. If you are approahing them from behind, it might be best to pull off your bike and walk around.
TIP: Local bike shops and sporting goods stores are a great place to get trail maps and information on the best Adirondack Mountain trails, routes and conditions for your needs. They also have knowledge on upcoming rides, tours, races, and clinics.
Adirondack Mountain Biking Trails, Paths & Routes
There are many great trails and pathways in the Adirondacks that are specifically for biking. Below is a small sampling of some of the road and mountain trails:
Inlet/Old Forge Area: Includes trails in Inlet, Old Forge, Raquette Lakeand Big Moose Lake
Safford Pond: 4.5 mile trail that connects Big Moose Lake and Lake Rondaxe. Beginner/Intermediate trail starts on Big Moose Road, and ends on Ronaxe North Shore Road.

Seventh Lake Trail: Located in Inlet, this trail runs along Seventh Lake for 4.4 miles. Intermediate difficulty level, with a single track and fairly level terrain. Lots of places to stop and swim or enjoy the lake along the way.

Black Bear Trail to Bug Lake & Morgan's Miles: 7-Mile Inlet and Raquette Lake trail has some flat dirt roads that are great for beginning bikers. There are also some more challenging off-road trails for more advanced riders.

Old Forge Mountain Bike Trail: Over 100 miles of scenic bike trails between Old Forge & Eagle Bay. This is a great trail system for a family ride: flat, some low rolling hills, and just a few steep rises.
Saranac Lake & Lake Placid Bike Routes - Road rides ending in Lake Placid NY. Some of the trails are listed below:
The Peninsula Trails: An easy access trail in Lake Placid with a variety of difficulty levels and swimming opportunities. The main trail brings you right to the shores of the lake.

Connery Pond Truck Road: A short dirt road suitable for all ability levels. Part of this Adirondack bike trail is in the Wilderness area and is closed to ATBs.

Oseetah, Jackrabbit Extension and the Tracks in Saranac Lake: These tracks are both flat and fast. There is a parking area here with good bike trails for beginners and intermediate riders as well as advanced terrain trails.
Other popular area bikeways:
Warren County Bikeway - A 9.5 mile paved bikeway that runs from the shores of Lake George at Battlefield Park to the Glens Falls Feeder Canal, this bikeway is suitable for nearly all levels of participation. It includes gradual terrain, some hilly and forested sections, and includes some urban sections as well.

Lake Champlain Bikeways – An 1,100 mile network of interconnected bicycle routes, this route stretches from the southern Adirondacks and the Vermont Green Mountains, all the way north to Quebec, Canada. Originally a 350 mile loop around Lake Champlain, this extensive network of trails offers shorter biking routes with varying degrees of difficulty to satisfy the whole family. This trail system includes four ferry crossings, and two bridge crossings.
Find more things to do in the Adirondacks>