Essex, NY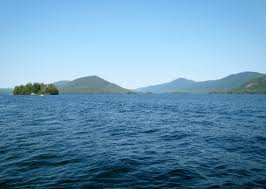 Photo taken by Peter Fitzgerald
Nestled between the Adirondacks and Lake Champlain, Essex is a quaint little town offering something valuable and memorable to anyone that inhabits or just passes by.. The town offers astonishing views of the Lake Champlain. A great view of the Green Mountains of Vermont that is known to change with the seasons, is bestowed from this town. Surrounded by rich and verdant farmlands, Essex is a land that is mentioned on the National Register of Historical Sites.

This beautiful and picturesque mountain village is also the proud site of two winter Olympics. The town is full of well-preserved 19th century brick and stone homes and quaint little churches and shops. One of the most intact and majestic Federal and Greek Revival architecture in New York is found here.

At the southern end of Lake Champlain, a huge rock can be found which is split from the neighboring cliff at a distance of 12 feet and rises about 30 feet from the water. Today it is known as Split Rock and was earlier used as a dividing line between the American tribes of Mohawks and Algonquin. The Split Rock lighthouse also stands near the rock which is Lake Champlain's second.

The Cupola House and Cottage is a restored historic house on Lake Champlain adjacent to Essex Marina. Kayaking, canoeing and bicycling are some of the amenities offered here to explore the shore and the lake.

The ECHO Lake Aquarium and Science Center located at Leahy Center is a two acre space on the Burlington waterfront. Visiting this place brings back images of the ancient world of the Champlain Valley. The ecology, culture and history of this place are heavily impressed upon on the visitor.

Another place of interest for the visitor is the Burlington fire house gallery which was originally built as the in 1889. The Burlington Police department occupied the building for 40 years and currently it is owned by City Arts Association. It is a 5 storied building which represents a piece of art. The big arts community of Burlington finds this place very useful as an art gallery. Later on, it is expected to include classrooms and a darkroom, along with a library.

The Champlain College is a unique learning institution which offers unique majors like Game Design and computer and digital forensics. The Battery Park overlooks the Lake Champlain and has a playground and various monuments from the Civil war time.
We're sorry...
There are currently no businesses in the category.
Would you like to see your business here?
Click here to see our advertising options!