Northern Adirondack Biking Trails, Paths & Routes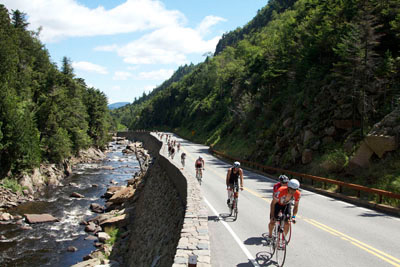 Below are trails that are partially or entirely located in the northern region of the Adirondacks. This includes towns such as Ausable, Beekmantown, Bloomingdale, Chateaugay, Jay, Keeseville, Lake Placid, Malone, North Pole, Onchiota, Paul Smiths, Peru, Plattsburgh, Saranac Lake, and Wilmington.
Please note, this list is not exhaustive and is only meant to be a starting point for your Adirondack biking adventures!
Mountain Biking
The Brewster Peninsula Trails
This network of mountain bike trails trails contains four sections: Corridor, Lake Shore, Boundary, and Ridge. Each section has different attributes in terms of views, elevation, and length.
Access: Follow Route 86 in Lake Placid toward Saranac Lake. Proceed 1.6 miles and take a right on Peninsula Road, which is steep and turns to dirt. On the left hand side, you will see the trailhead for the Brewster Peninsula Trails.
Dewey Mountain Recreation Center
Dewey Mountain is a great place for mountain biking, and features easy, intermediate, difficult, and expert trails.
Access: 1 mile west of Downtown Saranac Lake on Route 3
Fowler's Crossing Trail Network
The trails in this network contain abundant wildlife and follow the trackbed of an old railroad.
Access: Route 86 Railroad Crossing in Saranac Lake
Bloomingdale Bog
This scenic bog has great views for those looking to ride the 10.5 mile one-way sand, dirt, and gravel trail.
Access: Route 86 in Saranac Lake, West of Bloomingdale. Turn right and park at the gate 1.7 miles north of Adirondack Medical Center.
Connery Pond Truck Road
A short dirt road suitable for all ability levels. Part of this Adirondack bike trail is in the Wilderness area and is closed to ATBs.
Access: Take Route 86 out of Lake Placid toward Whiteface Mountain. Connery Pond Road will be on your left, and if you reach River Road on your right, you've gone too far.
Moody Pond
This 4 mile loop circles Saranac Lake's Moody Pond, and also provides access to Baker Mountain and the Pines trailhead.
Access: Follow River Street in Saranac Lake to Main Street, then to Dugway and Pine.
Turtle Pond
This flat loop follows the shore of Turtle Pond in Saranac Lake.
Access: On Route 86 just east of Saranac Lake, find the second parking lot from the railroad tracks as you're heading west. You can find the trailhead between 2 large boulders.
Whiteface Mountain
Whiteface Mountain Bike Park features 27 different trails for all skill levels. There are season passes available online, or, you can purchase a day pass on-site.
Access: Whiteface Mountain, Lake Placid
Mt. van Hoevenburg
At the Mt. van Hoevenburg Cross Country Bike Center, the terrain is fun and challenging for even veteran bikers.
Access: Lake Placid
Wilmington Wild Forest
Wilmington Wild Forest offers 21 miles of biking trails. The Flume Trail System features about 10 miles of mountain biking trails, Beaver Brook Trail Network offers 8.5 miles and Poor Man's Downhill Trail makes up the remaining 2.5 miles.
Access: In Wilmington, two miles south of the village center on State Route 86 is the trailhead.
Barkeater Trails Alliance Trail System
The Barkeater Trails Alliance maintains multi-use trail systems in Saranac Lake, Lake Placid, and Wilmington. Check out the official Barkeater Trails Alliance website, posted at the bottom of this page, to find out more about the different trails.
Access: Lake Placid Region
Cycling
Franklin Falls Loop
This 46 mile scenic cruise takes cyclists around Whiteface and McKenzie mountains.
Access: Begin on Main Street in Lake Placid, and take Route 86 east to Wilmington.
Fish Creek Pond Bike Roads
This network contains miles of paths that are appropriate for cyclists of all ages and ability levels.
Access: 4523 State Route 30, Saranac Lake
Adirondack Loj Road
Ride along one of the most scenic roads in the Adirondacks! This 9.6 mile round-trip is paved and easy.
Access: Lake Placid
Between The Jays
Take this winding, flat country road between Upper Jay and Jay and enjoy fantastic views. You can even see the Jay Covered Bridge on this route.
Access: County Highway 22, Jay
Wilmington Notch
Follow the Ausable River on this 25 mile round-trip.
Access: Route 86, Lake Placid
Ironman Loop
If you're up for a real challenge, you should ride this hilly route twice like the Ironman competitors do!
Access Route 73, Lake Placid
Lake Champlain Bikeways
A 1,300+ mile network of interconnected bicycle routes, the Lake Champlain Bikeways stretches from the southern Adirondacks and the Vermont Green Mountains, all the way north to Quebec, Canada. Originally a 350 mile loop around Lake Champlain, this extensive network of trails offers shorter biking routes with varying degrees of difficulty to satisfy the whole family. This trail system includes four ferry crossings, and two bridge crossings.
Elizabethtown - Westport Loop
This 19.5 mile loop travels from Elizabethtown to Westport along the shore of Lake Champlain, and then back to Elizabethtown. Start from Route 9 in Elizabethtown and take it to County Highway 8, or Elizabethtown-Wadhams Road, toward Wadhams. Then take Route 22 to Westport. You can then bike west on 9N back to where you started.
Access: Elizabethtown, NY
« Back to the Adirondack Biking Guide
Photo Credit: The Regional Office of Sustainable Tourism/Lake Placid CVB (ROOST)
Sources:
http://www.saranaclake.com/recreation/hiking/turtle-pond-loop
http://www.lakeplacid.com/do/activities/peninsula-nature-trails
http://www.saranaclake.com/activities/outdoor/biking
http://www.champlainbikeways.org/
http://www.lakeplacid.com/do/outdoors/summerfall/cycling/road-loops-tours
http://www.barkeatertrails.org/