Discover 12 Kid-Friendly Adirondack Adventures the Entire Family Can Enjoy This Summer
Bringing the kids along on your next trip to the Adirondacks? That doesn't mean you can't experience the region to its fullest! The Adirondack Park is full of thrilling attractions, stunning natural landmarks, and fascinating educational experiences that will appeal to the entire family. Keep reading for 12 of the best kid-friendly places to visit in the Adirondacks this summer!
Find Your Adventure:
Explore the Treetops & Soar Down Mountains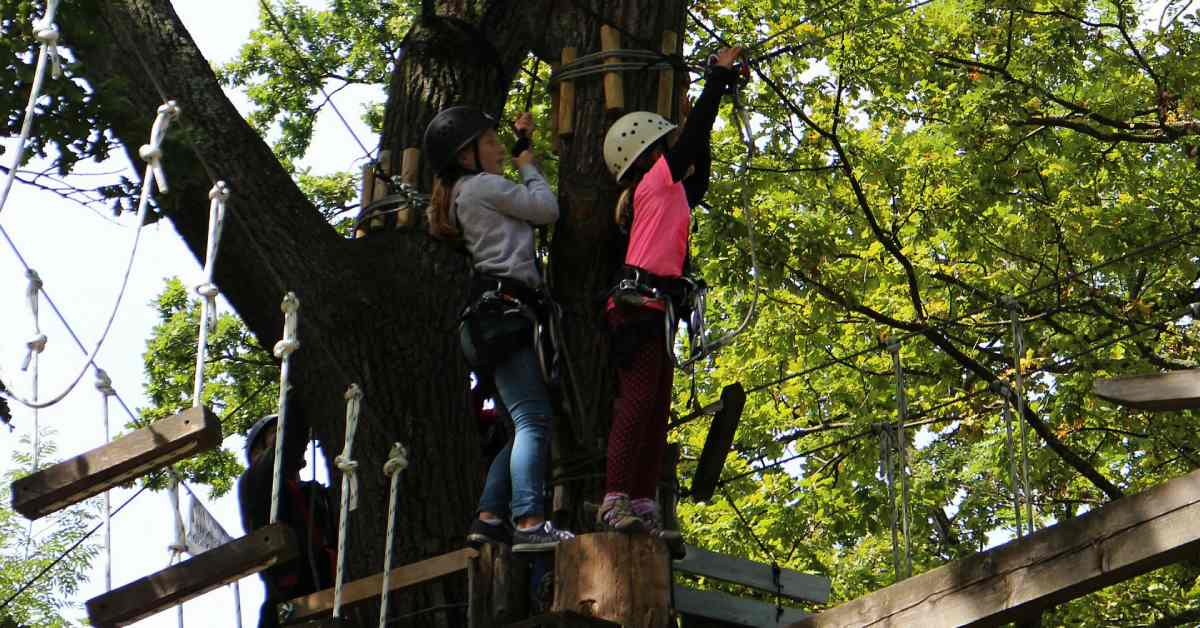 An exciting, family-friendly way to experience the Adirondacks is to head up into the treetops at an aerial adventure course. You can't go wrong with Adirondack Adventure Center's Treetp & Zipline Adventure, which has a selection of zip lines and fun aerial challenge courses. In addition to treetop platforms and rope bridges, there are also inventive obstacles like pogo posts and horizontal tires.
This activity is great for adventurous kids who are at least 6 years old, 48" tall, and 50 lbs. To traverse the advanced courses, kids must be at least 10 years old and 54" tall. Book your adventure at the link below!
Not sure what kind of summer adventure you'd like to have? Then head out to North River to Adirondack River Outfitters: Adventure Center, where they offer family-friendly aerial obstacle courses, thrilling ziplines, and paintball. If you have older kids -- at least 9 years old -- this is a great way to experience the outdoors in the Adirondacks.
For additional fun, you can also sign up for rock climbing, canoeing, rafting, camping, and hiking excursions to nearby landmarks. Age restrictions vary based on the activity as well as on the season, so be sure to check in advance!
Start planning your excursion »
Soar & Climb at a Top Ski Resort
If Gore Mountain is your go-to place for skiing in the winter, why not make it your favorite spot to spend a summer day? Check out their kid-friendly zipline, climbing challenge course, climbing wall, bounce course, and bungee trampoline. In between all of the excitement, take a gondola ride and see the Adirondack mountains from high above.
Kids must be at least 40 lbs to take on the climbing challenge course, and at least 20 lbs for the bungee trampoline and climbing wall. The zipline, added in 2019, is appropriate for kids who are at least 6 years old, 45 lbs, and 40 inches tall.
Embrace Your Inner Explorer at Stunning Nature Hotspots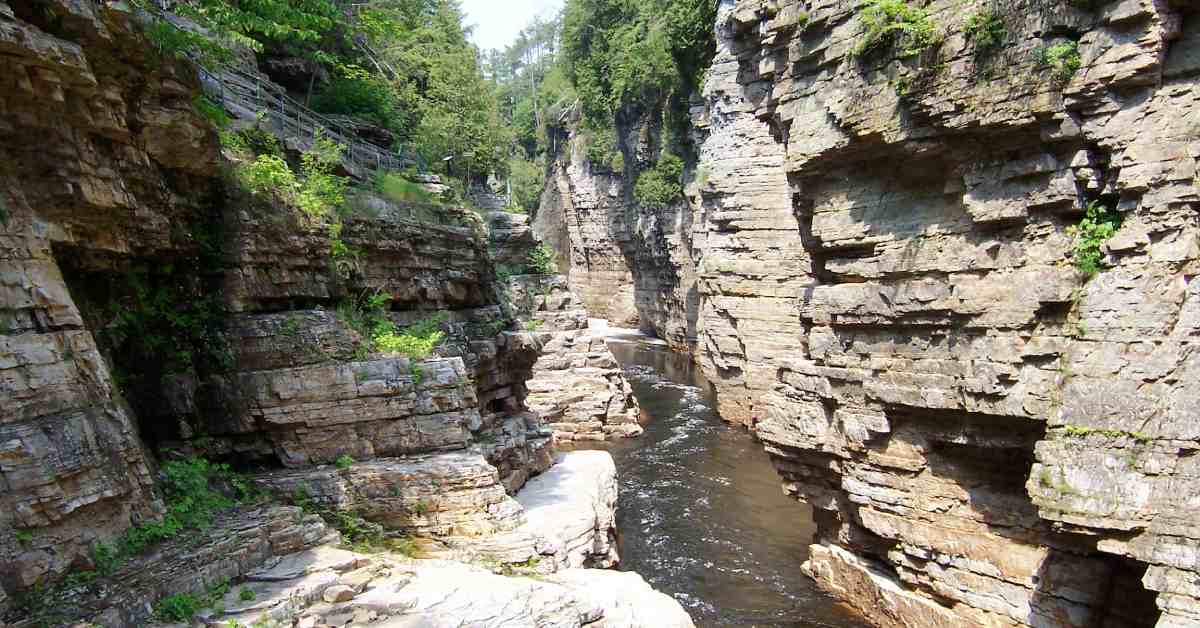 The Adirondacks are full of stunning natural landmarks just waiting to be seen, trekked, and photographed. While parts of the Adirondacks are too remote and wild to explore with the whole family, plenty of natural attractions are kid-friendly. Visit Ausable Chasm, sometimes referred to as the Adirondacks' own Grand Canyon, for amazing views and a thrilling experience.
Hike past primeval scenery and unique rock formations, then float through the chasm on the Ausable River on their Classic Tour, which is great for kids 5 and up. If you have younger children, the trails are suited for all ages, and child backpack carriers are available to rent (the trails aren't stroller-friendly).
If you have older kids (8 and up, at least 50 lbs, and a minimum 63" reach), challenge yourselves on the kid-friendly Adventure Trail, where you'll get strapped into harnesses and explore Ausable Chasm on cable bridges and edge walks.
The four waterfalls of High Falls Gorge are stunning and rugged, and thanks to some safe and accessable pathways and bridges, are now Adirondack landmarks that everyone, regardless of age, can enjoy year-round.
The hike is only about 45 minutes long and offers spectacular views of the falls. They also have a gemstone mining site that kids will enjoy, as well as a cafe and a spot for picnicking.
Go exploring with the family at Natural Stone Bridge & Caves, which boasts the east coast's most sizeable marble cave entrance. Take a self-guided trail tour past the Stone Bridge, waterfalls, grottos, and surface caves for a beautiful and informational afternoon.
The trail is appropriate for all ages (although no strollers are allowed) and there are also tons of other fun, kid-friendly activities onsite, like disc golf, a dino dig, bouldering walls, gemstone mining, geode popping, and jewelry making, as well as a snack bar and ice cream shop.
Reservations are required through the purchase of online tickets and you need to buy at least a day in advance. Enjoy!
The Gore Mountain Gem & Mineral Shop, formerly known as Garnet Mine Tours, not only allows you the chance to make your own jewelry or shop for unique pieces, but for you and your children to mine for the gems yourself.
This activity is appropriate for all ages, the group learns a bit about the rich history of garnet in the region on their excursion, and everyone is guaranteed to find garnets.
The Gore Mountain Gem & Mineral Shop is located in North Creek and is open daily from July through Labor Day.
Uncover info on tours and pricing >>
Experience the Excitement of Adirondack Theme Parks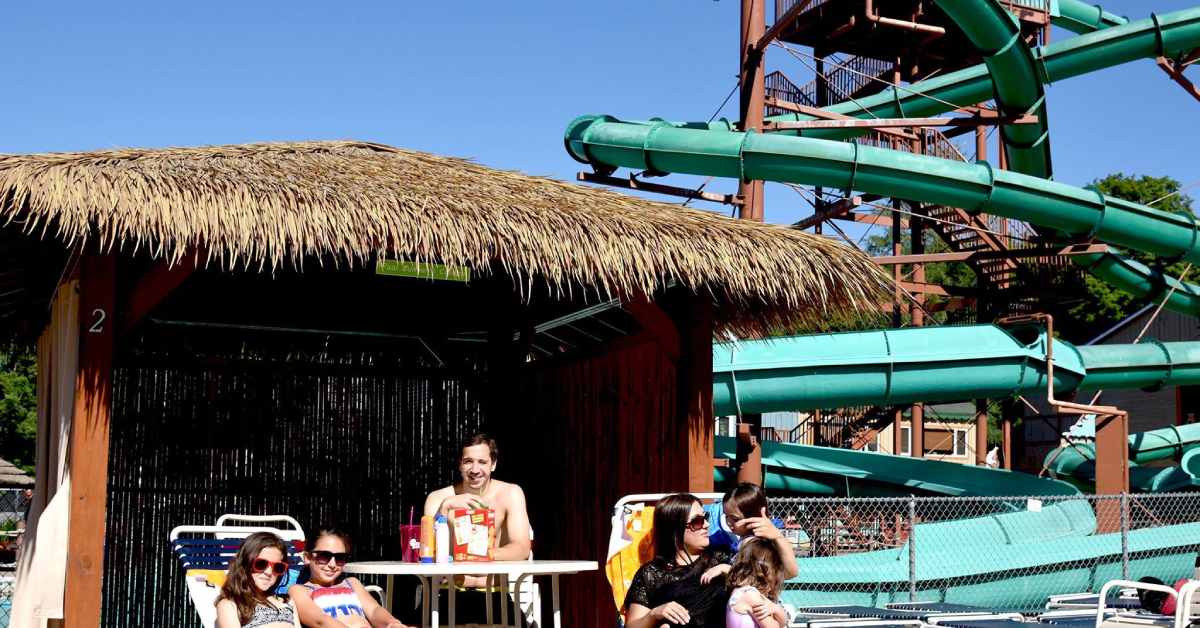 Cool Off at New York's Largest Waterpark
If the weather's hot, beat the heat at Enchanted Forest Water Safari in Old Forge. It's the largest waterpark in the state and boasts tons of thrilling amusement park rides, water slides, and lazy river tubing, as well as a large wave pool. There are plenty of rides geared towards young children, as well as many thrilling attractions for older kids and adults to enjoy.
Not visiting on the warmest of summer days? That's fine! All of the water at the park is heated.
Take a drive up to North Pole, NY (north of Lake Placid) to visit Santa's Workshop, which is open seven days a week in the summer. The theme park first opened in 1949 and has since become a local tradition. Kids can meet Santa, visit reindeer, watch shows, go for a spin on quaint rides, and explore the Alpine-inspired village.
Much of the park is geared towards younger children, and many of the rides are for kids under 48" tall and 75 lbs.
Pay a visit to Santa's workshop »
Discover Adirondack Culture & History at Museums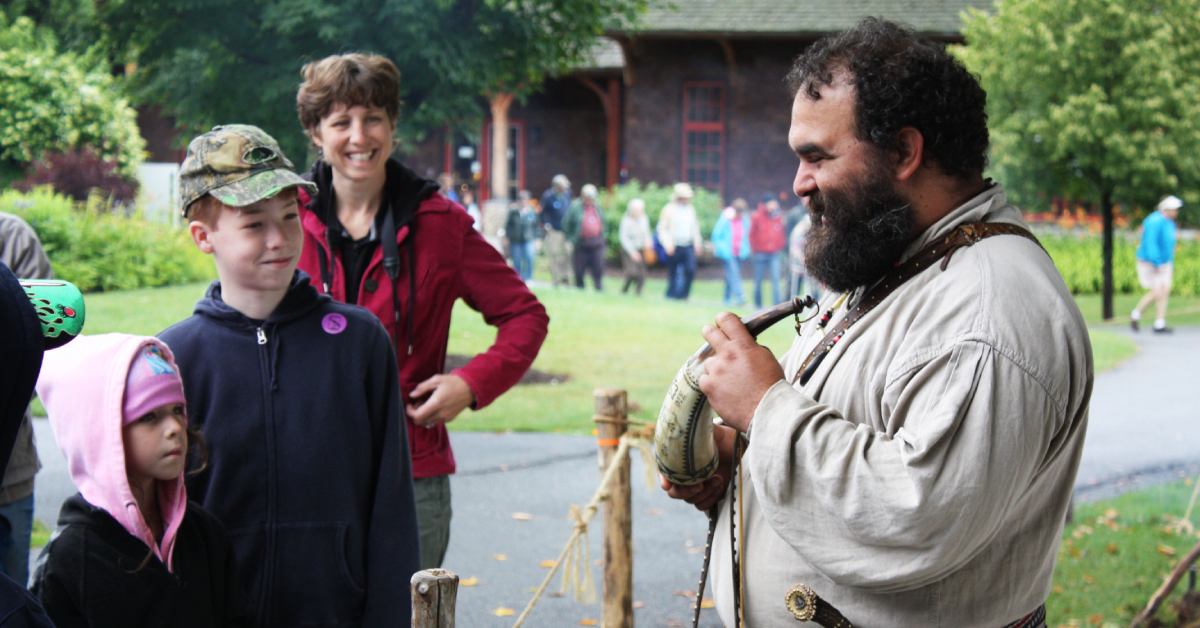 Located near the shores of Blue Mountain Lake, Adirondack Experience has tons of exhibits on the history, art, and culture of the region, as well as scenic and historic outbuildings to explore.
Kids of all ages will enjoy visiting Adirondack Experience. Kid-specific attractions include the Reising Schoolhouse (a historic one-room schoolhouse with fun hands-on activities), the Kids Cabin, and daily scavenger hunts.
While technically just to the north of the Adirondack Park, the North Country Children's Museum in Potsdam is a great way to get kids ages 12 and under excited about the region.
The interactive, hands-on exhibits teach kids about nature, art, and engineering. Some exhibits have a regional spin, such as Adirondack Waterplay, where children can learn about rivers, boats, and hydropower dams. They also often host fun theme days and family art projects.
If you're exploring the southeastern Adirondacks, Fort Ticonderoga is a can't-miss attraction for families wanting to learn about local colonial history. The large fort sits overlooking both Lake Champlain and Lake George, and you'll find costumed historians demonstrating daily life and military drills, galleries full of artifacts, hiking trails, and a gorgeous garden to explore.
Fort Ticonderoga is appropriate for all ages, and kids can try on reproductions of uniforms, visit heritage breed animals like oxen and chickens, and help costumed historians in a variety of tasks. You can purchase tickets at the front gate using a gift card.
Visit an important piece of colonial history »
Whether you're looking for a thrilling outdoor adventure or an educational excursion, there are tons of options in and around the Adirondack Park that will appeal to the whole family. Still searching for more ideas?