Adirondack Farmers Markets for Fresh Produce & Local Products
Visit these farmers markets located throughout the Adirondacks for fresh produce, meat, bread, handcrafted items, and more!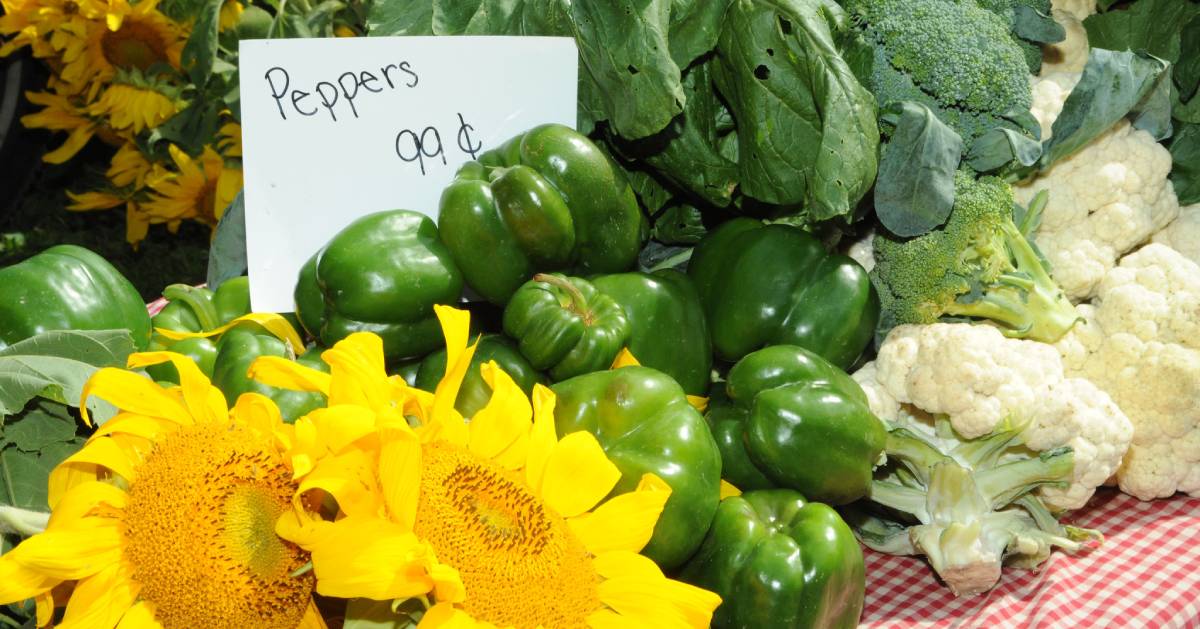 2024 Adirondack Farmers Markets
Editors Note 11/14/23: Some of the following dates are from the 2023 season. We will be updating this page with 2024 dates as they are announced!
Note: The Lake Placid Farmers Market and Saranac Lake Farmers Market are now each operating under one umbrella, the High Peaks Farmers Market.
Bolton Landing Farmers Market
June 23 - September 1, 2023
Fridays, 9am to 1pm
7 Goodman Ave, Bolton Landing, NY 12814
Brant Lake Farmers Market
May 27 - October 7, 2023
Saturdays, 10am to 3pm
6752 State Route 8, Brant Lake, NY 12815
Canton Farmers Market
May 12 - October 27, 2023
Tuesdays 9am to 2pm, Fridays 9am to 2pm
17 Park Street, Canton, NY 13617
Chateaugay Lakes Farmers Market
June 3 - September 2, 2023
Saturdays, 10am to 2pm
State Route 374, Merrill, NY 12955
Chestertown Farmers Market
June 14 - September 13, 2023
Wednesdays, 10am to 2pm
Front lawn of Town of Chester Municipal Center, 6307 State Route 9, Chestertown, NY 12817
Elizabethtown Farmers Market
June 9 - September 15, 2023
Fridays, 9am to 1pm
Behind the Adirondack History Center Museum, 7590 Court Street, Elizabethtown, NY 12932
Glens Falls Farmers Market
May 6 - October 28, 2023 (there is also a winter market)
Saturdays, 8am to 12pm
South Street Market Pavilion, Elm Street, Glens Falls, NY 12801
High Peaks Farmers Market - Lake Placid
June 14 - September 13, 2023
Wednesdays, 9am - 1pm
Outside Green Goddess Natural Foods, 2051 Saranac Avenue, Lake Placid, NY 12946
High Peaks Farmers Market at Riverside Park
May 20 - October 14, 2023 (there is also a winter market)
Saturdays, 9am to 1pm
River Street, Saranac Lake, NY 12983
Keene Farmers Market
May 28 - October 8, 2023
Sundays, 9:30am - 2pm
Marcy Airfield, Route 73, Keene, NY 12942
Lake George Village Farmers Market
June 7 - September 6, 2023
Wednesdays, 10am - 3pm
Shepard Park, Lake George, NY 12845
Long Lake Farmers Market
June 29 - early September
Thursdays, 6am - 10am
Mt. Sabattis Lower Parking Lot, 6 Pavillion Rd, Long Lake, NY 12847
Malone Farmers Market
May 24 - October 4, 2023
Wednesdays, 12pm to 4:30pm
Malone Airport, 27 Airport Road, Malone, NY 12953
North Creek Farmers Market
June 22 - September 21, 2023
Thursdays, 2pm to 6pm
Riverfront Park, North Creek, NY 12853
Old Forge Farmers Market
June 16 - October 16, 2023
Fridays, 1pm to 5pm
Parking lot outside George Hiltebrant Pavilion at 201 North Street, Old Forge, NY 13420
Plattsburgh Farmers and Crafters Market
May 11 - October 12, 2024
Saturdays, 9am to 2pm
26 Green Street, Plattsburgh, NY 12901
Potsdam Farmers Market
May 13 - October 28, 2023
Saturdays, 9am to 2pm
Ives Park, Potsdam, NY 13676
Schroon Lake Farmers Market
June 17 - September 2, 2023
Saturdays, 8am to 12pm
15 Leland Avenue, Schroon Lake, NY 12870
Speculator Farmers Market
June 22 - September 7, 2023
Thursdays, 2:30pm to 5:30pm
Speculator Pavilion, Route 30, Speculator, NY 12164
Ticonderoga Area Farmers Market
July 8 - September 30, 2023
Saturdays, 9am to 12pm
Downtown Ticonderoga, behind Glens Falls National Bank, Ticonderoga, NY 12883
Tupper Lake Farmers Market
June 24 - October 21, 2023
Fridays, 2pm to 6pm, and some Thursdays & Saturdays 11am - 5pm
320 Park Street, Tupper Lake, NY 12986
Warrensburg Riverfront Farmers Market
June 2 - October 6, 2023
Fridays, 3pm to 6pm
180 River Street, Warrensburg, NY 12885
Willsboro Farmers Market
June 22 - August 31, 2023
Thursdays, 9am to 1pm
Route 22, Willsboro, NY 12996