Where To Find Adirondack Lean-Tos: Plus Camping Tips & Advice
A lean-to is a three-sided log structure that has an overhanging roof. Lean-tos make perfect shelters for camping, and many are found along Adirondack trails.
Lean-To Basics
It is common etiquette for lean-tos to be first-come first-served for parties who come across them in the woods. On average, lean-tos can comfortably sleep 7-8 people, but the size sometimes varies. Note: You must share a lean-to with anyone who may wish to use it, until the full capacity has been reached.
For the most part, lean-tos cannot be reserved in advance, therefore it is important for you to bring a tent along with you in case the lean-to you were planning to camp in is already occupied.
The DEC has established the following rules regarding lean-to use:
No plastic can be used to close off the front of the shelter.
No nails or other permanent fasteners can be used to affix a tarp on a lean-to, however you may use rope to tie canvas or nylon tarps across the front.
No tent can be pitched inside of a lean-to.
You should always keep the lean-to and surrounding site clean for future visitors, and refrain from carving your name, initials, or other markings into the lean-to.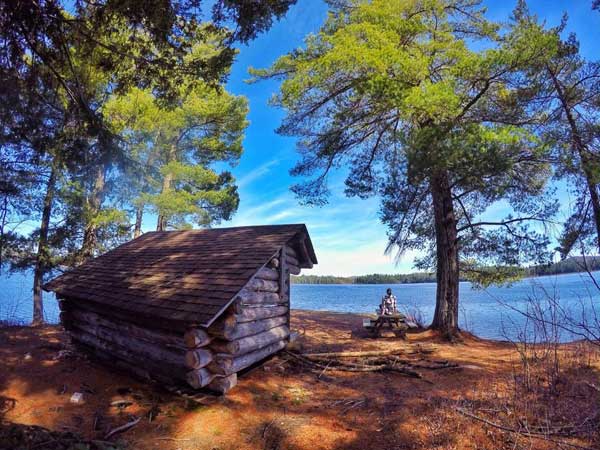 Peter's Rock Lean-To on Lower St. Regis Lake (Photo: Kevin Lenhart)
Where To Find Lean-Tos Throughout The Adirondacks
There are around 200 lean-tos within the blue line of the Adirondack Park for you to use. Below is a list of specific wilderness areas and the number of lean-tos that can be found there, as compiled by CNYhiking.com, and updated based on new information:
Ha-De-Ron-Dah Wilderness (2)
Independence River Wild Forest (2)
Pigeon Lake Wilderness (6)
Moose River Plains Complex (9)
Shaker Mountain Wild Forest (2)
Vanderwhacker Mountain Wild Forest (2)
Hurricane Mountain Primitive Area (2)
Sentinel Range Wilderness (1)
Aldrich Pond Wild Forest (1)
Horseshoe Lake Wild Forest (2)
William C. Whitney Wilderness (1)
Sargent Ponds Wild Forest (16)
Blue Ridge Wilderness (3)
Paul Smiths (11) - Restrictions May Apply
Adirondack adventurer Andy Arthur has also compiled a map of Adirondack lean-tos »
Find information on New York State Park Campgrounds »
See our favorite primitive camping spots »
Sources:
CNYhiking.com - http://cnyhiking.com/AdirondackLeanTos.htm
AndyArthur.org - https://andyarthur.org/google-maps-lean-tos-october-2012.html