Have you heard of geocaching? If you haven't, let me explain. Geocaching is a real-world treasure hunt, taking place in the great outdoors, in every corner of the Earth. A 'cache' can be a mailbox, an ammunition box, a zip-lock bag, or any waterproof container. They usually contain a logbook, a writing utensil, photos, or inexpensive objects that people trade from cache to cache.
Most people that enjoy geocaching belong to an online community, and find nearby caches (coordinates) through the website. The coordinates are entered into a GPS device, and the treasure hunter is on their way.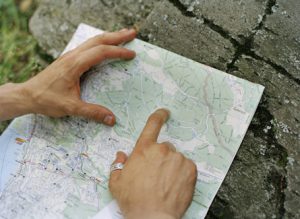 Geocaching is so cool because it is worldwide. Wherever you are, you can get the coordinates of the nearest cache, and you're off. You don't always get directions, and some caches are well-hidden, but this makes it that much more fun! You have to find them, which takes patience, skill, endurance, and knowledge of certain navigational techniques. Geocaching is often referred to as a "high-tech game of hide and seek".
I personally haven't started "playing the game" yet, but I plan on it. I like to hike, and I like to find things, so why not try to find things while I'm hiking? I can just do a web search for a cache that will be in the area of my next hike, and try to locate it while I'm in the woods. Caches are often located at the top of mountains, or along trails and in other wilderness destinations. At the same time, some caches are located right off the shoulder of a roadway, with very little hiking/orienteering needed to reach the stash.
A friend of mine told me about a letterbox at the summit of Hadley Mountain before I hiked it a few weeks ago. I didn't have the coordinates or a GPS (one without the other isn't really any good anyway) so I didn't really expect to find the thing. I was told to "walk northwest from the fire tower and see if you can find it". I wandered around for a bit before I found an old first-aid kit plastic box full of what looked like garbage tucked away underneath a rock and some logs.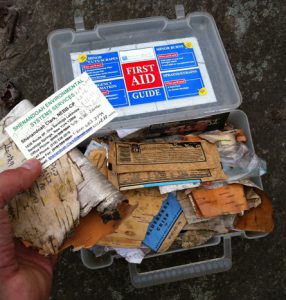 I have since been told that this "letterbox" is a very poor example of a geocache, but it was fun to find something in the woods, and even more fun to look through the stuff people left behind.
I have heard of people leaving little toys in the caches with track-able tags attached. These items are known as trackables to the geocaching community. People often take the trackable out of the cache, and bring it to the next one that they visit. When one of these items is found, the tracking number can be entered into a database, and you'll be able to see every cache that that particular trackable has visited – so cool!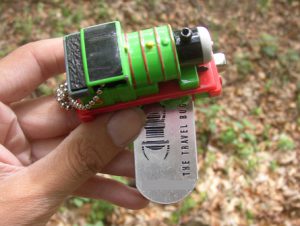 This is an example of a trackable. I have also heard of trackables in the form of rubber ducks, toy bugs (travel bug), or special geocoins. Some trackables carry requests with them, written by whoever first placed it such as "to visit every country in Europe" or "to cross the Atlantic Ocean". This makes finding trackables even more fun, you never know where it has been, or where it should be headed! Some items have been tracked over thousands of miles and are still travelling around the world today!
Most people use a GPS device to find a cache, but some use a good old fashioned map and compass! For an added level of difficulty, leave the electronics at home and try to find your way to a cache by using map, compass and landmarks.
This hobby is really cool, and would be a ton of fun to get involved in. Do any of my readers search for geocaches? I'm sure there are many dispersed throughout the Adirondacks, I wonder how many I have walked past while hiking.
Want to get into it? Check out this website: www.geocaching.com