I headed up to Schroon Lake on Saturday and had very little luck ice fishing. I went with my friend Josh and his cousin Zack, neither of whom are early risers. So we weren't on the ice and set up until about 10:30am. This is much later than I would have chosen, but in the interest of saving gas, we wanted to go together so I dealt with it.
All day (we were on the ice for seven hours) we got one flag between the three of us, on 15 tip-ups. Zack caught a Lake Trout that was a keeper. Josh jigged up one Perch, and a Laker that was too small to keep. I jigged up one Perch. If it wasn't for the perfect weather, cold beer, and a delicious lunch from The Crossroads, I probably wouldn't have stayed as long as I did.
On Sunday I headed to the Saratoga City Center to check out the Adirondack Sports & Fitness Expo..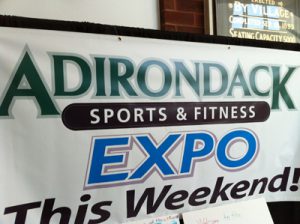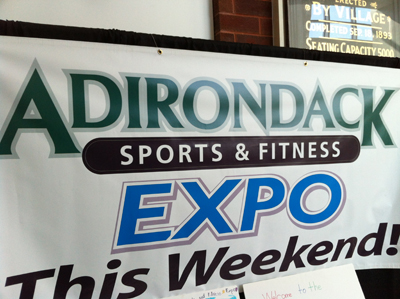 The Expo was pretty cool. It wasn't exactly what I expected, but I found some great displays and products. In hindsight, I should have gone to the Expo on Saturday, and fished on Sunday, but you know what they say, "Hindsight is 20-20."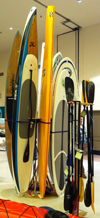 There were quite a bit of products for sale, and I was looking at a pair of zip-off hiking pants. I want a pair of these so that I can wear shorts while hiking, then throw the pant legs on when we get to camp and not have to carry an additional pair of pants with me. My size wasn't available for the sale price on Sunday, as the clothes racks looked pretty depleted. Guess I'll keep looking. Do any of you wear these convertible pants when hiking? What do you think?
The guys from Lake George Kayak were at the Expo, with a whole rack full of stand-up paddleboards (SUPs). These guys gave me the opportunity to try SUP last summer, and it was pretty cool. I think it would be so cool to try some whitewater surfing on one of those things. Maybe an idea for a new Adirondack sport/activity?
Probably one third of the Expo was dedicated to race information. It seemed like every 5K, marathon, bike race and triathlon in the area had a table set up where you could enter to win a free registration. I entered to win a registration for a beginner's triathlon in the Catskills, as well as the Centurion Bike Race in Lake George this summer. I'm not too sure about the triathlon, if I win that entrance fee I'll have to start working on my swimming form ASAP.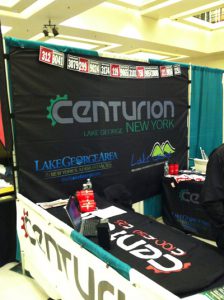 A company that really caught my eye at the Expo was Hornbeck Boats. For those of you that don't know, Hornbeck is an Adirondack boat building company that makes very light, high quality canoes. The double paddle canoes perform much like kayaks, but are easier to get you and your gear in and out of, and are quite a bit lighter. Most of the smaller models weigh less than 30 pounds, making it much easier to access those remote Adirondack Lakes and Ponds that you've (I've) been dying to fish. I would love to own one of these some day, but they're not exactly in my price range at the moment.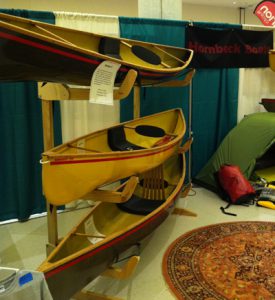 After asking around about some information on the Northville Placid Trail (NPT), I came across the ADK Mountain Club's table, and they had the guide on display. I am in the beginning stages of planning a through hike of the NPT in early August. I picked up a copy of the guide, and got a free carabiner with my purchase.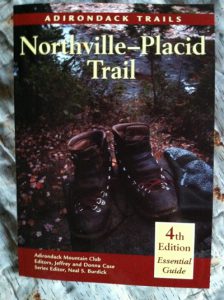 I am really excited about this trip. It is going to take a lot of careful planning, motivation, endurance, at least one food resupply, and eight days to complete (maybe nine). My girlfriend Liz is going to accompany me, and I think we are going to have a great time. Eight days in the woods, I can't wait!
I'll be sure to keep you updated as I plan this trip as I'm sure I will have several questions to ask. If any of you have hiked the NPT or portions of it, I would love to hear what you thought!
I don't have much planned for this weekend, but it's only Tuesday so I might find something to do. I think ice fishing is over with for me this year, maybe I'll work on getting all of my fly fishing gear in order and ready to go.