Learn How To Travel To The Adirondacks By Train
The Adirondack Park is a popular destination for those who live in New York State or beyond. For many, the most convenient way to get to the Adirondacks is Amtrak's train service. Every day, one train leaves New York City, travels through the Adirondacks, and ends up in Montreal. Another train follows the opposite route daily.
Although the trains stop at multiple stations and platforms in the Adirondacks, once you arrive at your stop, the number of transportation options vary by location. To help both drivers and non-drivers make their way from a train stop to other sites in the Adirondacks, we've compiled a helpful travel guide to follow the next time you want to visit the Adirondack Park by Amtrak train!
Jump To: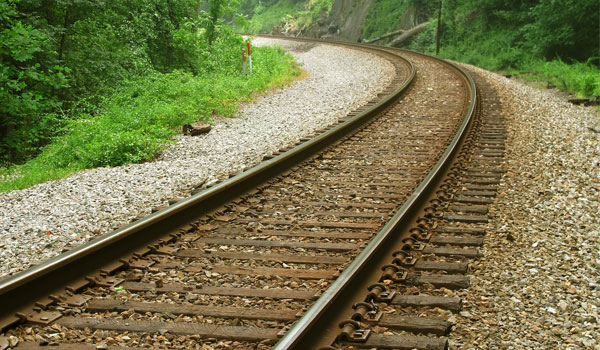 Amtrak Train Stops Between New York City & Montreal
Below you will find the route for the Amtrak train that makes its way to train stops in the Adirondacks. The train stops that are in or just outside the Adirondacks are bolded, and you will discover more information about each in the following sections.
New York, NY
Yonkers, NY
Croton-on-Hudson, NY
Poughkeepsie, NY
Rhinecliff, NY
Hudson, NY
Rensselaer, NY
Schenectady, NY
Saratoga Springs, NY
Fort Edward, NY
Whitehall, NY
Ticonderoga, NY
Port Henry, NY
Westport, NY
Port Kent, NY
Plattsburgh, NY

Rouses Point, NY
St-Lambert, QC
Montreal, QC
Train Travel Guide For Drivers
If you have a driver's license but believe a train ride is much more convenient than driving all the way to the Adirondacks, then you have a few more options than if you couldn't drive.
Plattsburgh, NY
To start, if you are traveling by train but would be interested in driving around once you arrive, then you'll want to consider getting off at the train station in Plattsburgh. Although Plattsburgh is in the northern outskirts of the Adirondack Park, it isn't too far from some popular Adirondack destinations (Lake Placid is a little over an hour's drive away).
The Plattsburgh station has a waiting room, and once you arrive there, you'll have a few different transportation options available.
1. Car Rental: Enterprise-Rent-A-Car is located in Plattsburgh at 334 Cornelia Street, about 2 miles from the train station. If you call ahead, the company will typically pick up car renters within a 10 mile radius. See more information about car rentals in Plattsburgh on their website »
2. Taxi: To move through Plattsburgh and the surrounding area by taxi, it's recommended to call City Taxi. If you're at the train station, you can call City Taxi to come and take you to your next destination.
3. Bus: A few different buses visit Plattsburgh, including: Greyhound, Trailways of New York, and the Clinton County Public Transit (CCPT). While you can travel on the Greyhound and Trailways of New York buses to farther locations, the CCPT stays within Clinton County and visits areas such as Rouses Point.
Greyhound: 7155 State Route 9, Plattsburgh, NY (about 2.5 miles from train station)
Trailways of New York: 7155 State Route 9, Plattsburgh, NY
CCPT: Multiple bus stops in Plattsburgh. Find map of City Routes »
Fort Edward, NY
If you're interested in accessing the southeastern region of the Adirondacks and the Lake George area, then your best option is to get off at the train platform in Fort Edward. From there, you can reach your destination a few ways.
1. Car Rental: For drivers, there is an Enterprise-Rent-A-Car located in Queensbury, NY. If you're interested in driving to your Adirondack destination, then you should check in with this local car rental company and see if you can schedule a pickup. See more information about car rentals in Queensbury on their website »
2. TrainCatcher: Amtrak offers a TrainCatcher van/car service from the Fort Edward train platform to Glens Falls and Lake George Village. However, reservations are required, and you must call 518-792-1086.
3. Taxi: There are a few local taxi services available to bring you to a variety of destinations in the area.
Glens Falls Taxi Service #: 518-205-9399
Queensbury Taxi #: 518-761-1234
Tri County Cab #: 518-792-1234
4. Bus: Greyhound travels through South Glens Falls, so if you can get there from the Fort Edward train platform, then you'll be able to take the bus to your next destination.
Greyhound: 2 Hudson Street, South Glens Falls, NY
Train Travel Guide For Non-Drivers
In addition to the above tips for getting around the Lake George and Northern Adirondacks areas, you'll find options are a bit more limited if you travel by train and can't or don't want to drive.
Westport, NY
To reach the Central Adirondacks area, such as Lake Placid, Saranac Lake, etc., a stop at the Westport train station is highly recommended. The train stop in Westport has a station building with a waiting room. Although Westport doesn't offer many transportation options to the surrounding area, Amtrak has a shuttle that travels from Westport to Lake Placid.
1. Amtrak Shuttle Bus (Ground Force One): To take the shuttle bus from Westport to Lake Placid, you must select Lake Placid as your destination while booking your Amtrak train ride. By selecting Lake Placid instead of Westport, the Amtrak train will drop you off in Westport, and then a shuttle will bring passengers to their next destination, Lake Placid (bus stop at the High Peaks Resort).
Ticonderoga, NY
Over in Ticonderoga, the small train station and platform are located within walking distance of the Fort Ticonderoga Ferry. To get around Ticonderoga from the train station, you'll want to be aware of the limited transportation options.
1. Shuttle: Fort Ticonderoga has started to offer a free shuttle service from the train staton to Fort Ticonderoga and Best Western Plus Ticonderoga Inn and Suites. However, this shuttle is offered during July and August, and reservations are required.
2. Taxi: The taxi service in the Ticonderoga area can get busy, so you'll want to check availability and make a reservation.
Adirondack Cab #: 518-585-2222
3. Ferry: The Fort Ticonderoga Ferry, which typically operates between May through October, is popular for people visiting the Adirondacks from Shoreham, VT. You can take the ferry across to Ticonderoga, and then get on at the nearby train station.
Port Kent, NY
The Port Kent train stop has a platform and no shelter. The closest transportation options available near Port Kent are the ones up in Plattsburgh. In addition, the train only stops at this station seasonally on days when the Burlington-Port Kent Ferry is in operation.
1. Ferry: If you are visiting the Adirondacks from Burlington, VT, you can take the Burlington-Port Kent Ferry when it is in operation and travel to Port Kent. The train station is located right near the ferry, so you could take the ferry and then get a ride on the Adirondack Amtrak train to another destination.
Port Henry, NY
Located between the Ticonderoga and Westport Amtrak train stops, the small station in Port Henry is better for getting on the train than getting off and exploring. However, the train stop does feature a station building with a waiting room.
1. Lake Champlain Bridge: Just south of Port Henry is Crown Point, NY, and the Lake Champlain Bridge. For visitors from Vermont, if you have access to a form of transportation (taxi, etc.), then you can ride across the Lake Champlain Bridge and then travel about 7 miles to the Port Henry train station.
Rouses Point, NY
The train stop in Rouses Point is an unstaffed platform that is even farther on the outskirts of the Adirondacks than Plattsburgh. If you take the train to this station, access to the rest of the Adirondacks is very limited.
1. Bus: Since Rouses Point is in Clinton County, the CCPT does pass through the village if you would like to get transportation to nearby Plattsburgh and the surrounding area. You will either have to check the schedule or call ahead to see if the CCPT will be in Rouses Point around your train arrival time.