The First Fort William Henry Hotel at Lake George
Erected: 1854-55
Architect: Presumably Thomas & Griffin Thomas
Builder: Franklin M. Wright
The three-story Fort William Henry Hotel opened in June 1855 at the south end of Lake George. Named after Fort William Henry, which played a vital role in the French and Indian War, the hotel was symmetrical in appearance and stood out due to the towering columns lining its facade.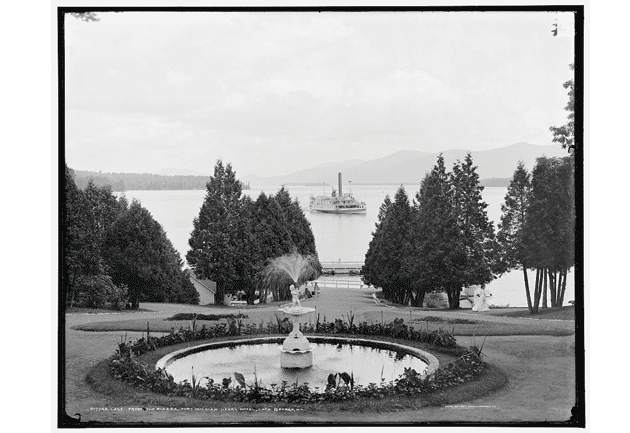 Its proximity to the beautiful landscape of the lake and the surrounding mountains made the hotel an instant success, and it was expanded the year after it opened. The hotel's capacity doubled during the renovation, and all of the additions kept the structure's original architectural grandeur intact.
In the late 1860s, the property was sold to T. E. Roessle & Sons, who were determined to make the Fort William Henry Hotel the biggest and best in the country. To do so, they disregarded the hotel's original intricacies, and focused primarily on expanding capacity. $200,000 later, they had nearly tripled the hotel's capacity to a whopping 900 persons, and added two new stories.
The main floor of the structure was also refurbished, and a sprawling new veranda was added to replace the previous one. Next to the hotel were 30 acres of grounds that featured a large fountain, gravel pathways, a Pagoda, a stable, tennis and croquet lawns, docks for sailing, a number of gardens, and even a casino, among other attractions.
The hotel underwent further renovations and upgrades, as well as multiple ownership changes, in the early 1900s, but the investments would prove to be for naught. Fire completely destroyed the hotel in June 1909, and it was never rebuilt.
Learn about other Adirondack resort hotels »
Photo:
View from the Fort William Henry Hotel, Lake George, N.Y.
Credit - Detroit Publishing Co. via Library of Congress
Source:
Tolles, Jr., Bryant F. "Resort Hotels of the Adirondacks: The Architecture of a Summer Paradise, 1850-1950"