Stevens House
Erected: 1876-77
Originally named "Excelsior House", Stevens House was renamed after John A. Stevens bought the Lake Placid-based property from Joseph V. Nash. The 3.5-story building featured a square observatory on the top floor, and offered superb views and cooling breezes that were thought to ease the maladies of the time.
The largest hotel in Lake Placid was highly visible due to its location on top of Signal Hill, and it overlooked the village and Mirror Lake. At 2,000 feet above sea level, Stevens House was the highest hotel in the Adirondacks when it opened in 1877.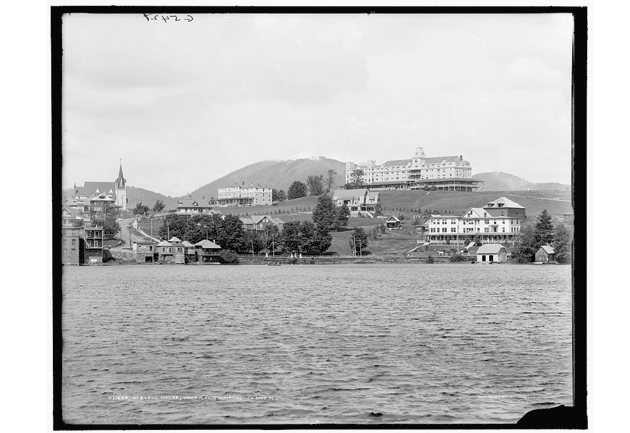 An overheated stovepipe resulted in the building burning to the ground on Christmas Eve of 1885, just seven years after it opened. The owners immediately decided to rebuild, and the second Stevens House opened the following summer.
By 1900, Stevens House had been expanded to accomodate 500 guests, and the whole building underwent a complete overhaul in 1925 after coming under new ownership.
Stevens House operated successfully for a number of years before being demolished in favor of house lots in the late 1940s.
Learn about other Adirondack resort hotels »
Photo:
Stevens House, Lake Placid, Adirondack Mts., N.Y.
Credit - Detroit Publishing Co. via Library of Congress
Source:
Tolles, Jr., Bryant F. "Resort Hotels of the Adirondacks: The Architecture of a Summer Paradise, 1850-1950"