Ski, Snowboard & Enrich Kids' Lives This Winter at Double H Ranch
Content sponsored by Double H Ranch
Double H Ranch is known for their innovative summer camp for kids with serious illnesses. Located in Lake Luzerne in the gorgeous Adirondack Park, Double H Ranch provides a camp for children who otherwise wouldn't get to enjoy this classic kid experience away from hospitals and home. But the fun doesn't stop when the warm weather does.
Keep reading to find out what Double H Ranch has in store for the kids when the snow starts falling, and how you can take advantage of a unique volunteer opportunity that is as rewarding for the staff as it is for the children.
Double H Ranch: Much More Than a Summer Camp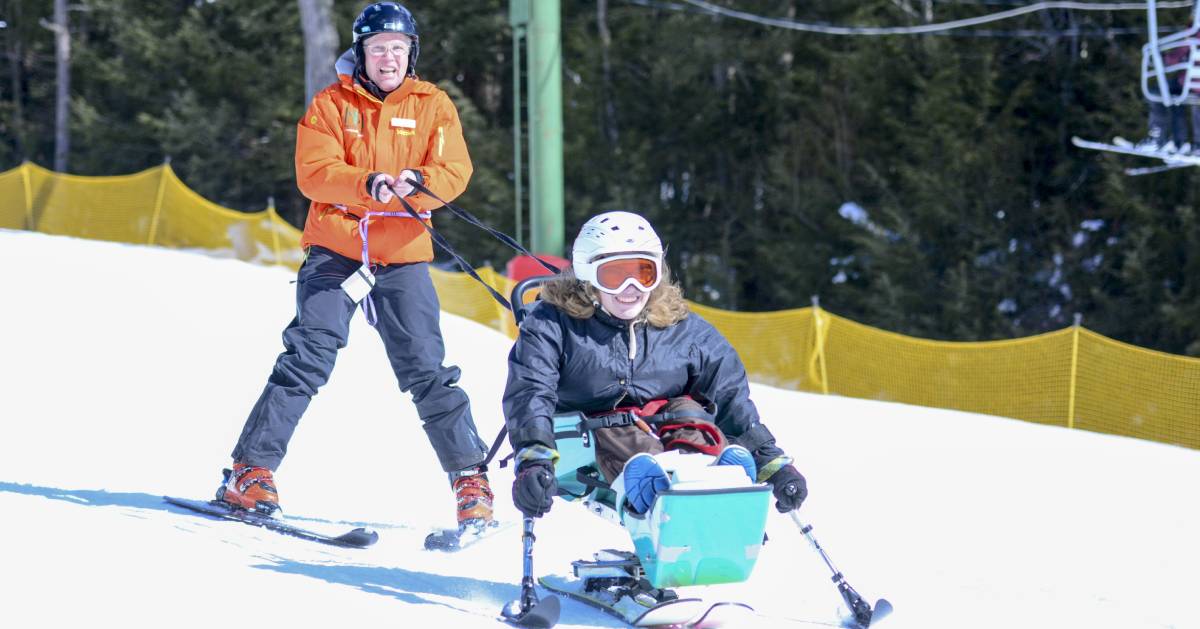 One of the additional programs Double H Ranch provides is the Adaptive Winter Sports Program, which offers kids ages 6 to 16 with life-threatening illnesses the opportunity to ski and snowboard in the Adirondack mountains.
Kids engage in skiing, snowboarding, and snowshoeing on weekends from January through March with personalized attention from volunteer instructors. Last year, they had approximately 240 children participate. The program takes place right on site at Double H Ranch.
One difference between the winter program and the summer camp is that the winter program accepts students with autism and visual impairments, as well as those with life-threatening illnesses. They're one of the few adaptive ski programs in the country that includes children on ventilators.
"The goal of the program is to teach the kids a life-long sport," Jimmer Hayes, the Adaptive Sports Director, told us, "so they can go on to other mountains with their family or friends, just like anybody else."
Double H Ranch provides each skier or snowboarder with the necessary equipment, the students are assigned a volunteer instructor, and lessons are provided for free.
In addition to day programming, Double H Ranch hosts Family Sleepover Weekends allowing parents and other family members to join in the fun and hit the slopes.
Love Skiing & Kids? Volunteer - No Teaching Experience Necessary!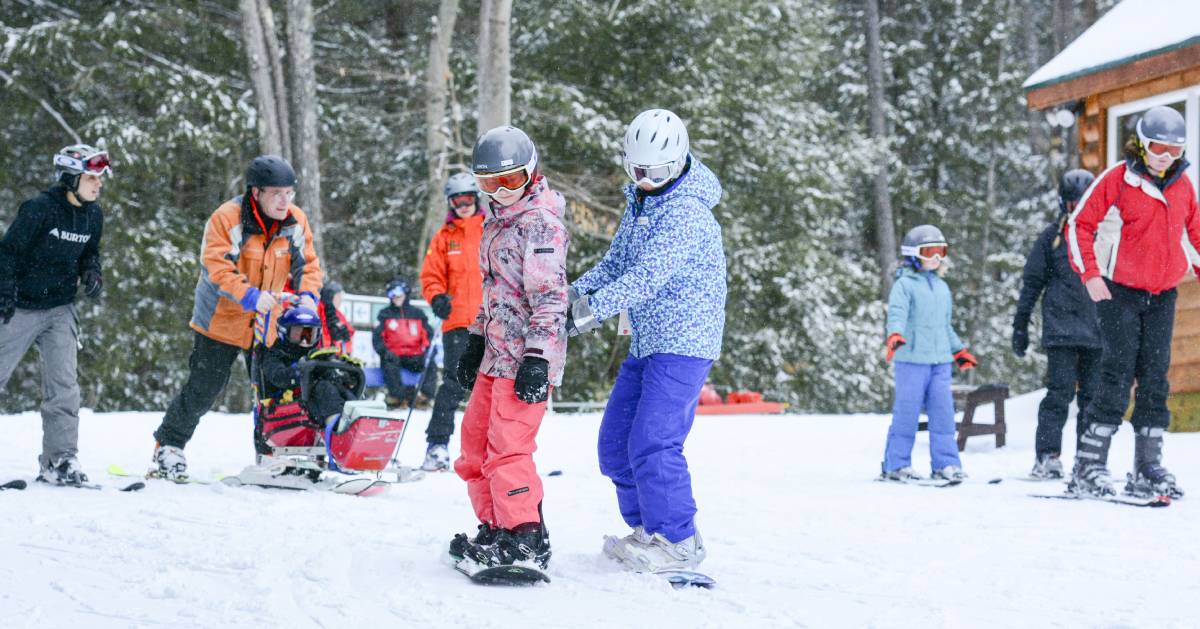 Double H Ranch aims to get roughly 200 ski and snowboard volunteer instructors for the 2020 Adaptive Winter Sports Program. If you know how to ski or snowboard and have an interest in working with kids this could be an ideal position for you, and no teaching experience is required.
"That's something some people get nervous about," Hayes explained. "Most people probably haven't had any experience teaching skiing or snowboarding, outside of teaching their friends or family, but that's not necessary."
The Double H Ranch staff teaches the volunteer instructors everything they need to know. The volunteers just need to be willing to "be a kid with kids."
Training begins in November 2019 and continues throughout the season. Double H Ranch is flexible about training hours, offering numerous opportunities. Some of the training can even be done online. And, Double H Ranch has a partnership with Gore Mountain, where training can take place, and they've also received assistance from West Mountain.
Other volunteer opportunities include the lodge host, who works in the lodge serving meals and facilitating the day; family pals, who help out over the Family Sleepover Weekends, showing parents around and ensuring everyone has a great time; and equipment room technicians, who get the students fitted with the ski or snowboard equipment.
Improvements & Expansions Over the Years
Established in 1998, the Adaptive Winter Sports Program started off with just a handful of instructors and students in a small, informal atmosphere. The program has grown from just a few participants to over 200.
Over the years a conveyer lift was added, the ski lodge has been expanded, and Double H Ranch has plans to enhance its snow-making system in the near future.
Ready to Have an Incredible Winter Skiing With Kids?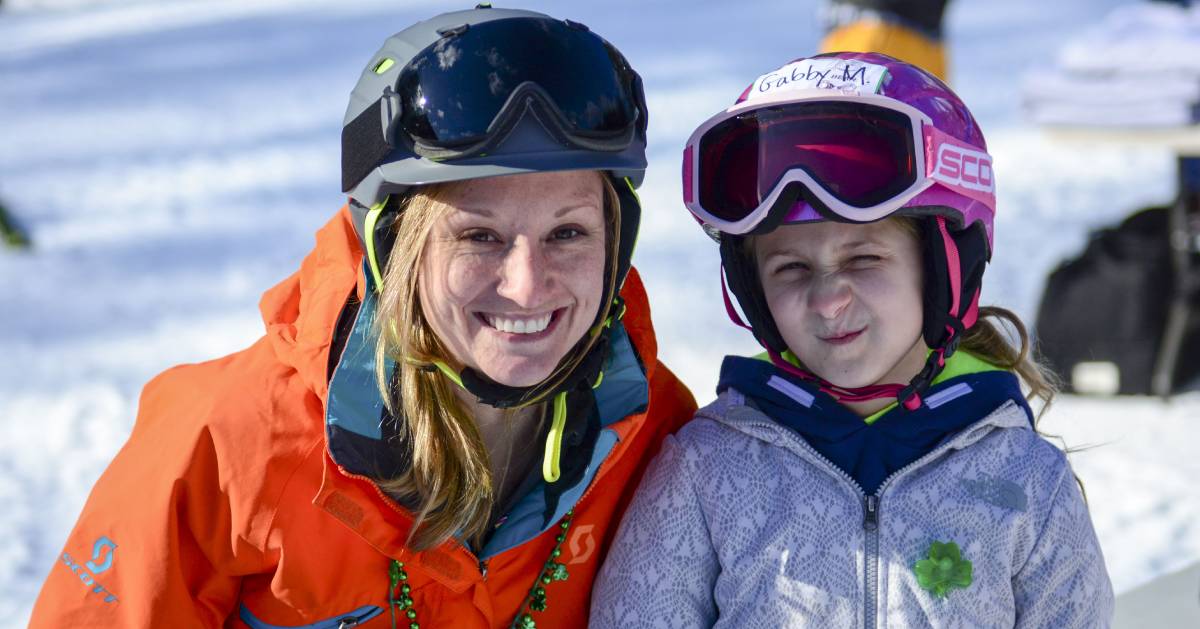 When you volunteer as a ski or snowboard instructor at Double H Ranch you're not only helping kids enjoy an unbelievable experience, you get to have fun making new friends, being a leader, and immersing yourself into winter sports the Adirondack region is known for.
With no teaching experience needed, flexible training hours offered, and the program conveniently taking place on weekends, there's no reason not to give it a try!