The Adirondack Folk School: New School Opening For Adirondack Enthusiasts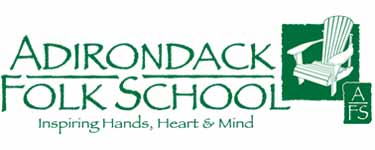 As Jim Mandle, lover of the Adirondacks and founder of the Adirondack Folk School, gets ready for their official Open House on April 18, Executive Director, Sandy Sherman, answers some questions about the new Adirondack-inspired school.
How did the original idea of the Adirondack Folk School come to mind for founder, Jim Mandle?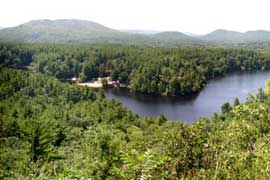 Jim loves the Adirondacks and his family has been coming to Lake Luzerne for many years. He has a strong sense of community and was looking for ways to promote economic sustainability to our area while at the same time preserving the buildings that have seen better days, and giving something back to the area he loves so much.
Where did Jim's inspiration drive from in setting up the school?
When the old Lake Luzerne Town Hall became vacant, he pursued several different ideas to put the building to good use, but none of them came to fruition. Then on a vacation to northern Minnesota, he came upon the North House Folk School.
A Folk School teaches the arts, crafts and traditions of a particular region. North House is in a town smaller than Lake Luzerne where many Scandinavians have settled. In the last 12 or 13 years, the North House opened there to great success. People come from 26 states and 2 countries to attend classes there and the economy is now lively because of it.
Jim thought that the old Town Hall which is on the Hudson River here would be an ideal location for the same sort of thing, but with the focus on the arts, crafts, and traditions of the Adirondacks.
What kind of student do you picture attending the Adirondack Folk School?
While there is no "typical" type of student who will attend the Adirondack Folk School, a love of creating through hands-on learning will most likely be important to all of them. The concept of the Folk School is one of non-competitive learning in a stimulating, no pressure environment.
What types of programs will be available to students at AFS?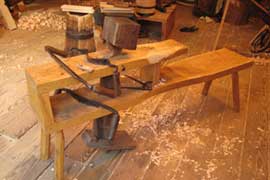 AFS will be offering programs in everything from trig furniture making, to pine needle basketry, jewelry making, pack basket making, felt making, quilting, soap making, Adirondack gardening and interior design, fly fishing and much more. (see our website www.adirondackfolkschool.org for a partial list of classes) We will be open year round so, Ice Fishing 101 is in the cards!
If Jim were to be a student at AFS, what types of classes do you think he would attend?
While I can't speak definitively for him, I think he would take blacksmithing, possibly paddle making pine needle basket making - that sort of thing. But Jim is a man of many talents and interests that, if he could, I think he would take most of them!
For students interested in taking classes, where/how do they go about registering?
SUNY Adirondack (ACC) will be handling registration for us. Registration will be up and running on our website within a few days.
The Adirondack Folk School is located at:
51 Main Street
Lake Luzere, NY 12846