16 Year-Old Campers Complete 46 Adirondack High Peaks!
PUTNAM STATION, NY - In order to be recognized as an "Adirondack 46er", a hiker must successfully climb all 46 of the rugged Adirondack High Peaks. Towering above 4,000 feet in elevation and presenting varying degrees of difficulty, earning the "46er" moniker presents a significant challenge by any standard.
It's hard to tell that from talking to 16-year old campers Fedor Motovilov from Moscow, Russia and Max Lopez from Montclair, NJ. Both teens just completed climbing the last of the 46 Adirondack High Peaks - their final climb took place at Mt. Colden (elevation 4,714 feet) on August 12, 2009.
Fedor is the godson of Adirondack Camp owner Alex Levitch and has spent nearly every summer at Adirondack Camp. He began climbing the High Peaks in 2004 and continued climbing every summer, completing the bulk of them within the last 2 or 3 seasons, including 18 peaks this summer alone. Fedor expressed how much he loves the scenic Adirondack Mountain views from many of the peaks he climbed. Fedor's favorite activity at Adirondack Camp is actually wind surfing - he also enjoys kayaking and all of the many activities available at camp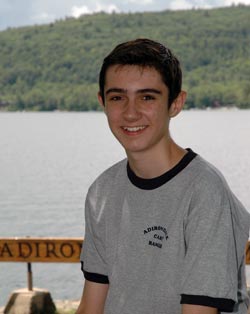 Max has been a camper at Adirondack Camp for six years, but really started to focus on climbing the Adirondack peaks about three years ago. As a camper, Max chose to focus on the trip program because of his love of hiking and the outdoors. In addition to hiking trips, he enjoys sailing and rock climbing.
Both boys will return home at the end of the season with a wealth of new experiences under their belts. Max will return to school in Montclair, NJ this year as Junior, and Fedor will complete one more year of school before going off to college in Russia, where he will major in economics.
Their extraordinary commitments to this project have paid off. Soon Fedor and Max will complete the paperwork required to be recognized as official "Adirondack 46ers", and join the more than 6,300 hikers who have thus far completed this substantial feat.