Nature Guides App Now On iPhone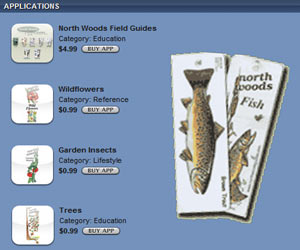 North Woods Field Guides, Inc. of Wevertown NY in the Adirondacks is now offering their helpful nature guides in an all-new format as a downloadable app for the iPhone!
Owner Jeff Greco has been distributing his pocket-sized nature guides for nearly ten years, and they have been a big hit both locally as well as in many states across the nation, and even into Canada. There are 12 guides currently available, covering everything from wildflower identification and animal tracks to first aid procedures and how to tie different types of knots.
"Most nature guides are in the form of a paperback book, which can easily get wet, bent and worn," said Greco. "These nature guides are smaller and made of plastic tags, similar to a credit card material, which makes them more manageable and durable."
With many of the guides now available as an iPhone app, Greco notes that they are now easier than ever to access – and more affordable too. Each guide can be downloaded from the iPhone App Store for just 99 cents a piece, or purchased as a bundle of 7 guides for just $4.99. This is a tremendous savings when compared to the current price of the plastic guides at $6.99 each.
"People have always remarked how convenient these lightweight guides are," said Greco. "Now imagine how much more convenient to have the guides located right on your iPhone... and for a fraction of the cost!"
Greco has been working with Natural Guides, LLC to develop the iPhone app, which made 7 of the 12 North Woods Field Guides available for download from the iPhone App Store in early spring 2009. Greco notes that although he is excited about the transition to an iPhone app, all of the plastic guides will remain available for purchase through the North Woods Field Guides website as well as in various shops around the country.
"While I am optimistic about offering these virtual nature guides to iPhone users," he said, "certainly there's still a great number of people who either don't have an iPhone, want to give these guides as a gift or simply prefer having the physical plastic guides. I want them to know they will still be available."
For more information, contact Jeff Greco at North Woods Field Guides at (518) 251-0818, or visit www.northwoodsguides.com. Download the North Woods Field Guide app through iTunes here.