Oscar's Smokehouse Reopens Its Doors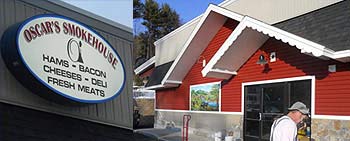 A massive fire destroyed Oscars Smokehouse in Warrensburg NY on September 4, 2009. But now about five months later, it will reopen its doors. At 9 a.m. on Saturday, February 20, 2010 Oscars will be back in business.
Owner, Jerry Quintal, has been dedicated to reopening the smokehouse as it has been in the Quintal family since 1940 when his father, Oscar, began smoking meat in his garage. Oscar's is somewhat of a legend in Warrensburg, everyone seemed to have Oscar's withdrawals.
Specialties at Oscar's include beef jerky, Irish, English and Canadian bacon, an array of smoked cheeses, ham, sausages, chicken breasts and so much more.
There was tremendous support from the community in the tough few months of rebuilding. So much that they turned down the idea of putting an outlet store in Saratoga Springs from which the Saratoga County economic development officials approached them about. Quintal could not leave his home town, nor take the business away from Warrensburg. (He also discarded the idea of opening a store in Glens Falls).
The costs to rebuild Oscar's have reached around $2 million, including equipment. The new store is bigger than the old store, around 9,300 square feet and is far more energy efficient. All the products will be exactly the same, and there may even be some new ones!
Oscar's is located at 22 Raymond Lane in Warrensburg, NY. The grand reopening will be at 9 a.m. on Saturday, Feb. 20, 2010. Make sure you get there early...there may be a line!
For more information on Oscar's Smokehouse hours or products call 1-800-627-3431.