Exclusive Paddlefest Interview
10 Questions With Adirondack Paddlefest Organizer John Nemjo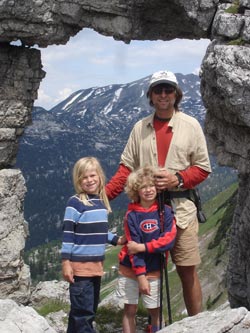 Below, Paddlefest organizer John Nemjo from Mountainman Outdoor Supply Company answers our interview questions as we gear up for this year's event.
1. Describe Paddlefest in a phrase?
The Nation's Largest On-Water Canoe, Kayak, and SUP Sale.
2. What makes the Adirondacks the prime location for this event?
Adirondack Paddlefest takes place at Mountainman's Paddlesports shop on Route 28 in Old Forge, NY the gateway to the 6-million acre Adirondack State Park.
The Adirondacks are often called the Boundary Waters of the east and has over 3,000 lakes and ponds and over 30,000 miles of rivers and streams. It is one of the most popular destinations in the eastern half of the U. S.
3. How many canoes and kayaks will be at this year's Paddlefest?
Over 1,000 for sale. Over 200 to test paddle.
4. Is this event more for the experienced paddler or newcomers to the sport?
Adirondack Paddlefest is for everyone. From beginner to expert there is something to fit every level of paddling experience. From buying your first kayak to expert clinics on better paddling technique to individual lessons with some of the best paddlers in North America.
5. What would you say are the top 3 questions to consider when hunting for a new canoe or kayak?
What type of water will you be paddling?
Where do you plan on going paddling?
How often do you want to go paddling?
6. Do you get nervous about letting people test paddle? Are there ever any damages?
Not at all. It's easy. You wear a life jacket. We have lifeguards on duty. And contrary to popular belief kayaks are really hard to flip over. Hard to break a boat on water.
7. Aside from the equipment selection and testing, what else can people expect at Paddlefest?
There are speakers and clinics covering literally every aspect of paddlesports. From boat design and construction to paddling technique and how to choose the right products.
This year we have added individual on-water lessons and clinics for adults and kids to actually get on the water with some of the leading paddling instructors in the country.
8. If someone is considering buying a new canoe or kayak, will they find the best deal at Paddlefest?
Adirondack Paddlefest is THE best deal in paddlesports. With over 1,000 canoes and kayaks to choose from and the ability to test paddle over 200 models on the water all weekend nowhere else can you make the right decisions about what canoe or kayak is best for you. You can learn about technique and equipment from the people who design and make everything you need to get on the water. We will have some of the best instructors and paddlers in the country to answer all your questions.
Oh yeah, Adirondack Paddlefest also offers some of the best prices anywhere. When you put it all together nowhere else can you get this amount of service, selection and price. That is what makes Mountainman Outdoor Supply Company the #1 Canoe and Kayak Dealer in New York.
9. Do you spend a lot of your own time out paddling? What is your favorite canoeing / kayaking spot?
In the Adirondacks there is so much opportunity for paddling. One of my favorites is the Moose River which is right behind our shops and offers scenic 3 to 6 hours paddles though beautiful forests and meadows.
There are so many lakes within a short drive its hard to say what is our favorite. Lows Lake and Little Tupper Lake are definitely two of the best though. Every year I escape and relax for a week to the small island community of Cedar Key on Florida's Gulf Coast. Between the Adirondacks and Cedar Key, it doesn't get much better than that.
10. Finish this sentence: Paddling is...?
...a way of life. It's the seventh inning stretch for everyone who loves the outdoors. It's a way of reconnecting with the natural world and your own inner self and rediscovering the things that are really important in life.
More on Adirondack Paddlefest »