Skate America Comes To Lake Placid For 2009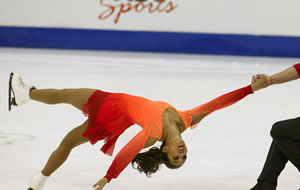 LAKE PLACID NY -- U.S. Figure Skating has selected Lake Placid as the host city for 2009 Skate America, an Olympic-style international figure skating event. The competition will take place Nov. 12-15, 2009, at the 1980 Arena.
The inaugural Skate America was held in 1979 in Lake Placid. This year will be the fourth time it has been held in Lake Placid and the sixth time the state of New York has hosted the event.
"We're delighted to return to Lake Placid," U.S. Figure Skating President Ron Hershberger said. "This community has a rich history of figure skating, and it seems quite appropriate that we would be celebrating the 30th anniversary of Skate America in the place where it all began."
Skate America is one of six ISU Grand Prix of Figure Skating Series, featuring three days of competition in ladies and men's singles, pairs and ice dancing. The event attracts dozens of world-class figure skaters from all over the globe. Past champions include Michelle Kwan, Timothy Goebel, Kristi Yamaguchi and Scott Hamilton.
Tickets for 2009 Skate America in Lake Placid can be purchased by calling 518.523.3330.