The Stony Creek Inn Is Open For Their 30th Season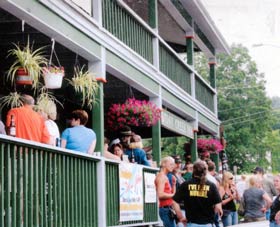 The Stony Creek Inn is now open for the summer! Owner and operator, Dot Bartell and her husband John Fickel have run the inn for the past 30 years. Located in Stony Creek, New York, the inn has been nestled in the Adirondack Mountains for the past 150 years. Although times and owners have changed, the inn still possesses the simple pleasures that made it so popular in the past: fresh air, live music, and the smell of good cooking wafting from the kitchen.
The Stony Creek Inn offers a full daily menu and the kitchen will even take customer's special requests. Every Sunday at 5pm the Mexican fare begins, complete with homemade red and "hot green" salsas and live music at 6pm.
Old friends of the inn, The Stony Creek Band, kicked off the live performances in early May. If you missed out on the popular local band, you will not want to miss another performance!
This summer's schedule of bands includes: Big Medicine Kribs & Co, Mark Emanation and Tom Dolan, and Chain Lightning. Dot and Johnstock will be holding their Annual Fundraiser to benefit Cindy's Cancer Retreats for Men, Women, and Children AND the Amanda's House in Glens Falls. From 1 to 5pm there will be music, food, and raffles.
Stop by the Stony Creek Inn this summer for some of their many events and kick back and enjoy life. For more information call (518) 696-2394.