From Vancouver to Lake Placid NY!
2010 U.S. Alpine National Championships set to take place at Whiteface Mountain March 20-23, 2010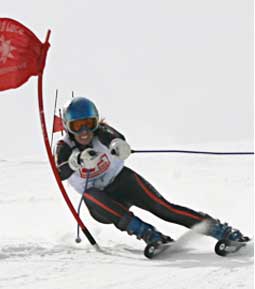 Just one month after the conclusion of the Olympic Winter Games in Vancouver, top skiers from the U.S. will head to Lake Placid, NY March 20-23 to compete in the 2010 U.S. Alpine National Championships. U.S. skiers who competed in the Winter Olympics won't be getting a break from tough competition, as many of them will be racing for the national title in this competition. The U.S. Ski and Snowboard Association and Olympic Regional Development Authority announced Whiteface to be the host of the championship.
Big names from the U.S. Ski Team such as Ted Ligety, Julia Mancuso, Steven Nyman, Andrew Weibrecht and Lindsey Vonn will be competing in slalom, giant slalom and super G. In addition to the top racers, up-and-coming athletes will go out to try and make a name for themselves.
The cost to attend the championships is a Whiteface lift ticket: $74 for an adult and $60 for teens or seniors (or $210 for a 3-day pass for adults, $180 for a 3-day pass for teens or seniors). The competition opens on Saturday, March 20 with super G followed by slalom on Sunday. The competition continues on Monday with men's giant slalom and women's giant slalom closes the competition on Tuesday, March 23. See a detailed schedule below.
For more information on Whiteface Mountain and the U.S. Alpine Championships call (518) 946-2223.
2010 U.S. Alpine Championships Schedule:
Saturday, March 20
9:30 am - Men's Super G
12:30 pm - Women's Super G
*Post Race Awards
7:30 pm - Opening Ceremonies at the Lake Placid Municipal Parking Lot across from Olympic Center
Sunday, March 21
9:30 am - Men's Slalom Run #1
11:30 am - Women's Slalom Run #1
1:00 pm - Men's Slalom Run #2
2:30 pm - Women's Slalom Run #2
*Post Race Awards
Monday, March 22
10:00 am - Men's Giant Slalom Run #1
1:00 pm - Men's Giant Slalom Run #2
*Post Race Awards
Tuesday, March 23
10:00 am - Women's Giant Slalom #1
1:00 pm - Women's Giant Slalom Run #2
*Post Race Awards