From Wooded Loops to Unmatched Views: A Spotlight on Hiking at Gore Mountain
Do you love that invigorating feeling of hiking in the great outdoors? Nothing compares to a hike in the Adirondacks, and one of the region's top hiking destinations is Gore Mountain in North Creek. When snow sports end at this alpine ski resort, Gore gears up for hiking and other warm weather recreational activities during summer and fall.
Offering everything from wooded loops to challenging hikes with unmatched views, here's what you need to know about hiking at Gore Mountain.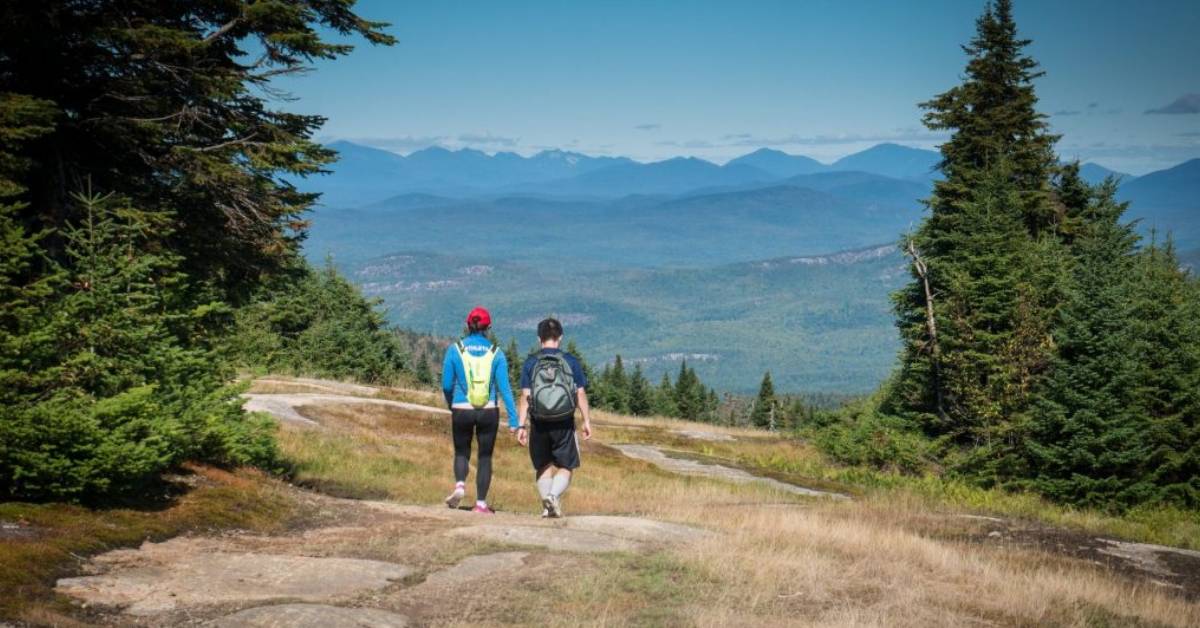 Take a Leisurely, Kid-Friendly Stroll Along the Scenic Interpretive Loops
Every hike is an adventure, whether you're outdoors for 30 minutes or over two hours. If you're looking for a simple hike that's perfect for beginners and younger members of the family, then check out Gore Mountain's Interpretive Loops. Nicknamed the eco-loops, these easy trails feature interpretive signage that educates visitors about native plants and habitats along the way.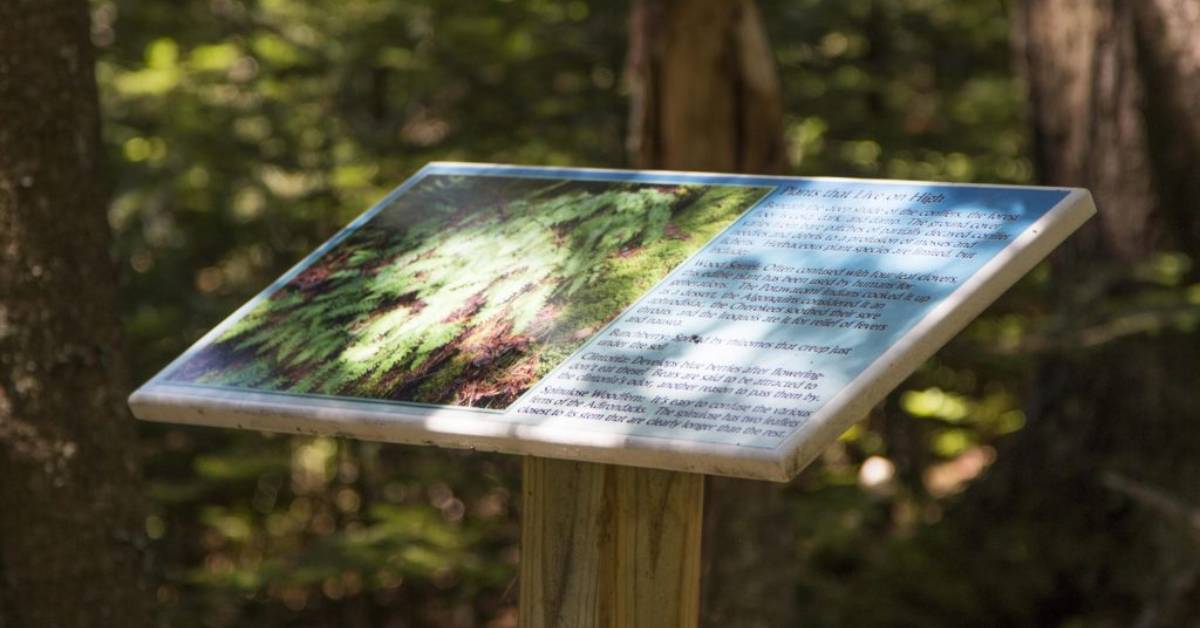 The first interpretive loop, the Hardwood Forest Loop, is conveniently located in the Base Area. This .68-mile loop is a good place to start as you can enjoy a relaxing walk through a forest of oaks, maples, and birches, soaking up the scenery and peaceful atmosphere. On average, the hike will take approximately 45 minutes.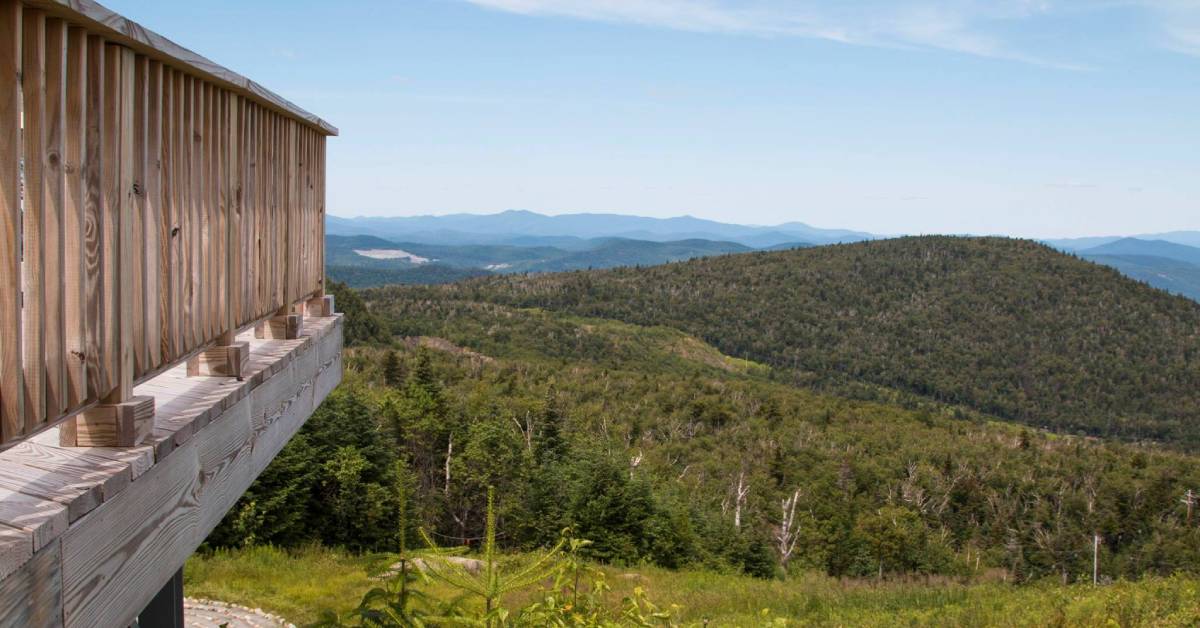 Gore's other interpretive loop is named the Alpine Sky Loop, and you can find it at the top of Bear Mountain near where Gore Mountain's gondola skyride unloads. This .36-mile loop circles the summit of Bear Mountain, takes approximately 30 minutes to finish, and includes several vista points. Be sure to stop by the Fairview observation platform and snap a photo of the breathtaking view.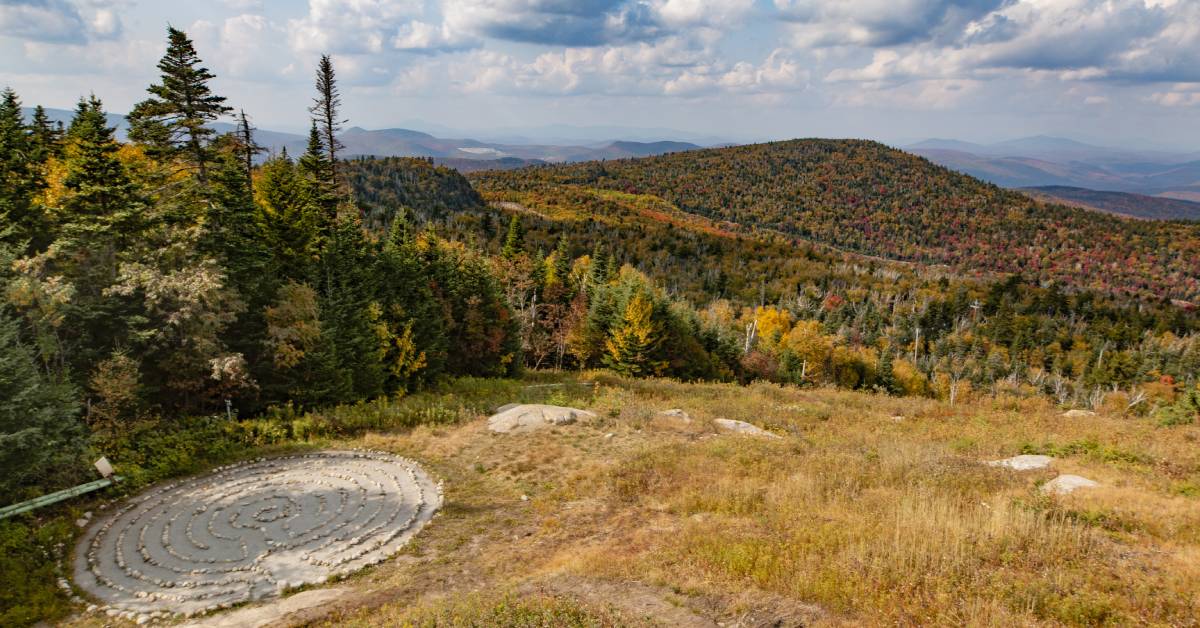 Before heading back down the mountain, there is one more easy "loop" to visit. Located close to the top of the gondola skyride is the Mountaintop Labyrinth, a stone labyrinth that both kids and adults can have fun exploring. Walking through labyrinths is known to help quiet the mind, which makes this one a great way to unwind after your hiking trip.
Rise Up and Complete Gore Mountain's Challenging Peak-to-Peak Trails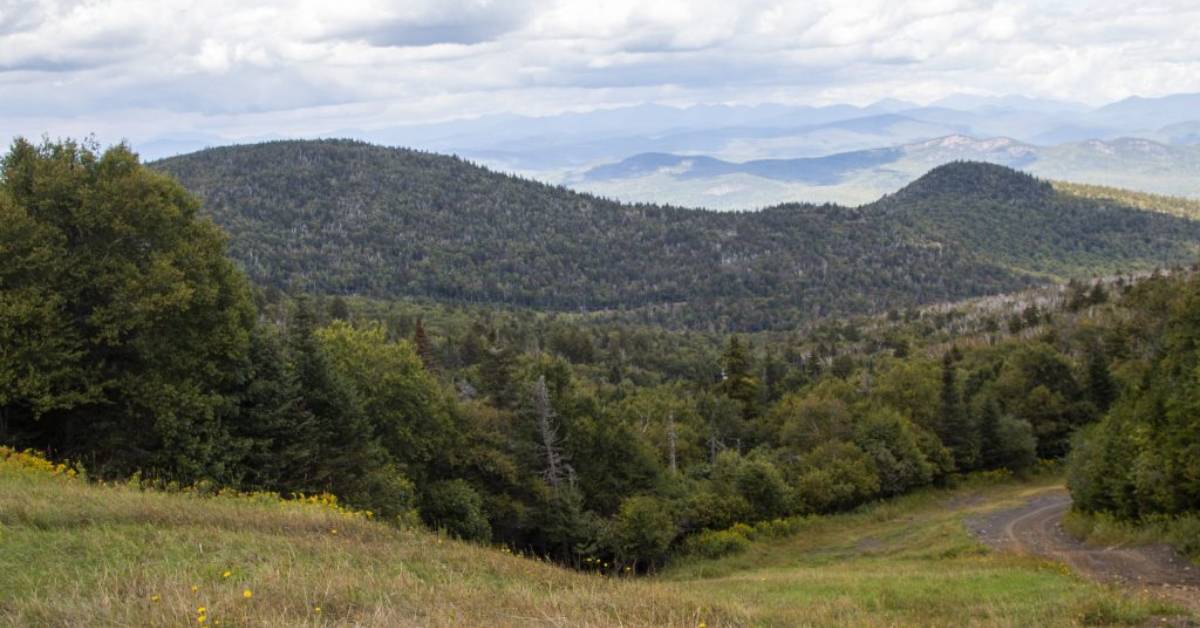 The Gore Mountain ski resort comprises four peaks: Gore Mountain, Bear Mountain, Burnt Ridge Mountain, and Little Gore Mountain. During summer and fall, the trail network connects the 3,600-foot-high Gore Mountain with Bear and Burnt Ridge, allowing hikers to travel from one peak to the next. Gore has labeled these trails Challenging Quests because most are more difficult than the Interpretive Loops.
In order of difficulty, the Challenging Quests include:
Bobcat Loop (Easier): Half-mile loop
Sunway Hiking Trail (More Difficult): 1.2 miles one way
Ruby Run Hiking Trail (More Difficult): .4 mile one way
Sidewinder (More Difficult): 3.3 miles one way
Twister Cliffs (More Difficult): .8 mile one way
Trillium Trek (Most Difficult): 1.5 miles one way
Windy Hill (Most Difficult): .6 mile one way
Cloud Hiking Trail (Most Difficult): 1.2 miles one way
The trail entrance to the Bobcat Loop is located in the Base Area, and while it's not one of the Interpretive Trails, it's similar to the Hardwood Forest Loop. For the other trails, you can either start your hike from the Base Area for an extra uphill challenge, or you can take the scenic skyride up to the mid-mountain area by the Saddle Lodge.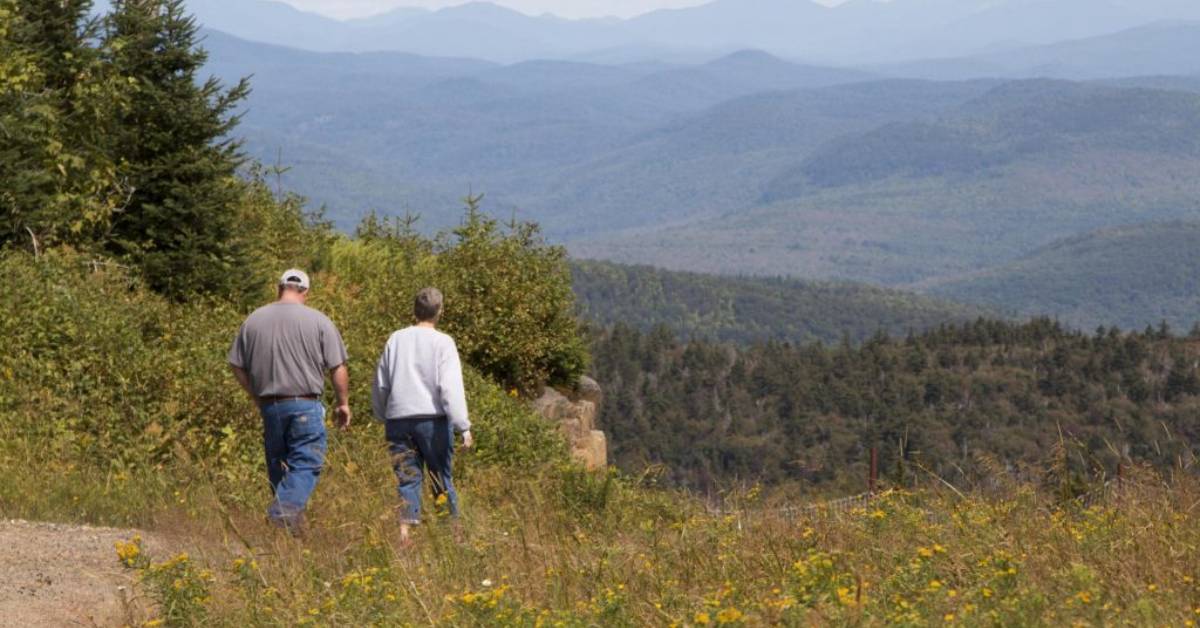 If you decide to ride up, then you'll have multiple trails to choose from. You can hike the short Ruby Run for a stunning look at the High Peaks, follow the Cloud Hiking Trail to the summit of Gore Mountain and panoramic views, or head downhill along the Sunway Hiking Trail and enjoy the sights and sounds of nature.
Hikers can easily spend a few hours going from peak to peak, and if you don't want to hike back to the Base Lodge at the end of the day, just hop on the scenic skyride and let it bring you down.
Are You Ready to Conquer Gore Mountain's New Hiking Challenge?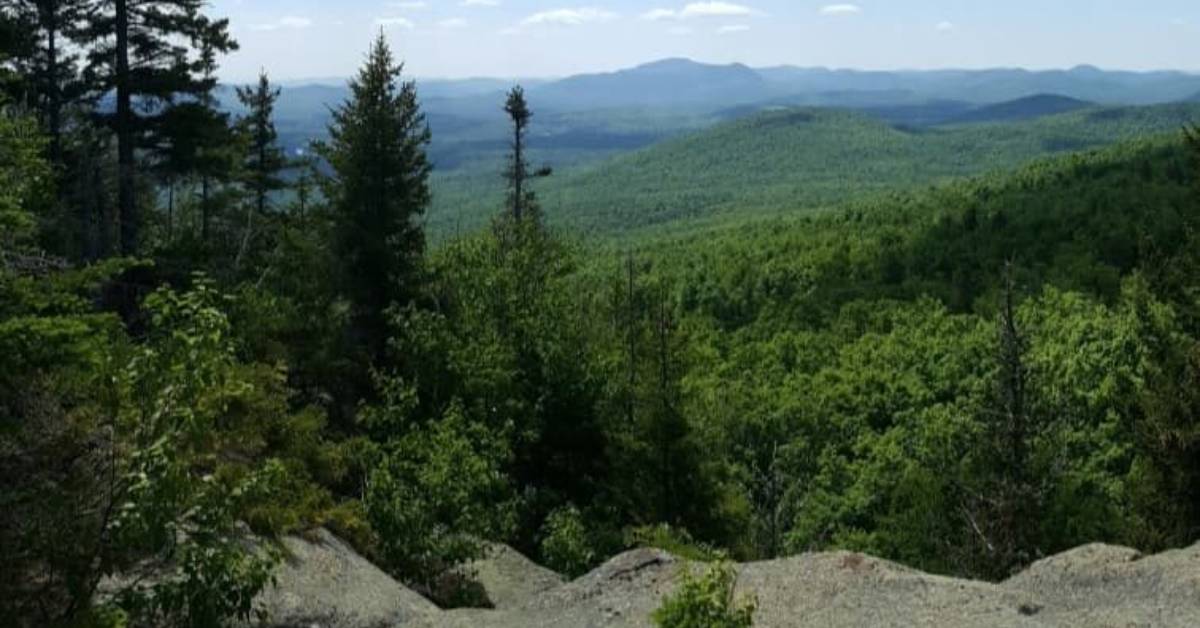 To encourage people to get outdoors and experience the beauty of the Adirondacks, Gore Mountain has designed a new hiking challenge focused around six of their mountaintop trails. The six trails are the Sunway Hiking Trail, Twister Cliffs, Trillium Trek, Sidewinder, Cloud Hiking Trail, and Alpine Sky Loop.
In this personal hiking challenge, you can complete all six trails in just one day or over the course of multiple visits to Gore. However, you must complete the challenge during the 2021 summer/fall season in order to qualify for the honor and glory of becoming a 2021 '6er.
To make this accomplishment official, you must use a handheld GPS or tracking app to record your routes, and then submit your results using the form on Gore's website. After completing the challenge, you will receive an awesome fleece roll up blanket, and your name will be added to the 2021 Gore Mountain '6er list. '6ers will also be entered into a grand prize drawing that will be conducted at the end of the 2021 summer/fall season.
Plan Your Next Adirondack Hiking Adventure
The Adirondack Park is home to endless hiking trails, but at Gore Mountain, you can find easily accessible trails for all skill levels in one convenient location. They offer plentiful parking in the Base Area, and from there, you can begin your adventure. Spend the day hiking, grab a bite to eat at Gore's Open Pit Grille, and take home some new memories with the family.
Ticket info and full details about Gore's Hike & Bike season pass are available on their website. Plan your trip to Gore Mountain today!